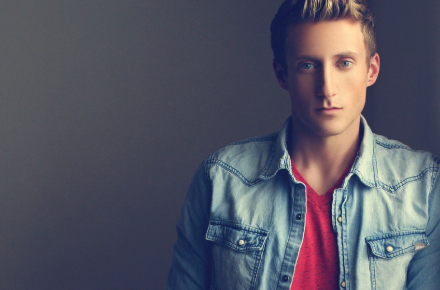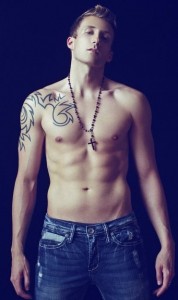 For my "casual Friday" I thought I'd share with you all a crush-worthy guy who is likely not even on your radar yet. Singer Kyle Miller is a musician who is breaking into the music scene the old, traditional way: hard work and writing his own stuff. I stumbled across Kyle on Facebook and while I listened to his music, I took a peek at his photos and boom–I knew I had to make him a featured crush. The porcelain skin; the tattoo; the tight bod; the "come hither" eyes … he can come and make me hit some high notes like Mariah any time, any day.
Here's a bit of a background taken from his Facebook page:
" Its no surprise that Kyle aims high when it comes to his music career given his background in the performing arts. Kyle is now touring and working on new recordings that truly represent him as an artist, a producer and a growing name that represents a community and an idea that we can be who we are with no apologies. Come and follow him on his evolution as an artist. 'I want to be the best first rate version of myself and not a second rate version of someone else.'"
You can listen to his music and become a fan of his on Facebook and follow him on Twitter @KyleMillerMusic. And as a bonus, check out his cover of Justin Timberlake's "Cry Me A River" below.
http://youtu.be/axAngKJIkA0
Follow The Man Crush Blog on Twitter | Facebook | Tumblr
Click on thumbnails to view larger images.
[nggallery id=79]