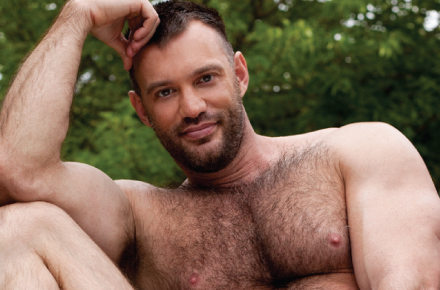 Okay, we're in the thick of summer and that means I'm forever in heat over here as I put together the blog. A few weekends ago as I perused Twitter (a rather common activity for me, of course) and stumbled upon today's featured crush–porn entertainer Aaron Cage.
Now, if you frequently visit this blog (which I hope you do!) then you know I have a weak spot for guys with hair, Australians and rugged feataures. Aaron has it all. When I found out this COLT man is Australian, hairy and built like a freakin' horse, I just … I just blacked out! It's soo much for me to handle! He gets his awesome body and build from all the gym and body building activities he does. I tell ya something he could bench: me! The shoulders; the biceps; the chest, arms and ahem, leges. I'd just want to climb this stud like a squirrel would an acorn tree.
If you'd like to find out more about Aaron you can visit his website aaroncage.jigsy.com or follow him on Twitter @AaronCagexxx. This week there are some definite NSFW pics mixed into the gallery below but more than few others that will end up on the Tumblr for your viewing and uh, other activities, pleasures.
Follow The Man Crush Blog on Twitter | Facebook | Tumblr
Click on thumbnails to view larger images.
[nggallery id=72]