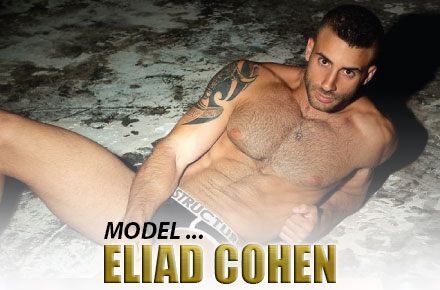 As you know (or should know), The Man Crush Blog has a sluttier, not so safe for work companion site known as The Man Crush Tumblr. On it, there are just tons of random guys, both famous and amateur, posted for your viewing pleasure. There are many times when I'll come across a hot guy on the Tumblr site that will roll over into a featured crush, I mean who doesn't love looking at pictures of hunky men? I also use sites like https://www.hothornyhunks.com/ to look at some gorgeous men when I've seen all hunks on Tumblr. I've come across many pics of the hot and furry Eliad Cohen but only recently did I find out his name and do some further snooping, ahem, research on him.
Eliad is a personal trainer, actor and model. Let's get a bit gossipy over the deets about this hottie. First, he's from Tel Aviv, Israel and is probably the first crush on this blog from that region. He was in the army and was the personal trainer for his unit. His first boyfriend was the commander of another unit. Now, Eliad lives an open life as Tel Aviv is rather welcoming to the gays. In addition to modelling and fitness training, Eliad is the brains behind the site Gay-Ville.com, a site aimed toward helping gay men find affordable and cheap travel accommodations around the world. (source: GuySpy.com).
Oh, the things I'd like to do with and to Eliad! We could play out our own little army-themed fantasy and he could command me around and make me do all sorts of tasks and moves. I'd drop and give him 20 or so good minutes, or he could give me a few inches. I digress (as usual). You can become a fan of his on Facebook.
Follow The Man Crush Blog on Twitter | Facebook | Tumblr
Click on thumbnails to view larger images.