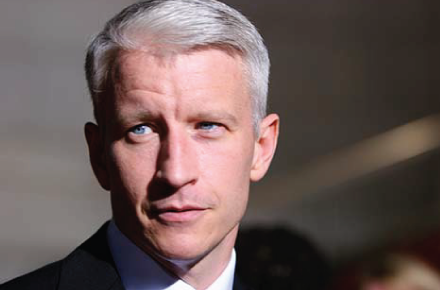 Well, I tried to hold out as long as I could but I give up: Anderson Cooper is my featured crush after all this time. It's no secret for those who know me well that I do not hold the "Silverfox" on a pedestal as many do. Sure, he's cute, and I do enjoy his snarky and bitchy comments but beyond that he doesn't do much for me. I do admit that I enjoy him a bit more when he sits in for Regis on Regis and Kelly because he can be quite the little bitchy commentator and looks so annoyed to have to even feign the least bit of interest in the celebrity guests.
Still, I can't ignore the fact that "The Coops" is the crush of many gay fans and as you all know, I do love myself some hot news men. He has muscles; the hair gives him that hot daddy look that probably spawns many fantasies and he plays well with the gays (even if he chooses to dance around the "is he/isn't he?" question). We all like a little mystery in a man, don't we?
Follow The Man Crush Blog on Twitter | Facebook | Tumblr
Click on thumbnails to view larger images.
[nggallery id=69]