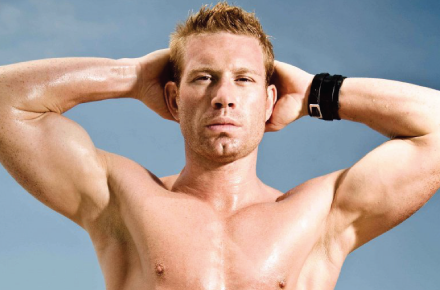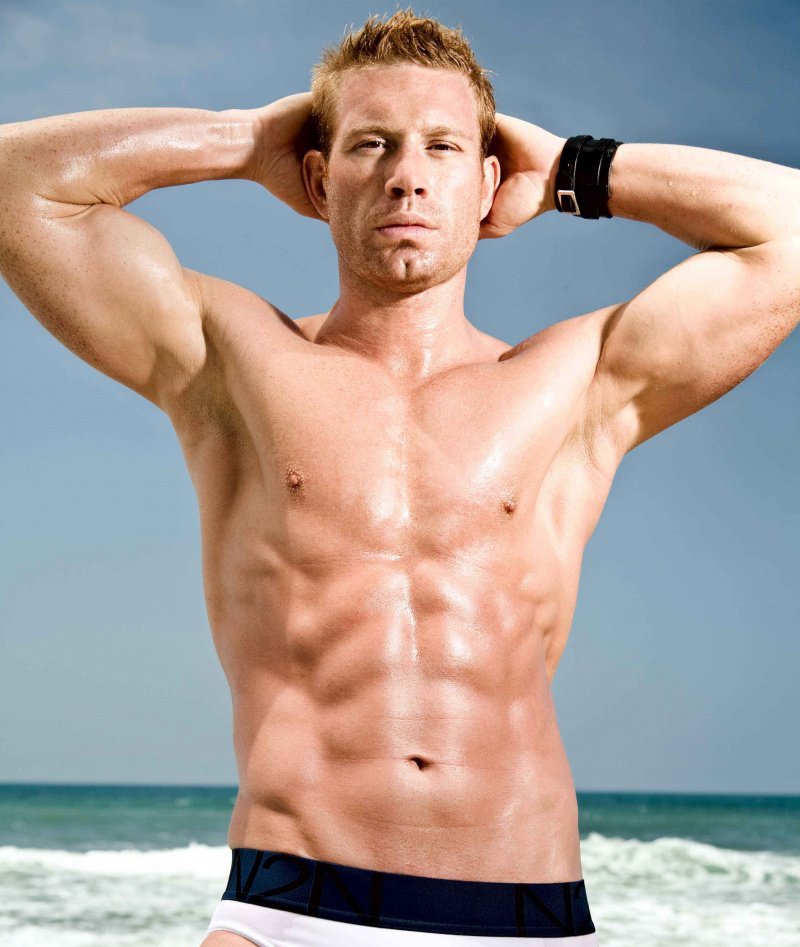 This week's "hook up" session is with model Chris Nogiec. A couple weeks ago I featured him on this blog and you guys (and gals and in-betweens) went absolutely crazy for him. Naturally, I decided he'd be a great lay, ahem, I mean interview and went hard at work on getting an exclusive with this hot model. You've probably seen a few interviews with Chris online and in print but none like this. Here we discussed his modeling career, educational aspirations got some great fitness tips from him and even a few video clips of yours truly interviewing him for all my "crushies" out there.
Intro-Ice Breaker
Man Crush: We've seen other interviews you've done and you seem to have been asked the same questions over and over. So how about something different? Let's start with some ice breakers.Boxers, briefs, jocks, thongs, commando?
Chris Nogiec: Depends: mostly boxer briefs. Chilling around the house: boxers Going out: Briefs.
Man Crush: When you go out and and party, what's your drink of choice?
Chris Nogiec: Water. Boring? It's really hard for me to exercise or play soccer after drinking!
Man Crush: What's a hidden talent that you have?
Chris Nogiec: Guitar playing, singing, song writing. I don't think I've publicly told anyone that.
Man Crush: When there's a guy you like, how do you go about letting him know you're interested?
Chris Nogiec: Simple! I go up and talk to him.
Modeling vs. ph.D.
Man Crush: We all know you are not only a model but that you are also working on getting your phD. Is modeling for you a passion or more so a way of earning the money necessary for obtaining your degree?
Chris Nogiec: Modeling serves many purposes. It's my artistic outlet, it gives me a chance to take a break from science: it's a passion of mine. Also, I am able to put into practice my knowledge about exercise physiology and sports nutrition. I'm not going to lie: it's kind of cool to be able to show that off.
At first, I thought it would be a good way to help with graduate school bills, but I actually don't make much money from it. Believe it or not, or maybe it's just my career, I don't get money to be in magazines, to be on blogs, etc… With few exceptions, I don't get paid to work with all the photographers with whom I've had the privilege to work. I'm not sure if there is a perception that models make a lot of money. The money comes from the models who book campaigns, commercials, not from magazine spreads. Unfortunately, my Ph.D. program takes a lot of time and is located in Boston. I don't have much time to go to castings, and Boston does not have a lot of opportunities for modeling. Thus, most of the projects I book are collaborations, that if I'm lucky, I get to share with all of you online. The photographers own copyrights to all the images, and the models don't really have any control over what gets published or shared. So realistically I'm not actually making that much money from modeling. At the moment in order to earn money for my bills as well as my degree, I actually look to investing little bits of money online and hopefully going to start using something similar to this Bitcoin Roboter to make my expendable cash work for me while I work on my Ph.D.
Man Crush: Modeling tends to be viewed as appealing to vanity. It's about superficial qualities such as how one looks, how attractive they are, how well he (or she) can sell sex or desire. The phD you are going after seems to be the polar opposite and uses your brain and knowledge more so. Does modeling and your pursuit of a degree ever conflict?
Chris Nogiec: Well, my previous advisor did not like the fact that I was a model and that I had other interests besides my studies. However, for me, I need a variety of things to keep me interested. I love science and think it's really interesting and important, but I need other outlets to keep my "sanity." Modeling is one of the outlets. Yes, superficially, it's about superficiality. In actuality, it's more about depth in character. Successful modeling portrays an emotion, most commonly desire, but it takes more thought on the model's part than just to sit there and look good. There are tons of pictures out there, but just because one has their picture taken means they are a good model. I'm not saying that I'm a "super model" by any means. I mean, I try to convey the emotion and make the connection with the camera and the audience, but good pictures go beyond vanity. Then again, I'm not so naïve to think there vanity doesn't play a large role.
However, other than that, the two opposing careers don't conflict too much. As you mentioned, they are almost complete opposites, so there's not much overlap. The connection is that my knowledge about exercise physiology and nutrition help me maintain a "model ready body," but it takes more than a body to make a good image!
Man Crush: How, beyond financial means, has modeling helped you with your PhD work?
Chris Nogiec: As I mentioned before, modeling doesn't help me too much financially (except, I was lucky enough to do the 2011 Greg Homme Catalog.) However, modeling exposes me to a wide variety of people, fun experiences, and some great travel opportunity. It helps keep me grounded and exposed to non-science culture, which for me is essential to survive the graduate student lifestyle.
Man Crush: Do you feel you will always do both modeling and continue studying the body as you are doing for your degree? Will there ever come a day or situation where you may choose one or the other?
Chris Nogiec: I hope to always pursue science and model, but I do believe there will come a day when photographers are no longer interested in photographing me. And, I'm sure that will happen sooner than I think. Haha!
Man Crush: Though this question may bring fear into the heats of your fans, how do you envision making an exit from modeling when the tome comes?
Chris Nogiec: [Laughs] Good question. I've yet to think about my exit. Knowing me, I'm sure I'll make my exit long after the interest subsides. I'll probably get tons of comments and people saying, "Why is Chris still modeling?" After a while, it will sink in that I should redirect my focus. So, by the time I exit, I don't think people will still be interested. I hope I can do it with some sort of dignity! LOL!
Fitness and Health
Man Crush: Describe for us your workout routine. How the heck do you manage to stay so fit and look so flawless all the time? And don't attribute it to the power of Photoshop.
Chris Nogiec: [Chuckles] Thank you. Can I say good lighting? [Winks] I work out 6 times per week and hit a muscle group twice per week. I run about 24 miles per week. I play soccer 1-3 times per week (full soccer games). I eat a really clean, healthy diet, and I rarely drink any alcohol.
Man Crush: In your view, what's the one big mistake most men are making with their fitness and workout regimens?
Chris Nogiec: I think the biggest mistake is that people rely too much on myths and hearsay perpetuated by uninformed individuals. Just because someone with an exceptional body does something, does not mean it will work. There are many factors that go into having a healthy, fit looking body: genetics, exercise, cardio, and proper nutrition.
Man Crush: Considering all the fit tips you've dished out over Facebook and Twitter, what do you view as the one thing every man should be doing for the sale of his health?
Chris Nogiec: A combination of resistance training, cardio program, and proper nutrition is necessary to achieve any and all fitness goals.
Man Crush: If you had to choose one exercise or move that you'd recommend everyone do, what would it be?
Chris Nogiec: Performed safely and correctly, dead lifts are one of the most single beneficial and functional exercise. Squats, push-ups, and pull-ups (lat pull downs) are a close second.
Man Crush: I couldn't help but to notice you're rather bootylicious. What moves are you doing to work those glutes and how are you maintaining that perky bottom of yours?
Chris Nogiec: [Laughs] Thanks! Well, I actually get that question asked a lot. I think it's a combination of continuously playing soccer since I was 6 years old, and I don't shy away from squats, deadlifts, and lunges.
Love
Man Crush: You are rather open and upfront about your sexuality. Does being out help or limit the opportunities you are given as a model? Has it at all impacted your educational pursuits?
Chris Nogiec: I wasn't always open about it until the Instinct cover. I almost didn't do the cover because of homophobia in sports (my training career is geared to strength, conditioning, and nutrition for athletes), and because of modeling. I don't think I'll ever know the impact on either career. I have a feeling that it adversely affects my modeling pursuits much more than my academic ones. I get the impression that out male models don't get booked as much or at all, but I don't know. I'm not sure how it will affect my persona as a fitness/sports training expert. It could be my own internal homophobia, but I also get the impression that people believe that out male models can't portray the desired masculinity.
However, at this point in my life, I don't care if it adversely affects either of my careers. After reading Trevor Adam's Instinct cover, I was inspired to talk more openly about homophobia, especially in sports. I have the luxury of not relying on my modeling as income, so I can be more open about it. I did a lot of work mentoring LGBTQ youth when I was living in LA and learned the importance of role models and breaking stereotypes. I think it's important to show LGBTQ youth diversity among LGBTQ individuals, and most importantly, for people to be themselves, not to conform to any culture, gay or straight, and not to self-hate. I didn't have gay role models growing up that played sports, and I struggled immensely with my sexuality. I just don't want other gay athletes or gay individuals to feel the way I did, isolated and miserable, not fitting fully in the "straight" world nor the "gay" world. Now, things are great. I am who I am, and my friends (gay and straight) fully support me.
Man Crush: I don't think I've read much about your personal life. Which do you prefer and why: being a bachelor and single or having a significant other in your life?
Chris Nogiec: Yes, I don't talk too much about my personal life. It's not fair to my friends, family, significant others, or to me. However, I don't mind talking in generalities about my personal life. Ultimately, I enjoy having someone with whom I can share my life.
Man Crush: With how drop dead gorgeous you are, approaching you may be a bit intimidating. Help the men out: do you have a type? How would one go about getting your attention and keeping it?
Chris Nogiec: I just see myself as a science geek. I don't mean to be or want to be intimidating. I don't have a specific type, but I definitely am attracted to confidence, athleticism, and an easy-going personality.
Man Crush: What in your opinion makes a guy crush worthy?
Chris Nogiec: I think confidence, intelligence, and a commitment to a healthy lifestyle makes someone crush worthy!
Closing Arguments
Man Crush: To close out our interview, what advice would you give to guys getting into modeling? What's the best advice you've received about modeling? The worst?
Chris Nogiec: I've yet to receive any advice. I think either I'm on the outskirts of modeling, have not chosen the most supportive agents, or no one really gives modeling advice. LOL! The best advice I can give is that if you want it, go for it! There are many different types of models, many different looks, and you never know what people are looking for. The main thing is to have confidence and be personable. There are tons of people who look attractive, but one needs confidence to be in front of that camera and succeed! If you don't have it, it will show in your eyes and face.
Man Crush: Let's speak of having a back-up plan as a model. You obviously have a plan in place for when your modeling career no longer suits you. How should others go about doing the same?
Chris Nogiec: Find something that interests you, and make sure you develop the skills to do it. Even if you are a successful model, the longevity of modeling is short; whether due to over-exposure or age. So, everyone should have some sort of idea of what they want to do after modeling, even if you are a successful model.
Man Crush: Here's your chance to speak directly to your fans and followers. What would like to say to them that you haven't already in this interview?
Chris Nogiec: Wow, this all still feels so surreal, to have people follow my career and look forward to new pictures and projects. The only thing I can say is thank you to everyone's support and interest. I only hope I can give more back than just my pictures. I hope to be relevant long after my youth subsides, and that I can share my knowledge about fitness, nutrition, and health.
You can follow Chris on Twitter @ChrisNogiec, become a fan of his Facebook page or visit his website for more information on this hunk.