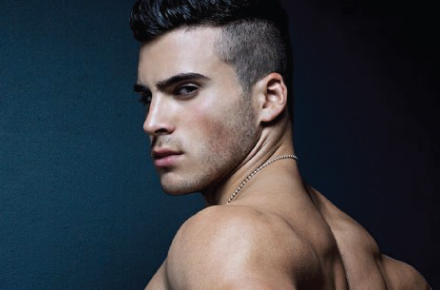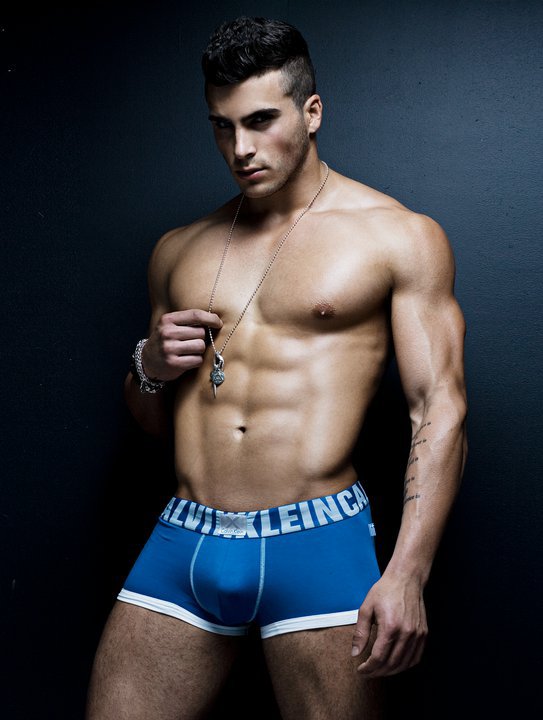 This week's "hook up" is with model Richie Nuzzolese. After the debut of Katy Perry's "Last Friday Night (T.G.I.F.)" video last month, the main question was "Who is that hot jock?" You know, he's the one with the abs, the one lucky ass Katy Perry gets to rub her hands all over. The one she got to lay in bed with? Few details emerged on the man behind the hot jock character Steve Johnson: first, his name is Richie Nuzzolese, he's hot, he's lived in New York but currently lives in L.A. and he has a lot to say about his rise to fame. If you've been curious of Richie Nuzzolese, the wait is ovah (as Ri-Ri would say) because I've got all the details and much to dish from our exclusive interview "hook up" session.
The Ice-Breaker
Man Crush: People are very curious about you after your big video appearance so let's have a bit of show-and-tell as an ice breaker. When you're all alone, what song are you most likely to belt out?
Richie Nuzzolese: "Come Fly With Me" by Michael Bublé.
Man Crush: What do you consider to be your most embarrassing quality?
Richie Nuzzolese:  My most embarrassing quality is probably that I play the Trombone. A lot of people consider it kind of dorky.
Man Crush: Since you are talking to the guy who runs The Man Crush Blog, what male celebrity do you have a "man crush" on?
Richie Nuzzolese:  A-ha. Hmmm … I guess i'd have to say Chris Evans. He seems like a cool dude who's got it all–looks, talent, modesty, and good style.
Man Crush: In your view, what makes someone "crush worthy?"
Richie Nuzzolese:  In my view, good looks and a good personality, without a doubt, makes someone crush worthy… but beyond that, there's got to be that
certain something that catches my eye. Something unique –could be style, could be the way someone walks, just something.
Man Crush: What's your favorite type of underwear–boxers, briefs, jockstrap, low rise, or are you a commando type of guy?
Richie Nuzzolese:  Briefs, hands down. Rarely do I ever go commando [winks].
About "Last Friday Night" Video:
Man Crush: Richie, you've been on the scene for some time modeling and have done some acting, but your appearance in Katy Perry's video for "Last Friday Night (T.G.I.F.)" has really put you on the map. Can you give us the scoop as to what the audition process was like? Were abs and jaw-dropping good looks part of the character's description?
Richie Nuzzolese:  During the audition I had no idea it was for Katy Perry. They had no name of who the artist was so i went into the audition casual as I would any other casting–confident and natural. They wanted a jock-type guy who gets along with all the ladies. The casting directors asked for a smile, a little giggle and I threw in a wink. They only added my abs in the video the day of the shoot when they saw me changing! I guess i inspired them to use my body in a scene, and
I'm glad they did!
Man Crush: Oh gosh, seeing your abs would inspire me to do a few things but I digress. When discussing your appearance in Katy Perry's video with friends the question came up if you at all relate to the "jock" character you portrayed. Do you at all feel typecast as the "hot athletic guy who shall look pretty but have no words?" If you could, ahem, role play any type, who or what would your ideal role be?
Richie Nuzzolese:  I'd have to say the role of Steve Johnson in comparison to me in real life has only one main similarity, which is the love for sports. Other than that, we're quite dissimilar. I notice the guys who are cocky in life, especially in this industry, get nowhere. And if they do, they seem too consumed with themselves to enjoy their accomplishments. I've been through enough to realize how fortunate I am, and I can finally say with sincerity that I've learned to stay humble and appreciate the little things through this journey. It's ironic because in high school I was actually the complete opposite of Steve Johnson's character, spending the majority of my time playing jazz music. I was in the All State Symphonic Band, as well as the All State Jazz Band playing trombone … probably the last place you would find a hot athletic guy. As fun as it is to play the bad guy or bully, the roles i wish to play in my future are more along the lines of the Superman type. I love those. The guys that can actually make a difference but keep a mask on as if they want no recognition for it. That would be ideal.
Man Crush: Now that you've joined the ranks of the hot music video men, what other musical artist and/or entertainer would you like to work with?
Richie Nuzzolese:   If I ever had the chance, I'd love to work with Michael Bublé. Throughout the years his music has always been in my life, and he never ceases to amaze me. To be a part of one of his projects, in any capacity, would be awesome.
Fitness/workout regimen
Man Crush: Let's not ignore the elephant in the room–you're a hot guy. Do you, however, feel your looks somehow limit you? Meaning, do people sometimes get hung up on your looks and fail to see or recognize your other talents and qualities?
Richie Nuzzolese:  Absolutely, but i don't really feel it limits me. It's inevitable in this industry, I understand that. I must say it's pretty easy to tell who's trying to stick around for the wrong reasons, and those aren't the people I'm attracted to.
Man Crush: Let's talk about this body of yours. How many hours a day goes into maintaining this level of fitness?
Richie Nuzzolese:  I appreciate that. I keep a healthy diet (most of the time). I eat a lot of protein, and I spend about two hours at the gym 5 or 6 times
a week. I really love Greek yogurt, too.
Man Crush: Share a little secret with us. What's the one exercise or gym move that you do that you swear and live by that everyone should be doing?
Richie Nuzzolese: It's no secret: cardio. I do about 30 minutes to an hour of cardio before hitting the machines. It gets your heart rate going, blood
flowing, makes you feel great and prepares your body for the remainder of the workout.

Man Crush: Everyone has a cheat day when it comes to working out and being fit. What do you indulge in on those much-needed cheat days?
Richie Nuzzolese:  Of course, I prize my cheat days. To be honest, my favorite cheat would have to be Domino's Cinnastix. I'm obsessed with them!
Career and professional aspirations
Man Crush: There are hundreds upon hundreds of guys out there trying to make it as models and/or actors. What advice would you give them, as in, what quality or idea is going to make or break their dream of making it in today's industry?
Richie Nuzzolese:  I would tell them to keep their head up, and keep it real. It's so competitive, and time consuming when it comes to the entertainment
business, it could easily suck the life out of you and/or make you feel like you're not good enough at times. But I'd advise someone to never forget the initial reason they chose to involve themselves in this business in the first place. That part of you that makes you different from everyone else is the part that can too easily fade off
or be challenged on a daily basis to the point where you feel weak. But it is also the part that if kept in tact will make you successful, and take you places you've always dreamed of going. Also when you feel you've failed, try and take a look at it from a different point of view–think about what points you didn't do your best in, and fix those. Any "fail" can and should be replaced as a lesson learned.
Man Crush: I understand you yourself are a singer and musician. Describe your style of music and the process you go through in making music.
Richie Nuzzolese:   My style of music can't really be categorized. It ranges in anything from jazz to modern hip-hop. I love to freestyle, but when it comes to the process I go through with most of my music, it's about hearing out a beat, and seeing how I vibe with it. That'll automatically bring some sort of emotional connection with the track, which in my opinion is how the best songs are made for both the artist and the audience.
Man Crush: What's the best advice you've received so far that's helped you with your career? And on the flip side, what's the worse advice you've received?
Richie Nuzzolese: The best advice I've ever recieved was to always listen, but not always believe. The worst advice I've received was, "Just try to blend
in."
Man Crush: What is it that you hope to do with your career? Do you see yourself always being a model, or taking on your music career more aggressively? What sort of impact or legacy would you like to leave behind?
Richie Nuzzolese:  No, I don't see myself being a model forever, but yes I do want to pursue my music more aggressively. My biggest dream is to be an actor,
but life's a windy road, I'm just going where the road takes me.
The Intimate Details
Man Crush: I notice you're a bi-coastal type of guy, having lived in NYC and on the West Coast. Where do you feel most at home? Which coast has the most attractive, quality, datable bunch?
Richie Nuzzolese:  Well I grew up in New York and lived there until a little over a year ago, so that's definitely my "home." As for most attractive qualities, I'd say New York. The people over on the east coast have this prime combination of genuine beauty on the inside and out, it's hard to find that in a lot of people.
Man Crush: I'd imagine you get hit on or asked out a lot. How would one go about getting, and keeping, your attention?
Richie Nuzzolese:  Honestly, as I mentioned before, it's really about standing out and have something unique about you. They would also have to be genuine and
natural, which surprisingly, is the hardest thing for some.
Man Crush: Here's your chance to say anything we haven't chatted about in the interview. What would you like to say to all your fans and readers right now?
Richie Nuzzolese:  I'd want to tell them to never give up on their dreams. Make everyday a day closer to exactly where you envision yourself being.
I'd also like to thank them for being there for me, and let them know I love them with all my heart. You guys are the best!
To check out tons of photos of Richie, take a peek at the featured post that appeared on this blog back in June by clicking here. You can become a fan of his Facebook page, follow him on Twitter by following @RichieNuzzolese, stop by his ModelMayhem page, or check out his website www.richienuzz.com.
Follow The Man Crush Blog on Twitter | Facebook | Tumblr
Click on thumbnails to view larger images.