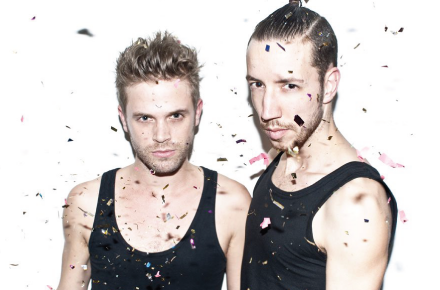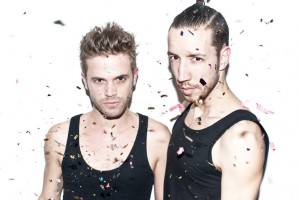 We're going international, bitches. This past Saturday I "hooked up" with Peter van Vught and Thijs Weijland, members of The G-Team. If you follow me on Twitter or have been a reader of this blog for a while, you know that music pretty much fuels my life. It's likely an important part of yours as well so when I had the chance to interview this hot DJ duo from Amsterdam, I leaped at the opportunity in hopes of slipping behind the DJ's booth and see music from their perspective rather than from the view point of a listener or party goer. Via Skype, I sat down with the musical duo, in nothing but my underwear (hey, it was an early Saturday morning!) and channeled by inner Barbara Walters as I discussed music, divas, the men we crush on and much more.
Man Crush: Tell us how The G-Team came to be. How did you two meet?
The G-Team: "I was his star performer, then we became friends," said Thijs while speaking of his friendship with Peter.
The duo's formation is much like the plot of Dreamgirls: Peter was busy organizing parties while Thijs was dancing his ass off at many of these parties. With a sly smirk and curious look to one another that left me to believe I was still being given the PG13 version of this backstory, Peter said they were both "influenced by liquid inspiration" which lead to an Earth-shattering realization: Amsterdam, and the world, needed a new DJ team on the scene.
"We got the A-Team; let's start the Gay Team," said Peter when discussing the groups name. After some consideration both realized how cliché it all sounded so paired their name down to simply The G-Team. And, what you can't read in their Facebook write up is that this duo actually started off as a trio. In a move that Beyoncé would have approved of, the unspoken of third-wheel of the group got the boot early on.
"That guy was too cute." Thijs exclaimed with a dismissive wave of his hand and shake of his head.
"He was a model," explained Peter, casting his gaze to the side.
Both explained it was more than just looks that caused the third member to get the boot, citing the fact that he simply didn't fit in and was going in a different direction than they were. Thijs contrasted the third member's cutting to the parable of how a good relationship should function:"If you have a boyfriend, he can't be prettier than you! And the other guy was too pretty so he had to go." With the Destiny's Child-inspired origin story established, we went into a lightening round of various topics that ranged to our crushes on Glee, gay pride in Amsterdam and how they go about putting together their playlists.
Man Crush: I heard that you two are big fans of Cher. I'm sure you saw her in Burlesque, which I thought she played a mess of a character. The tag-line of the movie was "It takes a legend … to make a star" yet her character was dumb as hell! Christina's had to come in and save the day. I seriously wondered how Cher's character managed to make it through life without being homeless or something. But I digress. Your love of Cher?
The G-Team: "Do you follow Cher on Twitter?" Peter asked me. "She talks about how fabulous her mom looks for her age, food and shit. And she tweets in spurts of 20 tweets at a time." Both agree that though Cher tweets ridiculous things, it doesn't really matter because at the end of the day, it's still Cher. Their love of Cher began with Will & Grace's Jack and his obsession with the "If I Could Turn Back Time" singer. Thijs revealed one of Peter's hidden talents: he does a great impression of Jack impersonating Cher.
Man Crush: Your favorite Cher track?
The G-Team: "'Strong Enough,'" answered Peter.
"Amen!" Exclaimed Thijs in agreement, tossing up a hand in praise.
Man Crush: What other artists do you like besides Cher?
The G-Team: "Beyoncé," Peter responded.
"I love her!" Thijs Weijland chimed in.
Man Crush: Oh really? How'd you feel about her album 4?
The G-Team: "4 is good music for having sex. What do you think? Do you like it?"
Man Crush: Oh gosh, you must not have noticed all my tweets or read my review. People think I hate Beyoncé–I don't. I just strongly dislike this latest album of hers. It's just … just …
Man Crush: Let's get to the music. How do you go about composing your setlists? I listened to one of them and noticed there was more older songs like Madonna's "Express Yourself" mixed in than modern, top 40 "popular" hits.
The G-Team: "We mix a lot of pop and what you'd consider electro. We like people to recognize songs we play; songs and music to have fun with," responded Peter.
"Gay guys and girls like to sing along so we play music people recognize. We try to create a party and atmosphere since you only have one Saturday to party." added Thijs.
"If everyone is just standing there you aren't making a party," said Peter.
"We just start playing, taking over the place.
Other things you should know from our "hook up":
They anger vegans: In Amsterdam the duo hosts a dance party titled "Mayonaise." In the promo postcard for the event both of the men sport mayonaise on their face. Thijs animatedly told the story of a vegan who lectured them on Facebook about the animals involved in making mayonaise.
Thijs' wish: "Biggest wish in life is to be a black woman. I'm really flexible." One of Thijs' personal idols is Tyra Banks and he notes that his favorite part in Beyoncé's song "Get Me Bodied" is the Noami Campbell walk. When the group played at a recent event in Amsterdam titled, "Too Many Dicks on the Floor," the group was going to re-enact, with backup dancers, the entire video's dance. "I'm just gonna go 'boom'!" When I asked Peter what part of the song he'd be excited to re-enact? "The 'cool-off, cool-off' part."
On GaGa: "Gaga's more a brand with great PR." Peter responded of Mother Monster.
"She really wants the audience to go with her, which I like," added Thijs.
Celebrity crushes: "We are both single, very single!" Both answered almost simultaneously. "You know who I like? Finn on Glee." Thijs responded enthusiastically. "Give him my number. Hello, Finn? Yes, call me!" And Peter's man crush? "He likes Ricky Martin. One time I was working at this hotel and Ricky Martin was right in front of me. He was ok. He's [Peter] still mad that I got to see him and he didn't."
You can keep up with The G-Team by liking their page on Facebook. You can also listen to their mixes on SoundCloud.
Listen to the group's summertime mix below.
[soundcloud url="http://soundcloud.com/the-g-team/mayonaise"]
Follow The Man Crush Blog on Twitter | Facebook | Tumblr
Click on thumbnails to view larger images.
[nggallery id=59]