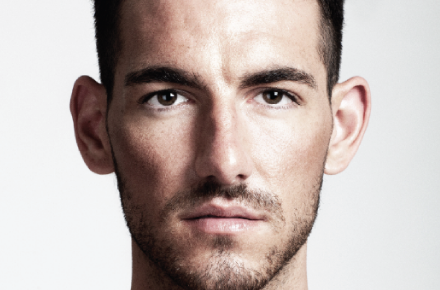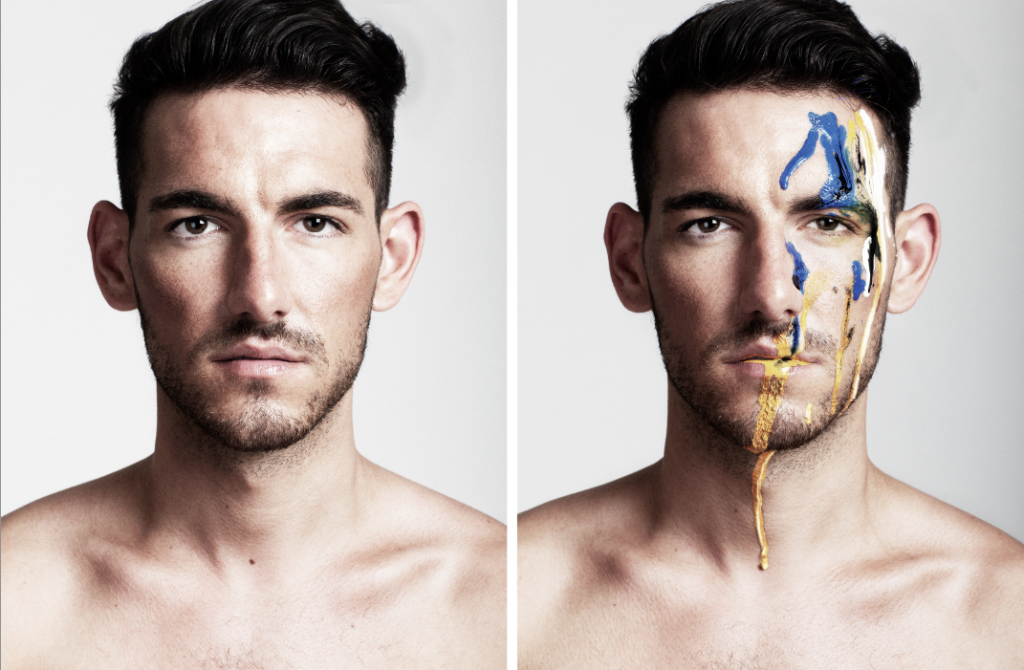 You all are more than aware of my crush on model Derek Allen Watson. He's been featured on the blog a few times, we've tweeted one another, we've talked on the phone–really, he's one of my absolute favorite hot men I've come across while doing this blog. So, confession time: he and I have been working rather closely on a project we've been keeping on the hush … until now.
We've "hooked up" and have spawned a website. That's right, an entire site dedicated to the one and only Derek Allen Watson, and we'd like you to check it out at www.derekallenwatson.com. It's our lovechild: the best of Derek with The Man Crush Blog's lustful, sinfully good design content style. If you're a fan of Derek, you'll be a fan of this site:  photos, biography, blogs, videos, social media–if it's Derek Allen Watson, it's on this site. Here's my dear friend and crush speaking about the launch of our joint venture:
And, as an added bonus, here's an exclusive interview I did with Derek. Fame, success, failure, sex, lust and dreams: here's everything you've wanted to know about the one and only Derek Allen Watson.
About the Career:
Man Crush: Let's tackle the easiest of questions: What lead you to modeling?
Derek Allen Watson: I started modeling for friend's in art school and things just started to catch on. I also really just enjoyed being in front of the camera and having them capture a moment in time.
Man Crush: What's been your best experience as a model so far? Can you, without burning any bridges, describe your worst experience yet as a model?
Derek Allen Watson: My best experience as a model was in February SPLASH nightclub here in NYC (one of the biggest clubs) threw me a photo release party for my new Rick Day set. It was amazing. I had all my close friends there, as well as 1200 people showed up. It was crazy. I was a celebrity for a night and I had so much fun. My worst was when I had a shoot and the photographer was extremely creepy and very touchy feel-y. I can put up with a lot of flirting, but he took it past the line, and I walked out. 
Man Crush: As an outsider, we all have our own views and ideas of the modeling world. Is it fast paced? Is it as dramatic as Tyra and the girls on America's Top Model make it out to be?
Derek Allen Watson: Modeling is not nearly as dramatic as Tyra makes it, in my opinion. Yes there are scary casting calls and angry photographers sometimes, but most of it is pretty laid back for guys I think. I'm sure with girls it is much different. Some things are very fast paced and fun. My favorite thing is shooting. Blasting some fun dance music and just rocking it out. 
Man Crush: In our society, we hardly give much thought to male models. Tell us the insider's scoop: what is modeling like for men? What are some of the perks and what are some of the pitfalls? 
Derek Allen Watson: Like I said earlier, I don't think that modeling for guys is as nearly as dramatic. Which is good because I'm a pretty laid back guy. But one of the biggest perks is career length. Most female models are done by my age, and lately I feel like my career is just starting. Also, guys get more muscle as they get older, so its easier to bulk up and train. The main issue I have had is that I'm a tad bit shorter than most male models. That's why you don't really see me on the runway a lot. I stick to photos. I like photos much better anyway. 
Man Crush: How do you keep up with the fast pace lifestyle of being a model? Does it ever negatively impact your personal life?
Derek Allen Watson: Yeah, there are some negative aspects. Sometimes I think people are just trying to be my friend because of what they can get out of it. I once went on a date with someone who was trying to be a model, and it was awful. It was more of an interview than it was a date. I could tell he was secretly taking mental notes on how he could make this work for him. 
Man Crush: We all know that beauty and looks unfortunately change or fade with time. What's your backup plan for when modeling no longer an option for you?
Derek Allen Watson: As you know, I do a lot of acting as well as modeling. I would love to do more acting, and I'm pursing it more and more. I hope I never have to do just one, because I could never choose. I also love gay rights and being an advocate. So I would love a job at OUT magazine or something along those lines. 
Man Crush: What male model do you have a "man crush on?"
Derek Allen Watson: I have a huge crush on Channing Tatum and Parker Hurley. I see Parker walking around my neighborhood and I get giddy like a little girl. But I also have a huge crush on Scarlet Johansson as well as Megan Fox.
Man Crush: Where many male models have chosen to live a rather closed off, somewhat secretive life, you're rather public and not to be overlooked, open and out about your sexuality. What has made you decide to take this approach to your career rather than remain aloof and mysterious as many do? Does being out and open about your sexuality create any problems for your career or conflict with your personal life?
Derek Allen Watson: I am not ashamed of my sexuality or who I am as a person. My modeling career should have nothing to do with my sexuality. If I was a person working in the Church, I would be the same. My career is my career. My private/personal life is how I live on a daily basis. I think people put too much emphasis on sexuality. Be who you are. Because if you aren't yourself, no one is going to want to be with you, and no one is going to respect you. I honestly think that being open about my sexuality has helped my career a lot. I think people respect me more for being honest. 
About the Body:
Man Crush: You are always looking fit as fuck and trim. What's your diet like? What would one of your typical workouts look like?
Derek Allen Watson: My diet is really simple. I just try not to eat a lot of junk food (which is hard). I am trying to bulk up a bit, so I'm eating everything in sight. But things that are good for you body. I go to the gym 5 times a week, and do separate body zones. I drink a pre-workout mix of Jack3d and protein. Then afterwords, in the locker room I drink another shake with 75 grams of protein in it, as well as some vitamins. 
Man Crush: Everyone seems to have a favorite workout move. What body part do you enjoy working out the most? What's your favorite gym move? 
Derek Allen Watson: I love doing chest and shoulders. Then I would say chest. I HATE doing abs. They are the worst and seem to show the least. [laughs] My favorite gym move would be to use the lap pulldown machine, or the shoulder press machine. 
Man Crush: I know you're a huge music fan. Give us your top 5 songs you'd put on the ultimate workout playlist?
Derek Allen Watson: I love music so much. This is so hard! I usually upload a DJ mixtape from dirrtyremixes.com before I work out every day. But my top 5 songs to workout to lately would be:
"Blow" – Ke$ha
"End of Time" – Beyonce
"Drop It Low" – Kat Deluna
"San Francisco" – Cascada
"Set Fire to the Rain (Remix)" – Adele
Basically anything by Gaga, Britney, Ke$ha, Beyonce, Kat Deluna, and Swedish House Mafia get me pumped up. I'm always dancing in between sets. It's actually kinda funny because people just look at me like I'm crazy. 
The Intimate Details:
Man Crush: Let me go all Diane Sawyer on you. You're a rather well known model. You have a big following on Twitter, your have masses of "friends" on Facebook. Google your name and tons of interesting things will come up. Naturally, people think they know you pretty well. In your view, what's the biggest misconception people have about you?
Derek Allen Watson: I think a lot of the time, people think I'm cocky or full of myself because I am always posting things. Or getting people excited for my work. It's not being cocky or full of myself, it's me being a publicist. If you don't put yourself out there, or sell yourself to the public, who is? You have to use all the opportunities you can. Sometimes people think that it makes me cocky, when I'm really not. People meet me all the time, and they are so surprised because I'm not always trying to be the center of attention. "Online Derek" is much different from the "Derek you would have dinner with". 
Man Crush: You've been called many things on and offline: hot, skinny, funny, sexy, slutty – what one word would you use to describe you?
Derek Allen Watson: Real. 
Man Crush: You've sort of lived a life fit for a country song: you started out a guy with dreams and aspirations in Cleveland, Ohio and moved onward to New York City to pursue that dream. To go a bit Lady GaGa on you, what do think you've gained in your pursuit of fame and notoriety? What have you lost in the journey?
Derek Allen Watson: The journey has been a crazy, and believe me, it is only just beginning. I think I have lost a bit of the small town Derek. Some of the views when it comes to love, sex, and fame. But I am not a entirely different person from Derek from Ohio. I'm still that boy getting teased in middle school. Just grown up, comfortable with myself, searching for love in a big city, and making my dreams come true. I also realize what people and what things really matter in your life. 
Man Crush: We're going to be a bit intimate: anyone who follows you on Twitter or does a search of your name … or who's on Grindr is aware of your reputation of being a bit of a loverboy. To get down to it, part of the Derek Allen Watson legend and reputation revolves around sex and lust. Is sex really a big part of your life?
Derek Allen Watson: As I said before "Online Derek" is much different from real Derek. I may be super flirty on Twitter or hint at my sex life frequently. But who knows what is true and what is not. (most of it is. ;D hahaha) I'm an open book. If I just had incredible sex and want to tweet about it to my "friends and fans", I'm gonna do it. I'm not gonna be blunt. But I will throw in a quote or so. [laughs]. But I think that's why people follow me on Twitter and Facebook. I like to have fun with it. No one wants to hear about my grilled cheese sandwich. They want me to post sexy photos or juicy secrets. You don't hear about all the boring stuff. Or when it comes to my love life, because I keep that stuff to myself. 
Man Crush: As a model, you have to sell an image and you have to convey desire, lust and sex in order to make a connection with the given audience. When you aren't in front of the camera and are alone, what place does sex have in your life? Meaning, is sex part of a character or role you feel you need to play in order to be a successful model?
Derek Allen Watson: My body is my career. I am my own product. I have to represent it in a good way. When I go to parties and openings, casting, whatever, I'm myself. By nature, I'm a very flirty and easy going person. 
Closing Arguments:
Man Crush: Where are you with your career and life. Are you where you want to be? 
Derek Allen Watson: I am NOWHERE near where I want to be with my life or my career. NYC and my career is a marathon. I'm realizing this more and more. I would get down on myself for things that I couldn't control, or things that take time. I am changing my career and life goals every single day. Realizing what really matters or makes me happy is part of this crazy game of LIFE.
Man Crush: Your new site, www.derekallenwatson.com, stands as a testament and monument of all you've accomplished so far. What's next? What big goals have you set for yourself?
Derek Allen Watson: Well, I have been spending a lot of time at the gym, trying to get my body perfect, before I start diving heads first again. I took a few months off to focus on myself, my body, took vacations, enjoyed the weather, personal things, and whatnot. The website is my launch back into it all, and I couldn't be more excited. I have some cool projects and goals coming up, but if you share all your goals, it creates pressure. But believe me, I've got some tricks up my sleeve. 
Man Crush: What keeps you inspired?
Derek Allen Watson: Music, Movies, Magazines, Fashion, Friends, Family, Love, Sex. It all makes me see things differently. It makes me see different angles/goals I can tackle. 
Man Crush: Let's address your fan base directly. To all your fans and lovers, what do you have to say to them?
Derek Allen Watson: Thank you so much for all of the love and support you guys give me on a daily basis. You guys are my rock. You are why I do it. All the private messages, comments, saying I inspired something in you, makes my day. I appreciate it all so much. Let's change the world. 🙂
Man Crush: To all the critics and haters, what do you want to say to them?
Derek Allen Watson: Get to know me. 95% of people that have negative things to say about me, have never even met me. I'm very different in person. But if you have met me, and you don't like me, then move on. I don't need negative energy in my life, and you shouldn't be putting it out there.
You can follow Derek Allen Watson on Twitter @_derekallen, "like" him on Facebook, and check out his new website at www.derekallenwatson.com.
Follow The Man Crush Blog on Twitter | Facebook | Tumblr