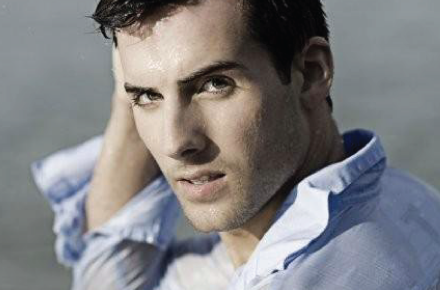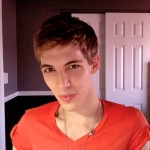 Today's the start of a new feature here at The Man Crush Blog and to launch it I've got a little help from my blogging pals, the awesomely cute and crush-worthy Kyle Ankney (that's him to the right). "Hooking Up With …" is a new feature on the blog that takes the usual dull interview and makes it over into an intimate experience. I, and others, will be interviewing men of all kinds from hot male models, porn entertainers, musicians and assorted others. Today, you'll have the pleasure of hooking up with Kyle Brylin, a hot Wisconsin native who's forging his own path in the music industry with his electro-beats and unapologetic pop stylings. Check out what happened when these two "hooked up" for an interview about Brylin's music: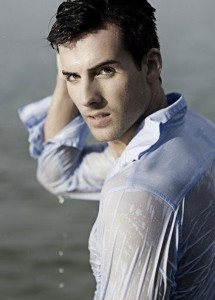 If you follow me on Twitter (@KyleAnkney) or have read my blog (www.kyleankney.com), you know that music is one of my passions. I'm not saying I can sing–truth be told, I can't hold a note. Thankfully, I am here to talk about someone who can. Recently, I was given the opportunity to interview up-and-coming pop artist, Kyle Brylin, who has a new EP on iTunes.
While I had heard of Kyle before, I did not know much about him before the interview, so my first question was: Who is Kyle Brylin? And I found out the following: He is a 22 year old who was born in Wisconsin. He studied music production in school and to top it all off, he is an athlete who participated in both swimming and gymnastics. Basically, he is a classic overachiever. Feel free to start lusting after him now… Which you can do, by the way! I took the liberty of asking him his current relationship status, to which he answered with a laugh, "I'm single. Very single."
When asked what characteristics he finds attractive in a person he responded, " I like a balance. Someone who knows when to have fun and when to be serious. There has to be a lot of ambition too, because I'm very busy, so you've got to keep busy too." Now you know. (Oh, and by the way… You're welcome.) But I didn't interview him to be his yenta. I'm sure he is more than capable of picking up whoever he wants on his own. I wanted to find out more about him and his music. Here's a bit of our music Q&A below:
Q: When did you first realize you had a passion for music?
Kyle Brylin: I started writing songs in elementary school. I was usually the only person in my class until middle school, so I had a lot of free time to myself.
You read that right. Kyle was the only person in his class until middle school. When I asked him how that was possible, he said " Apparently nobody else was boning around there the year I was conceived." Which may have very well been the case, but the fact that he went to a small private Lutheran school probably had something to do with it, too.
Anyway, back to the music!
Q: What songs are you enjoying right now?
Kyle Brylin: I discovered Asking Alexandria the other day, so at the moment I am all over that.
Q: Your latest songs are rather fun, flirty and suggestive! Do you write your own lyrics?
Kyle Brylin: I do write most of them, my latest, "Make It So," "Everything I'm Missing," and "Find You," as well as my EP, You Can't Stop Watching are 100% my brain. If you're curious about any other tracks, I have the credits to each on YouTube, where I have every song posted.
Q: Do you play any instruments?
Kyle Brylin: Piano and guitar. I can read music on the piano, and play both by ear.
Q: You recently released an EP on iTunes, can we expect a full album in the future?
Kyle Brylin: In the future, yes, expect an album. I don't really feel like I'm in the position to be releasing a full album yet. Right now I'm still figuring out who I am as an artist, as well as a person. Until I can get a hold of that and concentrate it into an albums worth of music, I'll be releasing singles and EPs of my journey there.
Kyle described himself as being on musical journey, which I think is a perfect description and is true of most artists. But, that sparked my interest about his personal journey. Where he is in his life, how he got there, and where he would like to go. The first question I had was about his definition of success.
Q: People define personal success differently. What does success mean to you?
Kyle Brylin: I've wanted to be a Pop Artist and a Pop Artist only my entire life. I don't want fame, I don't want to be loaded–I just want to lend people my ears, and hope they will enjoy it. I hope that I can make enough money to survive, and that my music can help people get through hard times, just like it does for me. If someone is smiling, that is success for me.
Q: What is one thing you would like people to know about yourself?
Kyle Brylin: People tell me all the time that I'm completely different than they expected. That I'm more of an old soul than a 22 year old guy. I'd like people to know that I definitely have a brain, and I definitely use it.
Q: Personally or professionally, what would you like to accomplish in the next year?
Kyle Brylin: In the next year, I would like to be back on my own, I recently moved in with a close friend because I was very unhappy where I was living. It's been a whirlwind of a few months. I worked very, very hard the last four years, and abandoned everything I had accomplished and strived for. You know when you just can't take something anymore, no matter how much potential it has for you and you for it? That's where I was at, and I bit the bullet and I'm starting with a clean slate. Performing live is my biggest hurdle to jump right now, so that's what my focus is, I want to show everyone what it means to perform, because we seem to have forgotten what a real performer is.
My last question was rather open-ended. I asked Kyle if there was anything about him that I didn't ask that he wanted the world to know. A man after my very own heart, he mentioned something underwear related. "I don't just wear boxers." He said. "I wear briefs, too. Even boxer-briefs." I was tempted to ask for specifics like if he was a classic Calvin Klein kind of guy or if he owned a pair of the sexy Emporio Armani Hip Briefs worn by David Beckham in the famous ad campaign. But, I refrained.
The good news is, you can ask him yourself by following him on Twitter @kylebrylin. And don't forget to check out his Facebook page and YouTube channel.
Here is his latest music video for his song, "Everything I'm Missing," which you can buy on iTunes by clicking here.
http://youtu.be/6dC3alIONIc
Follow The Man Crush Blog on Twitter | Facebook | Tumblr
Click on thumbnails to view larger images.
[nggallery id=55]