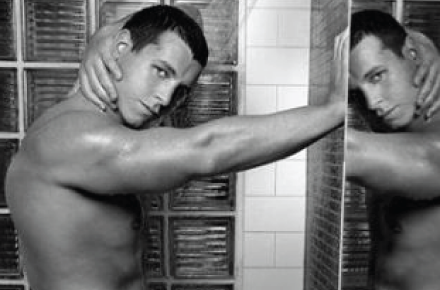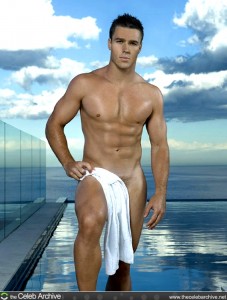 Let's get back to my usual obsession: rugby jocks. Oh, yes, another week, another rugby hunk that I'm crushing on. This week it's the Crusaders' Michael Witt. Now, I'd love to lie and give you all the impression that I sit here like any hot, masculine bloke watching rugby and cheering for my favorite team but that'd be pretty hard to pull off. Michael Witt landed on my radar due to his photos from the 2006 League of their Own calendar. You know, it's a lot like Dieux du Stade where the hot rugby men pose half naked with balls or gear strategically placed to hide their kibbles and bits? Well, if you don't know, you should definitely check it out because those photos will definitely have you wanting to get into the sport, or at least have some of these sporty men get into you.
Michael Witt is an Australian, which should come to no surprise to any of you if you regularly read my blog or come across my many posts on hot rugby men. He was featured in the 2006 Cosmopolitan Boys with Balls '06 featured, appeared on the cover of Naked Rugby League 2007-2008 calendar, and did the much loved Gods of Football DVD/calendar. To say the least, he's got a body of work worth showing off and has done just that, praise the Lord. Check out a few hot shots of Michael below.
Follow The Man Crush Blog on Twitter | Facebook | Tumblr
Click on thumbnails to view larger images.
[nggallery id=52]