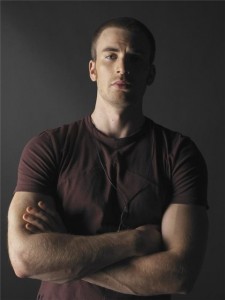 In thinking of who'd make a great 4th of July crush, he suddenly came to me (unfortunately, not on me): Captain America! Not so much the comic book character, though he is hot, but the actor who's about to bring him to life on the big screen later this month–actor Chris Evans.
Chris Evans has been a crush of mine ever since the infamous whipped cream scene in Not Another Teen Movie. Always rockin' a bit of chest hair on his pumped-up pecs, some scruff, and that playful jock attitude, Chris Evans tends to be every gay guy's (and oh yeah, some unimportant girls', favorite male actors. Sure, he hasn't really earned much acclaim for his acting but then again, with a body like his he can get away with roles like The Human Torch in Fantastic Four. It does look like his turn as Steve Rogers in Captain America could prove to be a bit more of a defining role in his career. Yet, it's still another movie for us to watch simply for the eye candy.
Be sure to check out Captain America in theaters July 22 and enjoy these hot pics of Chris Evans below that are sure to set off more than a few fireworks down below.
Follow The Man Crush Blog on Twitter | Facebook | Tumblr
Click on thumbnails to view larger images.
[nggallery id=50]