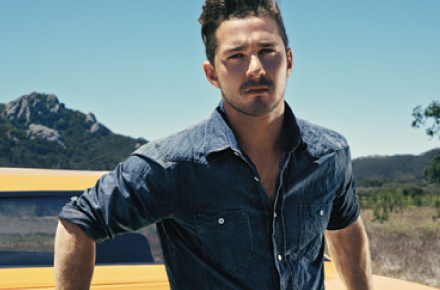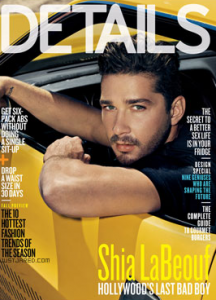 With Transformers: Dark of the Moon on the horizon for a debut, the promotion blitz has begun. Naturally, Details magazine has nabbed the movie's leading male star Shia LaBeouf as its latest cover boy. While I can say I'm not entirely fond of this scruff, unkempt hobo look he's rocking, he definitely is photogenic and manages to rock the whole bad boy "I don't give a f*ck" look that's propelled him into stardom and from the clinches of his clean, cheery Even Stevens Disney past.
In the article "Hollywood's Last Bad Boy" Shia attempts to paint a romantic portrait of himself as a tragic figure looking for love: bad childhood, horrid parents, unlucky love affairs but the end he survives against the odds. Hurray! Let's be honest, we just care about the hot pictures and fashions. Check out Shia's Details pics below where he rocks out clothes and accessories by What Goes Around Comes Around, Dsquared, John Varvatos, Hugo, Dior Homme, Cast of Vices and Diesel. You may read the full story on Details.com.
Follow The Man Crush Blog on Twitter | Facebook | Tumblr
Click on thumbnails to view larger images.
[nggallery id=48]