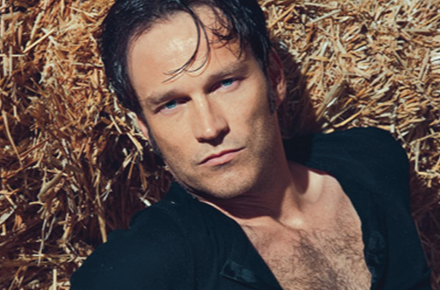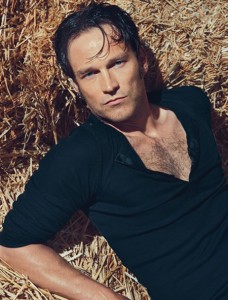 As you know, I've been on a True Blood kick this month. Yes, I've only watched the pilot episode and various clips with hottie Ryan Kwanten shirtless or having sex but I still appreciate the hot guys of the show. So, with the big season 4 premiere this weekend and a new season worth of homoerotic themes, shirtless men running around sucking and biting each other, I thought it'd be nice to round out the True Blood studs with the lead hottie, Stephen Moyer.
Now, don't get me wrong, he's not Ryan Kwanten. But he's hot. I dig Stephen's scruff and the fact that he sports some hair on his chest that begs you to run your fingers through it. Sorry, this infatuation with Stephen's hair is already getting a bit x-rated and kinky. There are other crush-worthy qualities that I like about Stephen, mainly that he's British and plays a character who's really into sucking out people's bodily fluids. Check out these hot pics of Stephen Moyer below and tune into the premiere of True Blood's 4th season this Sunday, June 26.
Follow The Man Crush Blog on Twitter | Facebook | Tumblr
Click on thumbnails to view larger images.
[nggallery id=39]