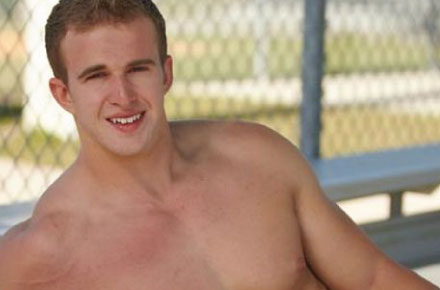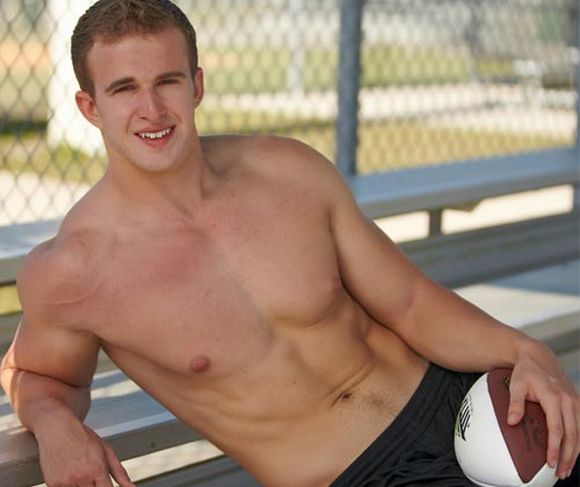 A while back I featured porn entertainer Cameron Foster. There was such an overwhelming response that Cameron offered to pop my blog's cherry … by offering the chance for me to interview him! Now, after I twirled around in Julie Andrews-style in glee and excitement I put on my Lois Lane cap and got down to business with this hunky rising porn star.
Since this is your first interview, there's the inevitable "how'd you get started in/with porn" question. But instead of the usual song and dance, I'll ask did you have any concerns or worries about getting involved in the adult film industry?
I had concerns about what my buddies or girlfriends would think, ha then I decided to keep it a secret from them. Just recently I had some of my ex girlfriends find out and said they were attracted to the fact I did it and should of told them. I am still nervous to tell my buddies…
There are a lot of misconceptions about being a porn entertainer. Stigma, bad reps, promiscuity. What's been the biggest misconception you've personally encountered and have had to overcome?
The biggest misconception that i have encountered is that you can't be in a good serious relationship. That has not been the case for me though.
What misconception did you have about being a porn entertainer before you got involved in the industry yourself?
I did not know what to think about porn entertainers before i got into the business, but after being in it a little while I have found out they are just like everyone else, and really good people. The biggest misconception I have personally had to overcome is that I could never be in a real
relationship and I found out that's not true because I've had some good ones.
With what you do, and with who you're doing it with, there are a lot of labels tossed around –gay, straight, bi, top, bottom, verse … do you label yourself?
I am actually straight but am also just having fun, I think you only live once so I want to try everything out and have a good time.
Are you concerned much with how people see or define you?
No I am not, but I do hope people like me!
You're in the spotlight more and more as your career blows up. How do you handle the attention and the loss of privacy or anonymity?
Well I like having friends and good people in my life so the extra attention is think is good because I can meet really good individuals.
There's a growing question of what makes someone a porn "star" as opposed to just being a porn entertainer or participant. How would you define a porn star?
I'm not sure what is defined as a "porn star" and just a "porn entertainer" I would just imagine a porn star is someone that the public likes.
Do you consider yourself to be a porn star or have any aspirations to be one? Do you have anyone in the porn/adult entertainment industry that you look up to or consider to be a mentor?
I have always had a huge crush on Pamela Anderson but I'm not sure if she's a porn star or a model. Anyway, I consider myself a porn actor. Only the fans can determine if someone is a star so it's not for me to decide.
What sets Cameron Foster apart from all the other guys in the porn industry?
I am completely myself and hope people like me for me.
You have a rather impressive fan base. One thing that catches my eye is how guys in porn interact with their fans online and in person. There are some who are very stand-offish and like to mingle mostly with other entertainers and then those who enjoy the fan interaction. Where are you in terms of interacting with your fans?
I love interacting with the fans. Most everyone is so nice and I really appreciate it.
People know so little about you that the mystery is almost a turn on by itself. So share a little secret about yourself that few of your fans would know.
I don't usually watch porn myself. But What I do sometimes when I am by myself I will watch myself masturbate in the mirror [winks].
What do you consider to be your guilty pleasure? Let's talk about one of your best assets –your body. You obviously workout and keep in shape. What's your workout regimen like?
My favorite part on my body is my arms. MY workout regimen is cardio in the morning then weight training in the afternoon. I usually always eat healthy but sometime I have my cheat nights which are pizza wings and beer.
Is there one exercise that you'd recommend everyone do?
I would recommend everyone to do cardio; it's very good for the body and heart.
I read somewhere that you're a bit shy. Is that true?
I can be shy around new people I meet, but you just have to get to know me and I am actually not shy at all around people who I get to know.
I'd think being in front of the cameras, naked at times, would call for you to be a bit outgoing and not at all bashful. Many people in the entertainment industry have different on and off-camera personalities. How do you differ from what we see on screen in clips and what we might see if we were lucky enough to encounter you in person?
From the young years of my live I have loved being naked ha and also it turns me on to have sex in front of others so that's actually my real personality.
Let's pretend we're on The Dating Game. How would you describe yourself and what you're looking for in a potential partner?
I am a nice, fun and hopefully you think good looking guy ha. I love and have a thing for blondes. And have pretty much only had girlfriends that are blonde (basically a girl like Barbie).
What does someone have to do to catch your attention?
Just come and say hi, be nice and respectful.
Would you be the first to ask someone out or would the pursuer have to make the first move?
I hardly ever make the first move I don't ever want to get turned down, ha.
Since this is The Man Crush Blog, I have to ask –whom do you have a man crush on?
I do and it's on tom cruise, i thought he was so cool in Top Gun watching him as a child.
One of your fans wanted to know if you had any desire to act outside of porn?
I do have a desire and just need the chance to.
If you weren't doing porn, what do you see yourself doing?
I would be personal training and probably opening up my own gym.
For the last question it seems fitting to ask –how long do you see yourself doing porn and when the time comes, how would you like to make your exit from porn?
I love being in porn so as long as i can. I would like to make an exit where the fans and I have a good relationship and I make a bunch of great videos to entertain them.
You can Follow Cameron Foster on twitter @CameronFosterX and "like" the Cameron Foster Facebook page.

Follow The Man Crush Blog on Twitter | Facebook | Tumblr