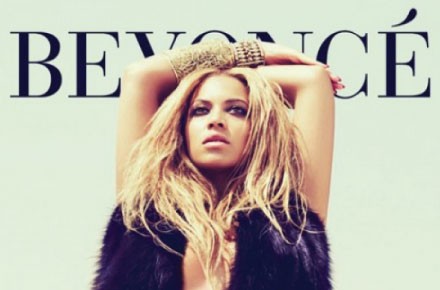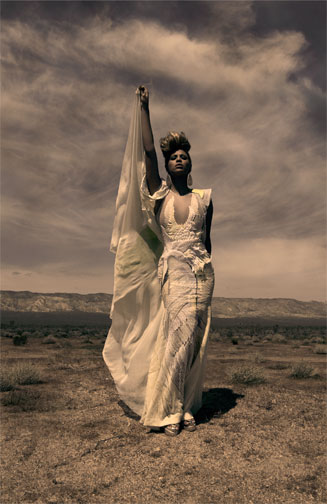 On June 28 Beyoncé is set to release her fourth studio album, appropriately titled 4. With a lot of musical competition having entered the scene in the past few months (Britney, GaGa and the old vets Nicki Minaj and Rihanna) it's been a long wait to see what Honey B would bring to the musical battlefield. If you're expecting 4 to be "I Am … Sasha Fierce" 2.0, you're in for a bit of a let down. On this album, Sasha Fierce takes a back seat as the more subtle, vocal-driven Beyoncé takes the driver's seat. Despite the impression you may get from the highly airbrushed, blown out, cracked-out Kate Moss-inspired album art, this is probably Beyoncé's most understated album to date. There's no big theatrics; no thrills; no crazy sound effects or beats. There are a few dance floor-ready songs to remind you of her past work but they're overshadowed by the glut of slow, downtempo, old school jams crammed onto the album. Here's a look at what 4 has to offer–
Track-by-Track
The album starts off with "1+1," a track she performed on American Idol a few weeks. This track definitely sets the tone for the album: it has a throwback, classic R&B sound. Gone are the thrills and frills of "Sasha Fierce" from the last album and instead the more tamed, raw version of Beyoncé. She sounds great on this track and it's nice, after an album that was all about big production and over-the-top theatrics to have her go back to performing and focusing on vocals. The album moves onward to "I Care," another vocals-driven track. It feels a bit strange and sounds slightly off: again, the vocals and production sound more like a raw, untouched demo than a finished album. "I Miss You" is a slow, down-tempo track. "Party" featuring Andre 3000 isn't really the uptempo, dancefloor hit you'd expect based on the title. Instead it's a throwback to the '90s and even goes so far as to sample a Doug E. Fresh track. That being said, it sounds like a dozen other tracks and like the previous tracks, comes off as a bit reserved and understated."The Best I Never Had" is the album's second single and is Beyoncé taking on an entirely new and different sound. Some have commented that the music sounds reminiscent of the Baywatch theme: I don't feel that at all beyond the fact that she utilizes the piano as the main instrument rather than tons of sound effects and computer-manipulated music. This stripped-down track is nice, light and attempts to capture that "Irreplaceable" magic but falls a bit short. It's a nice track but it's almost sickening sweet and hard to find Beyoncé amongst the warmth and in-genuine emotion.
"Rather Die Young" is yet ANOTHER slow track. It's a bit of a ballad though she does actually sing her behind off toward the bridge and onward toward the end of the song. "Start Over" is a slight improvement and where the album actually starts to pick up. Though it sounds similar to the previous track "Rather Die Young" with a slightly more upbeat tempo, it has a bit more of an edge to it and definitely leaves more of an impression than the other down-tempo tracks. "Love On Top" reminds me of a Stevie Wonder track: totally a throwback track, feel-good, happy track. That being said, there's nothing new or groundbreaking about it and it's such a well-traveled music path and style that I honestly could barely sit through the monotonous nature of it.
Finally the album (for me) officially starts with the track "Countdown." It's a fun track with a sound that's a bit progressive and beat driven. It sounds similar to a Kanye West beat and the lyrics are tongue-in-cheek and quirky, exactly what I'd expect from Beyoncé coming off her I Am … Sasha Fierce album. She keeps the beat going with "End of Time" that's very M.I.A.-esque: competing drums, tongue-tripping lyrics, attitude. It's not the clean and polished pop and radio-friendly sound of her past albums but it definitely takes her style and music into a fun, unexpected direction. "I Was Here" is a power-ballad and of all the slow, down-tempo tracks it's the one that works the best. There's a lot of power, strength and emotion present that makes this track stand out as more of a statement than a simple song. Beyoncé feels more genuine and convincing on this track than on the other slower-tracks where she sounds more like she's going through the motions and trying to define herself as an emotional singer.
The album ends with the first single "Run The World (Girls)." After all the hoopla over the song and video, it turns out it's the one track that doesn't really fit at all with the rest of the album and feels as if it were produced as an after thought or bonus track. It's heavy drum beats and M.I.A.-style makes it go well with "End of Time" but still it sticks out like a sore thumb on this album. It's the only track that old, classic dance-inspired Beyoncé emerges. Perhaps this is the one real "Sasha Fierce" appearance on the album because this attitude and edge is what's missing from the rest of the album.
Final Verdict
As Joan Rivers would say, can we talk? Beyoncé. I mean, gurl, Beyoncé … what the hell is up with this album? This album's title must be misprinted because I'm pretty sure it should read something to the effect of "4get This Album" or "4Got My Fanbase." I'm all for trying out new sounds and genres. Artists have to evolve and change or they'll become irrelevant or musically dated. This album feels heavy on the ballads and light on the sass and attitude that we all appreciate and expect from Beyoncé. People complained about how the first disc of I Am … Sasha Fierce was just too slow moving and uninspired and that Beyoncé was at her best when she took on her whole "Sasha Fierce" personality. At the end of that album era she announced that she "killed" Sasha Fierce and after listening to this dull musical headtrip of an album I think she should be locked up for such an act.
The album doesn't pick up until the end. Don't even get me started on the album art for this album where she's trying to make herself look as white as possible (blown out photos, super blond hair). I mean … Beyoncé! I note that this is her first album where her father isn't involved in her career and it's clear to me now that despite his personal issues and ridiculousness he obviously had a bigger part in crafting and shaping her career than previously let on. This music is just not doing it for me. It feels like a wasted opportunity and the uptempo tracks don't at all go with the bulk of that album that can be described as easy listening at best. Where's the snap, crackle and pop? Where's the big radio-hit? The usual one-liner lyric that saves the mediocre song from obscurity? This album is pretty much like her image on the cover: a cracked out mess. Beyoncé is at her best when she's making dance music yet 4 is music you'd listen to if you were suffering from insomnia or music that'd help you cry out a bad situation.
To say the least, this is a pretty disappointing mess of an album. The first 8 tracks sound pretty similar and lack any sort of spirit or punch. Just as things begin to pick up, poof, the album is over. Already her camp is spreading the news that she's aware this album is a "big risk" and that "people won't get it" – you know, that same song and dance every artist uses when they know they've produced poop and are trying to sell it off as diamonds instead. Nah, gurl, try as you might but I don't even think I'd pay 4 cents for this album. I expect her to ride it out for a while and just as it begins to really tank we'll be treated to a re-release featuring remixes and appearances by everyone from Nicki Minaj to perhaps even another Lady GaGa collaboration and a ton more uptempo, dance tracks to fill the big void in this album. So for now, wait, skip this and hold out for the re-packaged album that is no doubt already in the works.
Listen To These: "Countdown," "Run The World (Girls)," "End of Time," "I Was Here," "1+1"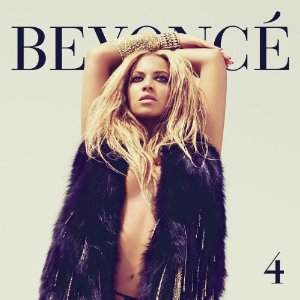 4 [Tracklist]:
1. 1+1
2. I Care
3. I Miss You
4. Best Thing I Never Had
5. Party (feat. Andre 3000 & Kanye West)
6. Rather Die Young
7. Start Over
8. Love On Top
9. Countdown
10. End Of Time
11. I Was Here
12. Run The World (Girls)
Follow The Man Crush Blog on Twitter | Facebook | Tumblr