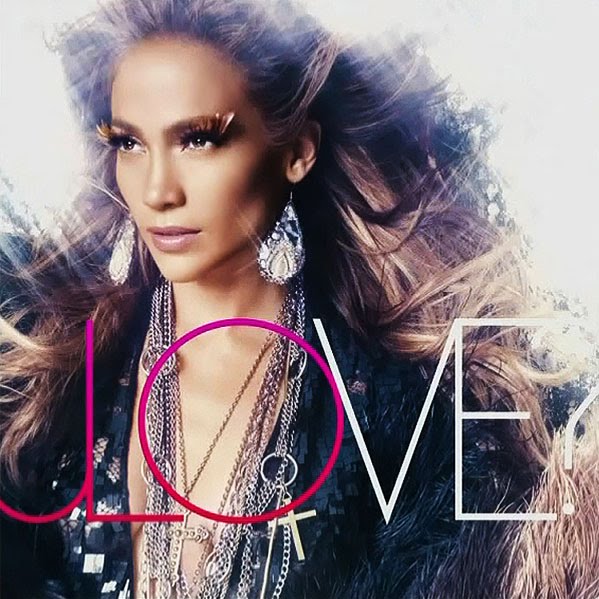 On May 3 Jennifer Lopez is set to release her new album, Love? The theme of the album is examining, questioning and exploring the many different sides and avenues of love and relationships. Let's be honest – musically Mrs. Lopez has been losing steam and her footing over the years. Her last album, Brave, barely made an impression and none of her albums since JLo has really set the world on fire. Even this album has been surrounded by controversy and an overall struggle to get it released. Her first attempt to release a track for the song didn't catch on and her relationship with her past record company dissolved. Now she's with a new company, the album is done and she's taken over as the "nice" judge on American Idol. Is Love? a hit? Well, let's take a look at what Jenny from the block cooked up for this album.
Track-By-Track:
We've all heard and seen the video for "On the Floor." It's one of the album's strongest showings, having a bit of a whimsical vibe and features Pitbull. The track marks a much welcomed change in musical direction for her considering her last album Brave delved into a bit of a retro sound. "On the Floor" is a club anthem but sound wise it's unlike anything on the radio, definitely putting her ahead of the game. This track gives a hint that for the most part the music of Love? is dance and Euro-influenced, something new for an artist who started off in the realm of hip-hop, R&B and seemed to get stuck in a pop rut. "Good Hit" feels a bit forced and lame compared to the opening track. It's monotonous, sounds a bit elementary and lame and seriously should have been left as a bonus track compared to the great "Hypnotico" (to be discussed later). "I'm Into You" featuring Lil' Wayne has a nice beat; the Lil' Wayne contribution doesn't amount to much but this track is Jennifer Lopez being sexy and alluring. I don't remember her having a song like this in a few albums. While it's not an upbeat dance track it's still something you can dance to. "(What Is) Love?" leaked a while ago and holds up as one of the album's best. It's basically the epicenter of the album, asking and questioning love and why it's at times so elusive. Again, not so much a dance track and a bit too upbeat to be a ballad but still entertaining.

"Run the World" is one of those old-school JLo track's where she flirts with the hip-hop side of her music. The track features The-Dream and Rick Ross and the beat sounds a bit dated (a bit 1990s and light rather than hard-hitting or fresh). Still, the track is a nice departure from the album's very synthesized club anthems and a nice nod to Jennifer Lopez's past musical stomping ground. "Papi" is probably one of my favorite tracks from the album. It has the Euro-dance influence with the beat but the lyrics are a mix of Spanglish. This is probably Lopez at her best; the lyrics are a tad bit cheesy (especially when she steps into speaking Spanish during the bridge) but it's a fun, upbeat song that's an easy guilty-pleasure song. Try as you might, you'll find yourself up on your feet doing our own dance for your papi-muse.
"Until It Beats No More" completely switches gears and bypasses the dance floor for the heart. The music sounds like it has a 1980s vibe with the electric piano and synthesizers. While she goes for the big high notes, she falls short a bit. I could see this track working for Mariah or someone with a big range and voice who'd just tear up the song and do all sorts of runs but Lopez has a limited range that doesn't evoke enough emotion to really pull off this track. "One Love" is a laidback track that harks on the album's title. It's upbeat and though they aren't spectacular, the lyrics stand out on the track as it goes about questioning love and overall it screams "safe" and feels like a nice summery track. "Invading My Mind" is upbeat, clubby and reminiscent of Usher's latest style of music. It's meant to get you on your feet, inspire you to dance but really doesn't find its legs until the bridge. "Villain" is an odd track. It never really goes anywhere and wanders, toying with being a somewhat darker track while trying to still be danceable. In the end, it feels muddled and a bit dull.
The album ends on a strong note. "Starting Over" has a fresh sound and feels somewhat autobiographical for her and there's definitely more feeling and emotion into it than a majority of the other tracks. The lyrics describe a man that the world views as less than ideal and how despite all the flaws, she still loves him. Even as she professes her love for him (ahem, Mark Anthony perhaps?) she confesses that she can feel the love waning and that things are cooling off. It's definitely one of the more interesting tracks. There's one final track that's considered a bonus titled "Hypnotico" and typical of bonus tracks, it manages it pretty much put a majority of the tracks that are considered standard titles to shame. It's pure dance and vocally it fits JLo perfectly and showcases her dance music appeal greatly. This track should be a single and has one of the album's catchiest hooks of "All the boys will love it when we do our thang; we're just some silly heartbreakers tonight."
Final Verdict
Love? is a safe album. Love themed albums are never truly groundbreaking, and this album is no exception to the rule. Jennifer Lopez is at her best when she's less concerned about questioning and figuring out love and is more concerned with dancing and breaking a sweat. What makes Love? something of a let down is that a lot of the tracks lack a fresh, new sound. The album sounds as if it was made in the early 1990s – in other words, quite dated and musically a bit weak, lightly treading the "Been there, done that" territory. Some tracks really fall flat while others feel like instant dance floor hits. I wouldn't be inclined to buy the entire album but get some of the dance tracks if you're interested in getting your money's worth.
Listen to These: "Hypnotico," "Starting Over," "Papi," "On The Floor"
Love? [Tracklist]
01. On the Floor (Ft. Pitbull)
02. Good Hit
03. I'm Into You (Ft. Lil Wayne)
04. (What Is) LOVE?
05. Run the World
06. Papi
07. Until It Beats No More
08. One Love
09. Invading My Mind
10. Villain
11. Starting Over
12. Hypnotico (Bonus)
Follow The Man Crush Blog on Twitter | Facebook | Tumblr