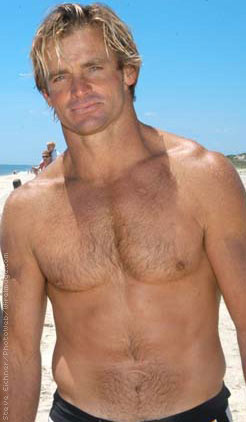 If you follow me on Twitter (@man_crush) then you are well aware of my affinity for DILFS (dad I'd like to f*ck). Sure, there are a lot of P.Y.T.s (pretty young things) featured on this blog but we can't ignore the fact that there are some older guys that are definitely crush worthy and outright hot. Pro surfer Laird Hamilton has been one male celebrity who's forever had a place on my "To Do" list. I mean, seriously, how does this guy manage to maintain his physique and look hotter the older he gets?
Perhaps it's his bleach-blond hair, the surfer build, the fact that he gets to spend most of his day shirtless … I dunno, it just all clicks for me and makes me wish that I was his surf board and he'd spend a little time waxing me off sometime.
You can see tons of photos and info on Laird at his website, follow Laird on Twitter @LairdLife, or become a fan of his on Facebook.
Follow The Man Crush Blog on Twitter | Facebook | Tumblr