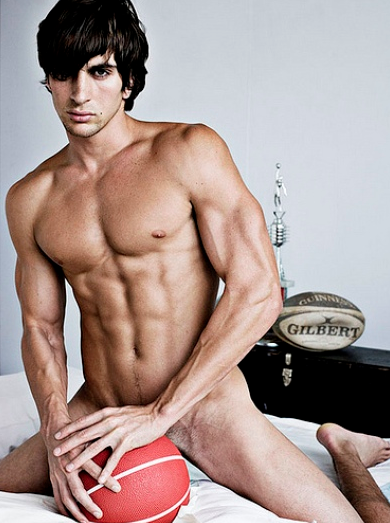 Forget about today just being another manic Monday; as you all know, Monday means we're featuring a hot model to get your week started on a steamy, sinfully good note. We're serving up a hot dish from the South – model Lee Kholafi. His pictures are all over the Internet; he's been in various magazines and was the guy in Kelly Clarkson's "My Life Would Suck Without You" video. The muscles, the slightly exotic look, the overall alluring glare – it's no wonder this guy from Alabama has found himself as one of the most popular male models to come along in a while.
In reading an interview he did back in 2008 with connex24.7 he revealed how he keeps his body in check – at the time he lifted weights only once a week, does a lot of cardio and works his abs every other day. When asked what he felt makes someone a good model Lee replied, "I believe physical appearance is 50 percent and personality is the other 50 percent is what it takes to be an established model." I've yet to read much in terms of negative experiences with Lee and he comes off as a rather grounded, low-key guy so this obviously works for him. For those guys looking for success in the modeling field, Lee definitely seems like the perfect model to learn from.
You can follow Lee on Twitter @LeeKholafai or become a fan of his Facebook page.
Follow The Man Crush Blog on Twitter | Facebook | Tumblr