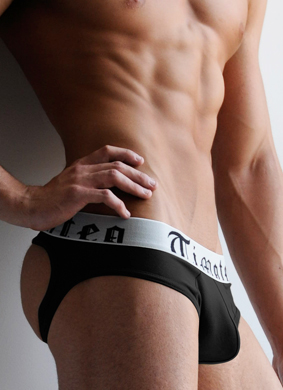 A couple of weeks ago we featured a guest post from Justin Hernandez titled What Your Flavor of Undies Say About You and it was a big hit with the blog's readers. It was clear from that post that you guys love your underwear and are on the lookout for what's hot and new in the field. Underwear for gay men are more than just something you slip on and forget about. They are in many ways our second skin. We'll buy underwear with patterns, with the ass cut out, with a special pouch upfront to make our package look bigger than it may be. Underwear can make a man entirely sexy and desirable or have you cringing and having second thoughts when the pants come off and you think fireworks are about to ignite in the bed.
In an effort to make The Man Crush Blog your go-to site, I'll try my best to offer up a bit more content geared toward fashion, underwear, accessories and other things that will make your life cum-plete. The other day on Twitter someone tweeted and asked me where one could find or purchase a sexy jockstrap or underwear that you wouldn't come across in say, Target or Walmart. That made me think not so much about where you can buy underwear but brands that you should be on the lookout for.
The first that comes to mind that should be on your radar is Timoteo's line of underwear and accessories. Timoteo Ocampo runs the company that's based out in Los Angeles, California. Timoteo isn't just underwear: the company produces everything from shirts, swimwear, fashion tees and other accessories that will help you stand out from the crowd. Unlike the underwear you may be buying in retail stores, Timoteo is made with you in mind meaning it's all about being stylish, comfortable and fitting you snugly to show off your best assets and features.
For more information on them you can visit their website. Check below for a bit of eye candy and examples of what you can expect from Timoteo's line of products. You can also follow them on Twitter @TimoteoStudio.
Follow The Man Crush Blog on Twitter | Facebook | Tumblr