This week's guest post comes via my friend and fellow blogger Daniel Gonzalez who runs BoyMeetsBoyBlog.com. If you haven't visited his blog, it's all about making sense of being gay and dating in today's technology-driven culture. We all rely or frequent sites like Grindr, Manhunt, Adam4Adam and rely on all our gadgets and high-tech phones to meet and hook-up with guys. But with all these advancements, don't you feel like things are overly complicated and complex? Daniel takes on this topic and explores the modern day relationship highs and lows brought on by technology.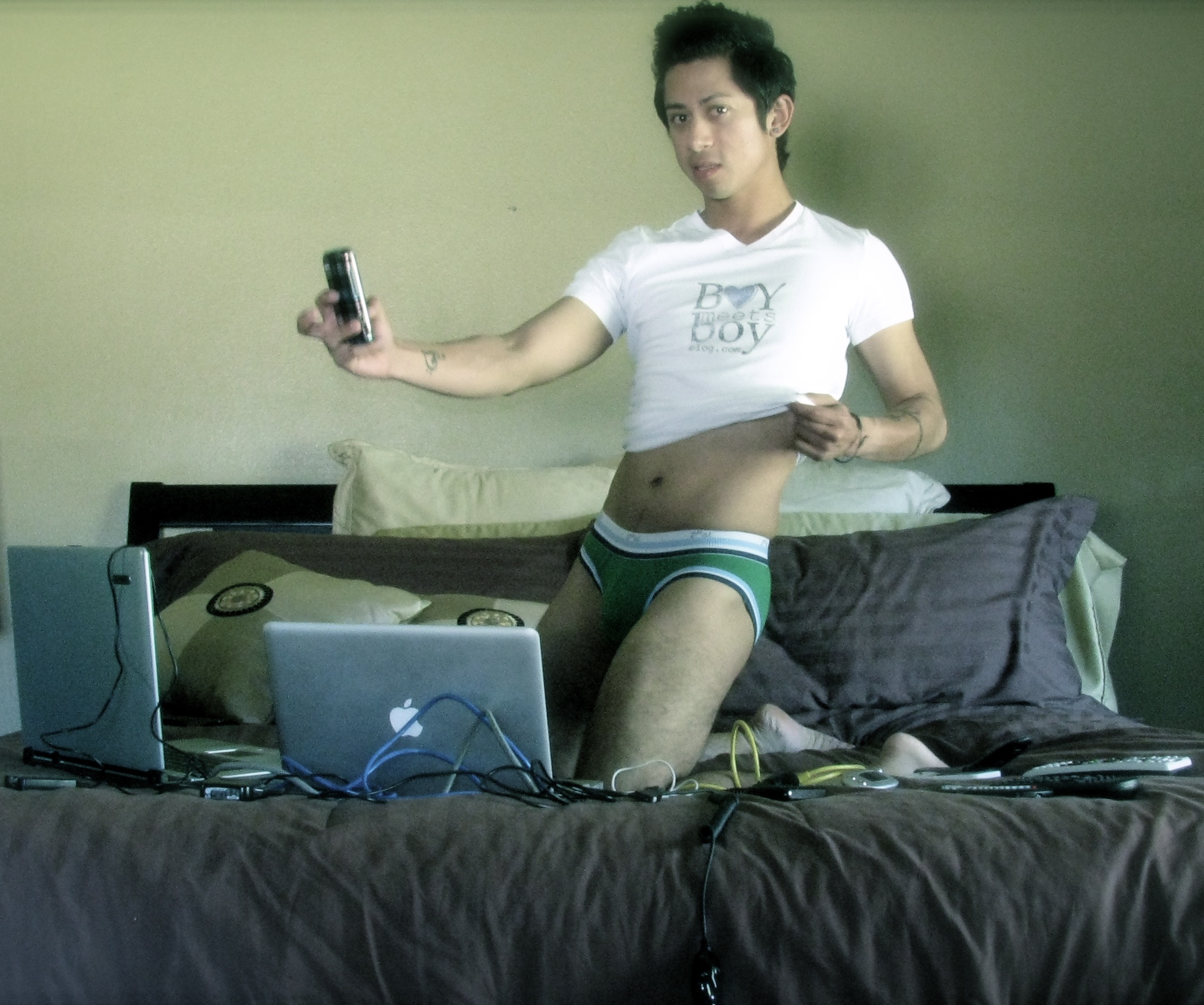 Music. Movies. Television. Radio. Carrie Bradshaw. Pop cultural overload? Maybe. We live in the most technological age, minus the flying cars, since the 1980's when Internet was introduced to the masses. IRC was one of the few chat rooms available in the late 80's, circa 1988. Since then gay men have been wired to a computer.
Emarketer has projected 99 million men were online for the year of 2010 and in 2011 are looking at 101 mllion. There are hundreds of gay dating sites men. From jocks, bears, twinks and fetish sites. As of 2010, there were over 400K, self-professed gay men on Facebook. Twitter boasts a following of 10 million users, the top three Twitter-ers being Lady Gaga, Justin Bieber, and Britney Spears. I wonder who follows them?
Exactly how does all of this play into dating? Easily, it comes down to the rules… the rules of engagement, pun intended. Growing up we heard the ins and outs of dating, the how-to (or not-to), the birds and the bees. With information overflowing so rapidly now, we begin to forget what we proposed for ourselves and what we have been culturally thought to believe, as gay men. Some guys can't date someone older, because they aren't physically attracted to them. Gaymillionairesclub.com. The person might not perform sexually. Viagra. He will only date Latino or black guys. Latinboyz.com and Downelink. I can only date white guys. Ambercrombie and Fitch. The list can go on. I must have a 'look' for my date. Diesel. Is he trying to be romantic, or is this a play from his gamebook. Sex and the City.
Moreover, all the rules that we have come to know of dating, predating the Internet, have been passed down through books, talk, daddy's dirty magazines, and dare I say it, oral traditions. Everything now has been moved to an LCD screen, where fake pictures and stats are more rampant than when the Miley Cyrus smoking salvia video went viral. Ideas collide and are distributed in .13 seconds of a Google search. No wonder gay men are left scratching their well coiffed heads wondering how to begin dating.
The stereotypes are prevalent, the don't-talk-to-me if you are this list grows, the hook-up is the predecessor to the date. There is so much out there. Just when you thought you had a grasp on who you are and what you like, a new site is opening other possibilities. At the same time people rely on nonface-to-face communication, when outside of West Hollywood or any other gay metropolitan area. Everything is reliant on a text, on a buzz, a message coming through on adam4adam.com. We forget to put ourselves out there, be extroverted, make a conversation, flirt a little…in person.
Instead of falling into rigor morale and the consumed gay aesthetic we see on television, we have the opportunity to dissect, probe, and create our own rules of dating. Form the relationship how you two see fit. Move as slow or fast as you want to. If you are in love, say it! Don't hesitate.
Now I know I am the king (queen sometimes) of dating rules, the Tops and Bottoms of Dating, but there are two rules that keep true when dating, no matter what, that will never be affected by friends, television shows, music, or even Carrie Bradshaw herself (remember she is fictional) and they are:
Always be honest to yourself.
and, always, always wear a condom!
Visit Boy Meets Boy Blog |Facebook | Twitter | Tumblr