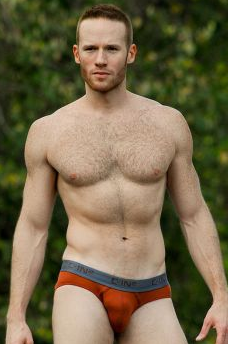 Unlike Chelsea Handler, I actually find some redheads to be hot and tolerable. When I came across today's featured crush I felt it hard to resist getting him up on the blog ASAP. Aaron Lee Smith is a model  from Charleston, West Virginia. I must say I have never been witness to anyone mildly attractive to come out of that state so was shocked that men like this could be hidden away in such a state.
Here's what Aaron wrote on his ModelMayhem profile:
"I am a creative soul with an open mind. I love to lift weights and workout until they kick me out of the gym. I love music, writing and learning something new. I practice positive affirmations and maintain an open mind and keep an open heart."
Uh, Aaron Lee Smith: take me now. The saddest part is that this hot man is reduced to working sales at AT&T instead of being shirtless and modeling. Huh? How does this make any sense whatsoever? Someone find this guy and make him over into a big time model! You can find him on Facebook and you can visit this Tumblr blog dedicated to him that's packed with even more photos of him.
Follow The Man Crush Blog on Twitter | Facebook | Tumblr