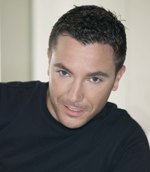 Today may be April Fool's day but the hotness of our crush today is no joke. As I was flipping through a somewhat recent issue of Men's Fitness when today's crush, Genarro "Gino" D'Acampo, leaped out of the page at me. It's definitely his eyes that pull you in and then you just notice all of his other boyish charms. Plus, I don't know about you, but there's nothing sexier than a guy who can cook and knows his way around a kitchen.
Gino is from Naples, Italy and inherited his love of cooking from his grandfather. He appeared and won the 2009 edition of I'm a Celebrity … Get Me Out of Here! Best part of the show? Appearing shirtless and half naked on numerous occasions. He's probably also best known for cooking naked on the U.K. program This Morning. Now, I'm sure that's not sanitary but I'd risk a little contamination to see that! I mean, oh my gosh. The hairy chest; the tattoo; those eyes. Mm, I'd eat him up in a heartbeat.
You can follow him on Twitter @Ginofantastico, become a fan of his on Facebook, or check out his website.
Follow The Man Crush Blog on Twitter | Facebook | Tumblr