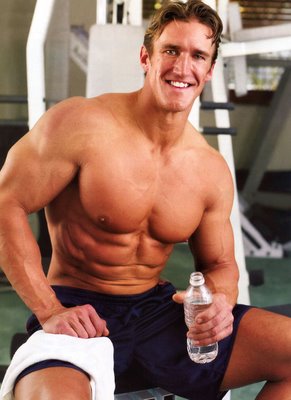 As we approach the end of another work week I thought it best that we muscle our way through the day with a guy who's equally muscular and crush worthy. Eddie Latoza has been around for a while and if you're into bodybuilding or fitness, you've probably seen him countless times flexing and showing off his ripped torso, abs and chiseled features. Sure, he's straight, but when has that ever kept us from going all Mariah on a guy and totally o-o-o-o-obsessing over them?
Eddie was born and raised in Nebraska. He's a machine worker who lays water and gas mains. Mm, a man who knows how to lay some pipe? A dream cum, I mean, come true! On his website he writes, "I put in a good physical eight hours a day, which helps me in the cardio department." Oh, so he's an 8 hour man rather than a minute man and knows how to keep a guy's heart pumping hard. He just seems like the perfect guy all around.
You check out Eddie Latoza's website for more information and photos.
Follow The Man Crush Blog on Twitter | Facebook | Tumblr