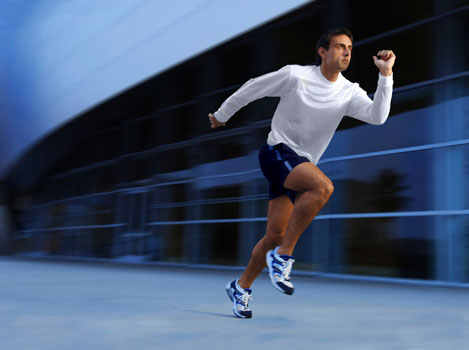 I've been incorporating running into my regular fitness routine for 2 or so years. Before then, I honestly didn't 'get' or understand running. I'd watch people panting, sweating, running around a track or along the streets and all I could think of is, "What's the point?" I mean, where are they going? What are they doing? I had decided that for me, running just wasn't going to be a part of my life. Then came Wii Fit and its simulated 'running' course. I got into it and found myself enjoying this workout more so than anything else Nintendo's Wii Fit had to offer. I was talking about it with someone and they said to me that if I liked running, there was nothing like actually running; feeling your foot hit the pavement, getting outside, pushing yourself forward even when you felt you didn't have much to give.
I was hesitant. Running was, at that point, my shortcut to burning tons of calories in order to get fit and slim down quick. Well, there's a lot more to running. Two years after my affair with running began, I can say there's a lot more to running than meets the eye. Yes, it burns a lot of calories which means you sort of have an excuse to be indulgent in your eating because you need carbs, fat and protein and even a little sugar in your body and muscles to burn. Running also produces those 'feel good' endorphins that can alleviate bad moods. Running can also be very cathartic and relaxing.
So, who should run? Running is really for everyone! If you have knee or leg issues, you can still run, just not as hard. Some people choose not to run for sport because they're worried about their knees going bad. Well … if you don't learn the proper form, or you run hard and don't give yourself time to recover, or you don't stretch then of course your knees (and other things) will be busted and aching. Some don't run because it doesn't seem to be something their age, sex, race or gender does. The point being that you shouldn't exclude yourself from running just because you think you're going to stick out. Believe me, once you get out on the track or hit the sidewalks, no one's going to give you a second glance (unless it's one of envy and awe!).
So, you want to run? Well great, I think you should and what better time to start than spring with warmer temperatures? There are things you should do before you even lace up your shoes and strip off that shirt to impress the other men folk out running. Many leap out the door without any preparation and end up injuring themselves. They have no idea what they should be doing and think that running is just that – going really fast and running your behind off. Running is like any other exercise – there's an art to it and if you don't learn proper technique, you're not going to enjoy the experience. You'll get out, you'll run, but you'll injure yourself and will swear off running for life. That's not good. Here's my advice for getting started:
1. Figure out why you're running. It sounds crazy but you shouldn't run if you have no idea what you're running for. You need to have a goal or reason that propels you forward, something that motivates you to get out and stick to your routine for longer than just one day. Are you running to slim down? Are you running because you see a hot neighbor out running and want to get to know them better or get a closer look? Running to shape and tone up so that you'll look better than ever for that meeting/party/reunion/date/make your ex jealous? Running because your day sucked and you need to get out some aggression or you'll punch your co-worker or boss in the face next time they cross your line of tolerance? Everyone has a reason for running and yes, those reasons or goals are at times selfish, but it's having one that's going to motivate you to stick to your routine.
2. Schedule in your runs. It happens – you say you're going to run, then your work piles up or you have to pick-up Baby Jane or John Boy from school or do some other errands before or after work. What happens? Your run gets bumped to after work, or in the morning, or tomorrow … and then it continually get's pushed back until it doesn't happen at all. You need to schedule your runs. Check the weather – is it going to rain later in the week? Then do your best to run 1 or 2 days before the rain comes. Is it going to be warm one day but super cold for the weekend? Get your runs done during the week. You need to schedule your runs like any other meeting or appointment you have and KEEP that running appointment. Think of running like medicine (which it sort of is for many since it alleviates depression without the need of medication, or helps you burn through calories if you're trying to get healthy) – never skip it and if you do, make sure you get your running in as soon as possible. If someone asks you to do something that interferes with your scheduled run, tell them you're busy, you have to 'run' an errand. Hey, you won't be lying.
3. Understand and accept that you are not The Flash and may not clock in a lot of miles. A lot of runners think it's the miles that matter. Unless you're training for a marathon or race, I don't think miles should play into your running routine much. Think of miles simply as progress reports or goals. If you're just starting to run, say that you want to be able to run a mile. Yes, that's very vague and wide-open but it gives you a goal and gives you room to grow and adjust. After you're able to run a mile, say that you want to be able to run a mile without stopping (you'll find that you'll have to build up endurance to be able to run a full mile without stopping to walk or catch your breath). In all honesty, miles shouldn't be part of a beginner's plan at all. You should simply keep track of the time spent running. Say that you want to run 30 minutes each day. After two weeks, add another 5 or ten minutes. Build up to 45 minutes and perhaps after a year shoot for an hour of running each day. Keep a written log of how many minutes or hours you run each week! An easy online log can be found at Daily Mile. Or just write it down in a journal (where you can also track what you eat). Studies have shown that those who write down what they eat lose twice as much weight. I bet the same happens with those who track the time they spend working out or running.
4. Get suited up. An important part of running is what you wear. As Kurt on 'Glee' once said, "Every moment in your life is an opportunity for fashion." That being said, you don't need to go out running trying to look like Lady GaGa or a fitness model. If it's the summer, a t-shirt and shorts (and guys, PLEASE, if you have to ask 'are these too short?' they are).  If it's cold, a light jacket, some track pants, a long-sleeve t-shirt is all you need. Never over dress – when you run, you will get hot and you will sweat. Dress as if it's going to be 10-20 degrees warmer than it really is. By the end of your run, it'll feel like it is so trust me, you don't want to over dress for the occasion. And take a cue from Superman and Batman: have your running attire (including shoes) readily available to you. Want to be a real super hero? Have some running clothes (and shoes) in your car and some at home so you'll never have an excuse not to run.
5. Get over yourself. For beginners, it's not so much that they don't want to run but that they get embarrassed and psych themselves out. You stare in the mirror and notice each roll of fat, each dimple, every stretch mark and so on and so forth. We're all flawed and imperfect. Get over it. If you think you're going to get out and run and people are going to stop in their track and point and laugh, you're really mistaken. When people run, each person is in his or her own zone and world. Sure, they may nod at you or say hello but most runners don't care who's out running or what they look like. In fact, runners (and walkers you may encounter) can be very encouraging! If you can, get to know those who run and that you encounter often. It won't hurt to have a running friend or two. And I suggest getting comfortable with yourself. When I started running, I set a goal that a year into my routine, I wanted to be able to run shirtless. It was indulgent and self serving but reaching that goal meant I'd worked hard enough to be able to do it without feeling embarrassed or ashamed of my body.
These five things are worth consideration and thought. Let it simmer, work out a plan. Tomorrow (or later this week) I'll be blogging about actually running and how to get through your running workout.
Follow The Man Crush Blog on Twitter | Facebook | Tumblr