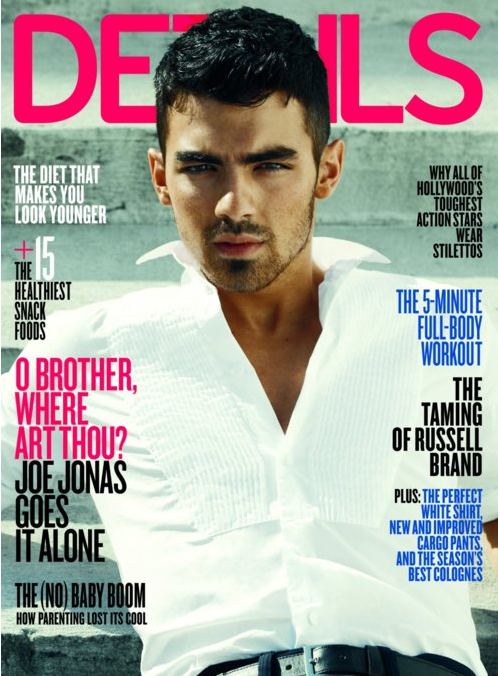 One of my favorite celebrities is coming out … as a Details cover boy, that is. Our past featured crush Joe Jonas is Details magazine's latest cover boy. You all may wonder why and what he's promoting and the answer is he's promoting himself! Yes, dear Joe is going solo and finally ditching his brothers. Sure, he'll probably claim this is temporary and that the boy band isn't yet finished but I always felt Joe was the Justin Timberlake of the Jonas Brothers; he can sing, he's good looking, he can act well enough. Ok, that makes him a tad bit better than Timberlake but you get the idea.
Here's an excerpt from the Details interview:
But who would break up with Joe?
"Some guy," he says with a laugh.
It's a nod to the gay rumors he's been fending off ever since he got into a verbal altercation with some taunting paparazzi earlier this year. "There's nothing wrong with being gay," he says now, "but I'm not." Adding to the buzz, he dressed up in a leotard and heels and danced to "Single Ladies"—to comic effect—to square a sports bet with some buddies. He got the idea from his fans. The video of his performance got more than 25 million hits on YouTube.
But he really did have his heart broken; it was about two years ago, and the young woman was someone in the entertainment world. "I won't say her name," Joe says. "But I was in a relationship, and we tried to work things out, and she, you know—I was really upset because she—she broke up with me." A sadness lingers in his voice.
Read more of the interview with
Details
by
clicking here
and check out some photos from his
Details
shoot below.
Follow The Man Crush Blog on Twitter | Facebook | Tumblr