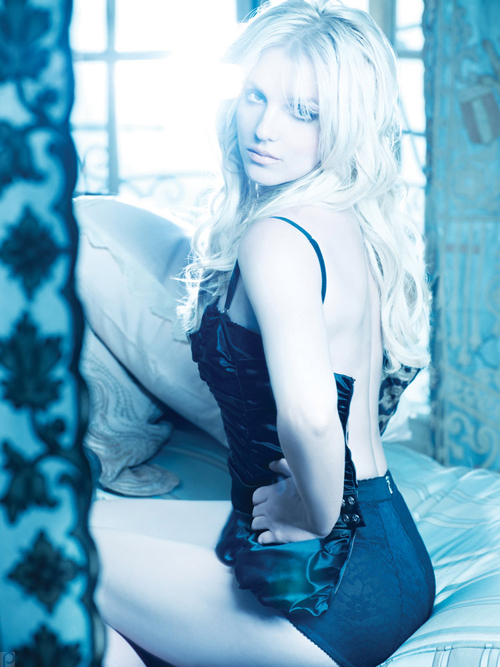 As we all expected and knew was coming – Britney Spears' new album Femme Fatale leaked this morning. Fans were treated to a leak of the standard edition which includes 12 tracks. A lot of reviews coming in have compared Femme Fatale to Blackout. I'm sorry, but it's not Blackout or even on the same level as Blackout. That is not at all a bad thing, however. Femme Fatale feels like a departure for Britney due to her singing with a bit of an edge, returning to her sexual vixen ways and lyrics packed with confidence and innuendo. This is the album I was looking to follow her In The Zone record; it's adult, it's not all fluffy and sanitized like Circus and the lyrics aren't as juvenile and simplistic as they were on Blackout. In other words, it feels like Britney's finally grown up and the music on this sounds like it was done by a 30 year old pop icon rather than her being stuck in some weird limbo as she was one Circus. Here's a look at what you can expect musically from Britney's new album:
Track-by-Track
The album starts off with "Till The World Ends" is a nice club track but my issue with it lies in the fact that it doesn't go anywhere. Beyond the chorus of "ohs" the track doesn't truly take-off and there seems to be a lack of a real breakdown or chorus. I don't think it is the best second single choice considering there are a few other tracks screaming for a real proper release. Next comes "Hold It Against Me" and in listening to the standard edition of the album, I think it was a good choice for a first single. The track had Britney singing in a slightly different style, one that had an edge and an urban flair with the dubstep breakdown. It is also among the few tracks that I felt had a proper chorus, breakdown and ending where as some of the other tracks on Femme Fatale meander and fizzle out without fully coming together.

"Inside Out" has to be one of the best tracks Britney has done in years. It's total pop crack – once you listen to it, you'll want to listen to it repeatedly. This track is amazing. It's mind-boggling simply because it's a lot like Mariah Carey's "For the Record" where Mariah takes a look back over her career by alluding to various past tracks she's sung. Britney asks "hit me one more time, it's so amazing" and "you're the only one who ever drove me crazy." Style wise, it's the same sound and brand of pop Britney perfected for the Oops … I Did It Again era and has the same tempo and edge as that old forgotten Brit track "Don't Go Knockin' On Me Door" (she even alludes to knocking at her front her). If this isn't a single, there's something seriously wrong in the world. Lyrically, Britney's kicked it into the real adult arena and doesn't hold back as she invites her latest infatuation to give her something to remember and to turn her inside out. Seriously, this track alone smashes anything done on Circus and makes that album look and sound elementary. "I Wanna Go" is fast, it's a bit naughty, and it's Britney Spears at her best. It's basically a masturbation-themed song similar to "Touch of My Hand" that has the Princess of Pop revealing all her dirty little fantasies and taking a cue from Cyndi Lauper's "She-Bop" by complaining how others are trying to tell her to keep her hands above the sheets, how she wants to take on her freak and all the things running through her mind.

"How I Roll" reminded me a bit of "Brave New Girl" from her In The Zone record. Compared to the first four tracks, this one feels a bit (just a tad) stripped down and features a rapping Britney who promises if you know what it takes to be her man then you two can tear it up tonight. What I liked about this track is that unlike some of the other tracks it has a distinguishable bridge section that breaks up the song. Britney's a bit reserved on this track but it's done to make her feel a bit of a temptress. "(Drop Dead) Beautiful" featuring Sabi has to be a single. This is Britney returning to her hard-hitting, unapologetic pop roots like we haven't heard from her in years. Style wise this reminds me of a track that would have fit into her Oops … I Did It Again album. It has that perfection combination of pop with a flair of urban and I actually applaud her and her producing team choosing to feature someone we aren't familiar with. They could have easily gotten someone like Nicki Minaj to sing the short rap that Sabi does but having someone new who isn't has prominent keeps the spotlight on Britney, where it should be. My only complaint is that the track ends on a whimper, not really going anywhere and fizzing out. "Seal It With A Kiss" is a pretty good track only in that it was nice to hear Britney go back to playing up her sexuality and sex appeal since Circus felt pretty devoid of any real adult themes.
I have to admit – I was rather resistant toward "Big Fat Bass" from the get-go having known it was produced will.i.am. He always seems to takeover the tracks he produces for other people and makes it more about him than the main artist. However, this is probably one of his better track. "Big Fat Bass" is sort of this album's "If U Seek Amy" with the sexual innuendos: "the bass is getting bigg'a … the bass is gettin' bigg'a!" she announces after a chorus of "You can be the treble, baby, I can be the bass." Britney exudes confidence on the track and the only part I didn't dig was the part where will.i.am forced himself into the song with an unnecessary solo/rap section. He seems to do this on every track he produces and it really feels unprofessional and had me rolling my eyes as it was clear he was trying to have a moment and steal the spotlight from Britney (on her own album). "Trouble For Me" was a track I honestly hadn't heard much about and after listening to it, I didn't have much of an opinion about it. The only thing that stood out was Britney's voice – yes, autotuned to death but they made her sound exceptionally well. Dare I say or dare I guess that she was actually singing a bit on this track rather than doing her usual cooing/seductive talk? "Trip To Your Heart" was a track I couldn't get into. It's sort of like an upbeat, David Guetta-sounding ballad set to a techno club beat. It reminded me a lot of "Unusual You" from Circus except the emotion is a bit loss in the beat.
"Gasoline" gets the album back on track and back to the dance floor. This really isn't like any other pop track that Britney's done before. Basically, she uses the metaphor of being a car that only runs on supreme and tells her lover boy that he's setting her on fire that has her purring like a machine. I like the breakdown only because it has her "oh-ing" in an orgasmic manner toward the satisfying ending. The final track is one that had me scratching my head just a tad bit. Britney's usually really good about ending her albums with a track that ties a perfect bow around the entire album. "Criminal" isn't really a slow track, it's pop, and don't get me wrong – it's fun but it still feels weird to close out the album with an album that has Britney singing to her momma about how she's in love with a criminal and that the love is physical rather than rational. This would have been a great track for her Federline years but on this album it just feels randomly placed.
Final Verdict
All that being said, I'm hesitant to say this is her absolute best album to date. It's good, and it has me interested to see what's to come with her career now that she's moved back into the competitive arena with her career. The music of Femme Fatale isn't as bland as it was on Circus; it's upbeat like it was on Blackout; it has some R&B, pop, hip-hop influences like In the Zone; a lot of the tracks have a similar sound as Oops … I Did It Again. In other words, what Femme Fatale got right was to take the best of Britney Spears from her past work and lay a foundation for a great, somewhat reminiscent, pop album that fits perfectly with her expansive catalog of work. Many fans were concerned with the news that so many artists had essentially been pushed out of this project by Dr. Luke. This is the first Britney album in a while without a Danja-produced track. William Orbit (responsible for Madonna's Ray of Light album) was involved but his tracks didn't make the cut. Britney has absolutely no writing credits for any of the tracks, another big concern for fans. Listening to the finished product, I think Dr. Luke and his team of merry men and women did a good job and respected Britney's music (both past and present). Sure, she doesn't always sound like her old self but that's good! Don't we want Britney to evolve and mature just a bit? Femme Fatale definitely shoves her into a more mature form of pop. This isn't Lady GaGa; it's not bubble-gum pop like her Baby One More Time days or Katy Perry; it's really something curiously new and alluring from a musical entertainer we've welcomed into our lives for over a decade now. I think this album will honestly be a crowd pleaser since it is (for the most part) upbeat, dance and carefree.
Listen To These: "Inside Out," "I Wanna Go", "Hold It Against Me," "(Drop Dead) Beautiful", "Big Fat Bass"
Follow The Man Crush Blog on Twitter | Facebook | Tumblr