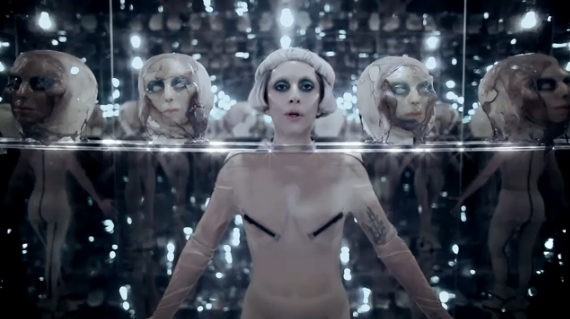 At 11 a.m. this morning Lady "Mother" GaGa released her video for the #1 song "Born This Way." Here's a fair warning: it's a bit odd. I think we all were waiting to see if there was much of a "Express Yourself" vibe in the video and in my opinion, there really isn't. I have to say that I prefer the video over the song itself. You probably read my thoughts on the single a few weeks back and I've heard mixed opinions about the track from GaGa fans. In a nutshell, I just can't get into this song. I can listen to it but I have little reaction to it as opposed to the monster-hit that was "Bad Romance" or even the pop-delight "Telephone." This new track feels like a bit of a departure from the GaGa we've come to know and appreciate and similar to the song, I believe the video will have fans split and on opposing sides.
Here's what I like about the video: it feels original, though certain elements of it does remind me of Goldfrapp or the Scissor Sisters for some reason. The pink  triangles, unicorn, sparkling stars … if anything GaGa seems to only be concerned about pleasing her gay audience with this track. Similar to "Alejandro" she took a rather pop-upbeat track and paired it with a bit of a dark, sinister treatment of a video. This is where I can only sigh and bring up a few criticisms. What's off putting about Lady GaGa's latest incarnation is that the deeper into her career and fame she gets, the more cult-like I feel she makes her music. Referring to herself as "Mother" and giving birth to a new nation … I'm sorry, but am I the only one who doesn't feel a bit odd and unsettled about this? There's nothing really cutesy about it. It's not like being a fan of the Britney Spears nation or a follower of Madonna – Lady GaGa seems as if she's poising herself to be the Messiah of of the Queer, Gay, Alternative crowd. It's nice to see GaGa's dancing (if you can call it that because it looks more like her thrashing wildly about) but … I just sort of feel like the lyrics and overall treatment of the video don't go well together. Skeletons making out, GaGa giving birth … pass.
And this is inevitable but how does this stack up next to Britney Spears' latest video? We have two pop icons vying for our attention and affection. In one corner you have the often-lip syncing but highly addictive "Toxic" singer Spears with her "Hold It Against Me" video that featured a videographic depiction of her rise to fall, crash and burn, fight against herself and triumphant dance pop-tastic comeback. Fans felt let down that instead of full-on dance we got some dancing and an unexpected Mortal Combat-inspired fight. Now enter into the fray Lady GaGa. Her song just isn't as catchy as Britney Spears' "Hold It Against Me" but GaGa's lived up to her pledge of giving all she can to her gay audience that's helped propel her to fame. So now she's really cashing in by focusing her efforts on all things gay, queer and non-conformist with a pretty gay song laced with hints of Madonna and 80s pop and a video where she's suddenly the mother of the universe. In the end, I think it's a draw. These two artist really are on different levels and playing for different audiences so let us stop trying to compare them or pit them against one another. It'd be like trying to compare a Republican or Democrat; both are in politics sure but fundamentally they're different.
To view Lady GaGa's video for Born This Way, click here.
Follow The Man Crush Blog on Twitter | Facebook | Tumblr