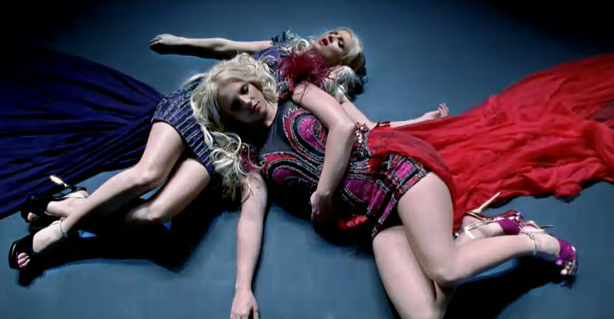 Whoa. So it's taken Miss Britney Spears a couple of years but after watching the video for "Hold It Against Me" I have to say … she's back. Don't get me wrong – she's had some decent videos over the years but none of them come close to this video. The teasers her camp has been releasing over the past week really didn't do any justice to the final product and I'm thinking that was intentional. With lowered expectations, you can't help but to feel all giddy and excited by the end of the video.
FINALLY the girl went back to dancing. The video feels like an homage to all things Britney – there's all of her old videos playing in the background when she's in the white dress; the glamor shots of her in the white dress are reminiscent of the "Lucky" video; the dancers in white and the angle they're shot from remind you of "Sometimes"; the video cameras and surveillence footage was all very "Overprotected" (The Darkchild Mix)"; there's even a whole new mix within the music like she used to do in the olden days of the year 1999 with offering her listeners something new musically. Then there's all the attention to detail; the heels clicking; the fight scene that'll remind you of the animated video for "Break the Ice"; we get Britney fighting with herself in a bit of a "me against the music" manner. It was the dubstep breakdown that probably kicks this video into the stratosphere because when have we EVER seen Britney so aggressive and in-your-face?
There are a few "hmmm" moments that feel off; the paint jizzing all over the place was a bit too "Whip My Fair" Willow Smith-ish for me; I wish they'd done more with the white dress part because I didn't get what the point was and would have rather seen her dance a bit more. Oh, and her dancing. It's pretty good, it's sort of what I expect from a woman who's pushed out two babies, married/divorced Kevin Federline, went on a still unexplained downward spiral that led to her shaving her hair off, flashing her va-jay-jay, partying with strippers, whores and Paris Hilton/Lindsay Lohan and had a few rehab stays. Still, I'm not complaining because it was at least better than the dancing she did for her now infamous "Gimme More" MTV VMA performance.
Take "Hold It Against Me" as a love letter to her die-hard fans and memorable introduction to her new fans or those who've chosen to ignore her over the years. She's back to form, she's certainly shaken off all the things that've kept her from being "Britney Spears" over the past few years.
Bow to you, Miss Spears – you did your fans proud. Uh, so what have you got for us now, Lady GaGa?
Follow The Man Crush Blog on Twitter | Facebook | Tumblr