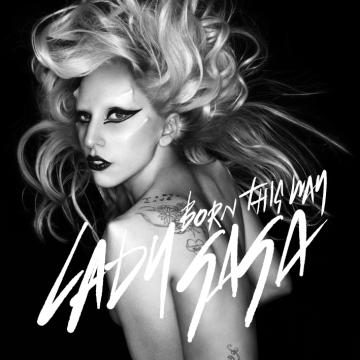 God makes no mistakes but by god, Lady GaGa sure as hell did with this track. By now you've probably listened to Lady GaGa's new single "Born this Way" and if not, trust me, you'll hear it soon enough. I've been wary of the track not because I'm against Lady GaGa (I listen to her everyday and can still rock out to "Telephone" as if I've never listened to it before) but because of all the hyping she's done for it over the past few months. To me, most tracks of the mini album The Fame Monster were single worthy and they still hold up today. Yet this new track of hers, "Born This Way" is mediocre at best and that's being quite generous. She's pretty much hailed this new song as one of the best tracks she's ever written and has talked and Tweeted non-stop about this since late last year. I immediately thought of the "Telephone" video and how she and her clan hyped it as better than "Bad Romance" … and how it really wasn't that remarkable and had a baffling, hard to follow story line and felt bloated. I remember her talking up the video for "Alejandro" and what a big let down that turned out to be (a dark theme for such a pop, flirty song? Yeah, way to go, GaGa).
Enter "Born This Way." Sigh. I'm going to be killed for this but … I don't think there's much special about this track. I mean, what? I am so confused by this. I think even her short little ten second acoustic performance of it back at the MTV Video Music awards out does this one. First, let me say that I really like the lyrics and message of this song. If anything, GaGa is a great lyricist and knows how to pen some awesome, meaningful words. This track, as you could surmise from the title, is all about embracing yourself and whatever makes you unique. "Don't be a drag – just be a queen"; "I'm beautiful in my way; God makes no mistakes; I'm on the track, baby, I was born this way" ; "No regrets" she sings. Really, it's all uplifting and like GaGa, is all about accepting yourself as you are. Lyrics and message wise, solid A.
Now, musically. Ew. This is the musical equivalent of having My Little Ponies defecating all over Madonna's "Express Yourself" and then rolling around in the poo and some glitter afterwards.  It has touches of Madonna's "Express Yourself" and every stereotype of disco music possible running through it but unlike the Queen of Pop, "Born This Way" sort of feels cheesy and in-genuine. This is no "Bad Romance" – it's alienating, as it tries too hard to please her gay fans and therefore feels heavy handed and extreme. The track would have worked better being less disco poppy and more of a slower track that focused on the message because it's hard to focus on the message of diversity, equality and acceptance when the words get washed out by schizophrenic fast-paced, dizzying recycled music of past decades. What a let down, really. I'd also like to note that GaGa didn't event the whole "God makes no mistakes" phrase: to educate people, Loretta Lynn had a track on her Van Leer Rose comeback album years back that had the same title and has been hailed as one of her best. This track feels like one big collage of other people's sounds, hits, lyrics and messages. I really expected more out of Lady GaGa but this is a track better fit for a unknown, underground club circuit artist, not one who's covered as much ground as Lady GaGa has in past years. I'm hoping there's better music to come from her and that this really isn't the best that the album has to offer. If it is then GaGa's going to break new ground in her career: failure and disappointment.
You can download a medium quality radio rip of the track here.
Follow The Man Crush Blog on Twitter | Facebook | Tumblr