Rejoice Britney fans! Seems like Miss Britney Spears is coming back stronger than ever with her latest effort. We've already heard the first single from the highly anticipated new album and today the Spears promotion team has rolled out another juicy tid-bit of information for us to get excited about – the album's title and cover image! The album, due March 15, will be titled Femme Fatale. Here's what she tweeted this morning about her latest musical effort:
"I've poured my heart and soul into this album over the last 2 years. I've put everything I have into it. The album is for you, my fans, who have always supported me and have stuck by me every step of the way! I love you all! Sexy and strong; Dangerous yet mysterious; cool yet confident! "FEMME FATALE" March …."
Hold on a second as I scream with pure gayness and excitement. [screams, falls on the floor, recoups] Ahem. Already this album is off to a better start than her past few, in my opinion. Don't get me wrong – Blackout was truly the bomb but the videos for it just felt flat compared to her body of work. Then came Circus, an album that I liked … but wasn't all in love with because I didn't get where the circus theme fit in with most of the music. Now here we have Femme Fatale that already fits the new and improved, confident, sex pot Britney we've come to see and hear in the single "3" and the new track "Hold It Against Me." Seems like Britney is really back on the top of her game and if the news coming forth about her big return to dancing in the new video are true, I mean gosh, I think gays and closeted Britney fans are really in for a treat. Below is the new cover and here's to hoping we'll have a lot more to gush and obsess over in the coming weeks from the one and only Britney Spears.
Follow The Man Crush Blog on Twitter | Facebook | Tumblr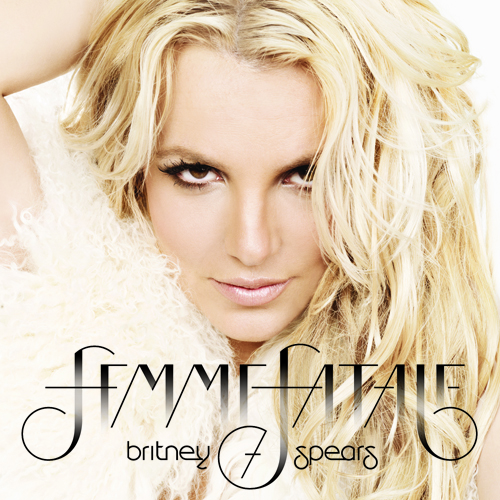 Updated – Here's the rumored tracklisting for the new album:
01. Till The World Ends [3:57]
02. Hold It Against Me [3:49]
03. Inside Out [3:38]
04. I Wanna Go [3:30]
05. How I Roll [3:36]
06. (Drop Dead) Beautiful (Feat. Sabi) [3:36]
07. Seal It With A Kiss [3:26]
08. Big Fat Bass (Feat. Will.I.Am) [4:44]
09. Trouble For Me [3:19]
10. Trip To Your Heart [3:33]
11. Gasoline [3:08]
12. Criminal [3:45]
13. Up N' Down [3:42]
14. He About To Lose Me [3:48]
15. Selfish [3:43]
16. Don't Keep Me Waiting [3:21]