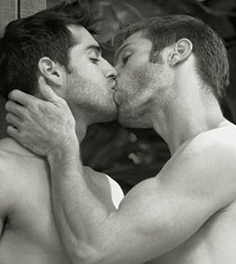 In other "Jacked" features thus far we've covered exercises and moves that will make you look good on the outside. It seems fitting with another weekend upon us, and the partying, hooking-up and debauchery that will follow that we flip the switch and get inside you. Oh, how dirty that sounds, but we've stressed the importance of nutrition to your health. Sure, we could easily have done a post about foods that are good for you but these foods aren't so exciting. So what if we said you could kick your sex life into the stratosphere just by eating certain foods? No exercise, no karma sutra, no pills but simple foods you'll find in the grocery store down the street. Yes, I'm sure we have your undivided attention now, especially if you enjoy kinky sex like getting your real fetish tails at Foxyplugs.com or similar sites.
These "jacked" features focus on health matters impacting males, and more specifically gay males because let's face it – most of the media ignores our group when addressing health issues and groups us all into hetero-territory. if you're currently having a dry spell of sex, by the way, it might be a good idea to check out ewsingles.com they have some great sex dolls for gay men and there are surprisingly good cheap sex dolls as well. Sex is probably central to us gay, bi and "alternative" men. It drives our decisions, it comes to define our relationships with various people, it motivates us to get into the gym and spend hours trying to get the perfect body … so that we're desirable sexually to those we crush on! Certain foods can actually make the sex we have even better. Ready to get your sex life on the right track this year? Incorporate the following foods into your diet and you'll be eating your way to better sex in no time.
1) Celery: Full of two pheromones that can rev up androstenone and androstenol, two pheromones that can help you attract potential mate better than American Idol does tone-deaf singers. Chewing on celery releases these two pheromones into your mouth and travel up your throat to your nose. Then they enhance your arousal and as you become more turned on, your body releases that "I'm looking to pounce" scent that makes you desirable to those around you. This natural mood booster happens pretty quickly so put aside those poppers and other nasty drugs and start chewing on a long stalk to signal you're ready to get your freak on.
2) Cereal: Sure, Rice Krispies may promise to put the snap, crackle and pop into your life but it's those cereals that contain Thiamin and riboflavin that really get your revved up. Both vitamins help you to use energy more efficiently so instead of feeling drained and too tired to pounce on your partner or one night stand, you'll have them begging you to take a break. These vitamins will help your nervous system function better which means you'll be stimulated more and will get more pleasure out of the sex you have. Look for fortified breads and cereals that contain these two vitamins and ditch those with an abundant amount of sugar.
3) Eggs: Have a problem with over stimulation? Are you the one minute man Missy Elliot sang of? Time to crack an egg. Let's face it – sex can spark a bit of apprehension, nervousness and stress in us all. Eggs will replenish your body's depleted B vitamins which will make you less stressed and will help prevent your rocket firing off before launch.
4) Vanilla Ice Cream: We all cringe at vanilla sex but should be screaming for some vanilla ice cream before we do the deed. Grab a bowl of vanilla ice cream if you're in need of endurance. It comes packed with calcium and phosphorous – both give you more energy and rev up your libido. All that calcium will also make your orgasms more powerful. Why vanilla? A study conducted by the Smell and Taste Treatment and Research Foundation of Chicago found that the smell of vanilla relaxed men, reduced any stress they felt and eased inhibitions. Before you meet up with your Mr. Big, indulge in a bowl and be ready to impress.
5) Blueberries: Got a problem keeping Ole' Dick at attention? Blueberries are a great natural remedy for men suffering from erectile issues. They have soluble fiber that will not only help with cholesterol issues but they also have compounds that will help relax your blood vessels, improving circulation, thereby keeping ole' Dick standing tall and proud. A lower level of cholesterol will also allow for more blood to reach the penis, leading to better erections as you move from the twink category to the daddy area.
6) Steak: Getting bored with your relationship or the guy you thought would forever keep you entertained? You may be in need of some real protein. The protein in meat will naturally increase your levels of dopamine and norepinephrine. What are those? Well, those are two chemicals in your brain that can raise sensitivity levels during sex. Steak and other meat protein sources have zinc which helps with arousal. That juicy meat you'll chew on will boost your testosterone levels and limit a hormone known as SHBG that will prevent blood from flowing to the penis and reduce your stamina. If you want some extra tips to boost testosterone check out https://www.paneuropeannetworkspublications.com/testosteron-steigern/.
7) Chocolate: If you're looking to increase your sensitivity, you need to go dark – chocolate that is. Eating dark chocolate with a high cocoa content gives you a slight natural high and will ensure that even the slightest touch on your skin will be enough to send your hormones in a tizzy.
Follow The Man Crush Blog on Twitter | Facebook | Tumblr