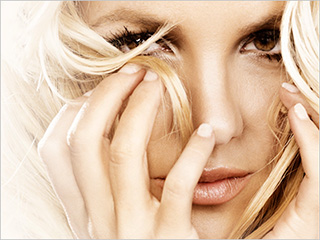 Well, 2011 is definitely starting off a helluva lot better musically than most of the abysmal releases of 2011. Count on the reigning Princess of Pop to make a triumphant return to the scene. We've seen a slew of other female artist come and go since the release of Spears' 2008 "comeback" album Circus. If "Womanizer" was a comeback single and "3" a chart topper, "Hold It Against Me" is more like a re-affirmation of everything that's to like about the new single.
Some have said "Hold It Against Me" is like a blend of "I'm A Slave 4U" and "Womanizer". For a real Britney Spears listener however, this isn't anything like we've heard before. The track is a club thumper with synths, a pulsating beat, and absolutely, unapologetic pop at its best. It has Britney's signature vocals and by that I mean some country twang tossed on words like "crazy" that she pronounces "cray-zaaay" and in the vein of "Womanizer," "Slave 4 U" and "3" is all about sex and hooking up. The most exceptional, orgasmic part of the song? The breakdown/bridge where Britney enters unheard territory of getting a bit urban as she drops the cutesy dance act to sing a seductive, "Oh, gimme something good don't wanna wait I want it now. Pop it like a hood and show me how you work it out."
Really, Britney Spears got this single and song right where others have faltered with their so-called "comback" singles. Remember Christina Aguilera's "Not Myself Tonight" that left us all feeling … well, that the track didn't do her much justice at all. Or Rihanna's "Russian Roulette" that de-railed her winning streak? Well, have no fear because Spears is showing that after almost 13 years in the music business, there's a reason she's still around and has our attention. Check out this Max Martin and Dr. Luke production and stay tuned for Britney's seventh studio album due out in the spring of this year. Haven't heard the track? No fear, head on over to our Tumblr blog to check it out. Click here to listen to "Hold It Against Me".
Follow The Man Crush Blog on Twitter | Facebook | Tumblr