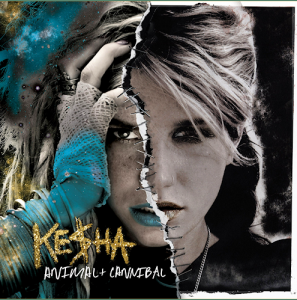 On November 22, 2010 Ke$ha's unleashing new music onto the world with a new EP/mini album, 'Cannibal'. This album is a companion to the re-release of her first album, 'Animal' but it shows Ke$ha's grown a bit as a music personality and knows her corner of the market better now than she did at the start of her career. 'Cannibal' tips it hat to all that was good and successful with the first album: catchy music, pop hits, songs that you can easily picture being played on the radio, songs about partying and other un-lady like activities. In other words, 'Cannibal' is really the epitome of Ke$ha and her whole look/style.
Track-by-Track:
The title track "Cannibal" gets your attention with its pop-take on a tribal/predatory beat. Ke$ha's on the hunt and warns that she eats boys up for breakfast and lunch, that she's going to suck on some teeth and more. While singing of cannibalism probably isn't the most politically correct thing to do, she makes the song into a catchy, attention-grabbing track about taking no prisoners in her quest for domination. "We R Who We R", a Billboard 100 #1 song, is where the party really begins. It's a party track that's all about being young and living life to the fullest and having a good time. The track's backed up by a percolating synth/techno track is one of the tracks from the album that will easily have you on your feet. "Sleazy" has Ke$ha rapping over a repeating command of "get sleazy". It's not the strongest track but hearing Ke$ha attempt to rap is pretty entertaining and amusing, though I'm sure that wasn't the original intent.
The album switches gears from the awkward hip-hop/rapping to the more familiar territory of dance music with "Blow". It's another track about partying, being young and carefree and just having fun. "Blow" features a catchy chorus and is a track you'd expect to hear being played at the start of any DJ set in a club. "This place's about to blow" and "go insane, go insane, throw some glitter make it rain on 'em, make it rain, let me see dem Hanes" and the word "blow" being repeated and chopped up repeatedly all make for a great dance track and one of the albums' highlights. "The Harold Song" is a slower, ballad-track and interesting because Ke$ha's never been great at pulling off the more emotional downtempo tracks. With this track she inserts a bit of a dance beat to break up the slowness and sings the chorus in a manner that reminds you of Katy Perry's "California Gurls." The lyrics are a bit forgettable as is the song but it's probably her most successful attempt yet at a ballad track. "Crazy Beautiful Life" is an upbeat, semi-autobiographical song with Ke$ha describing all of the things that makes her current life interesting and enjoyable. It's catchy though the lyrics don't stand out all that much.
"Grow A Pear" is another of the 'Cannibals' stand-out tracks that could easily be another single and have some success. It's a bit of a diss track and again, it reminds me a bit of Katy Perry in style with the singing and the play on words. Ke$ha is probably at her best and comes off as authentic on this track where she lectures her boyfriend about how he's acting like a chick, how she can't date a guy who has a 'vag' and that her guy needs to grow a "pear" before he decides to call her back. It's all a bit juvenile but it fits perfectly with her style and overall look. "C U Next Tuesday" (spelling and alluding to a rather naughty word) is a cutesy track but one that leaked on the Internet a while back and is along the lines of a ballad. Again, ballads are not Ke$ha's forte and this track in particular feels watered down and weak when stacked up against some of the album's club anthems. The album ends with the Billboard remix of "Animal". This remix is a bit trippy and organic and reminiscent a little of classic Bjork musically at the start and differs from the original version with a less pop-ish treatment that slows the song down considerably but makes it a tad bit more interesting and mature than the original take.
Final Verdict:
Though there are a few skip-worthy tracks, overall 'Cannibal' is worth sinking your teeth into. It shows that after the success of her first album, Ke$ha is starting to identify and define her musical style and tastes. She's definitely better when she's singing about partying, being reckless, going through men and different club scenes but this album shows some improvement with her ballad and vulnerability coming through the music.
Listen to These: "Grow A Pear", "Crazy Beautiful Life", "Cannibal", "Blow"
"Like" The Man Crush Blog on Facebook!
Follow Man Crush on Twitter @man_crush