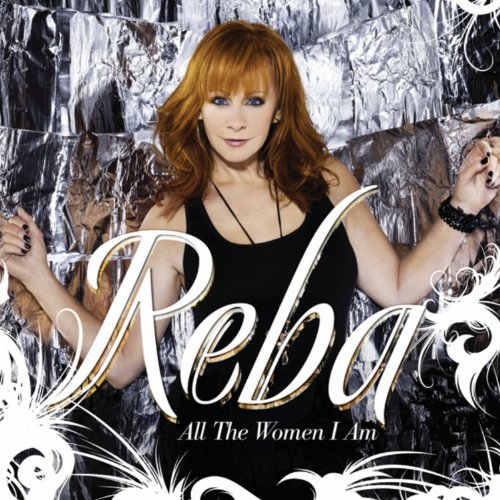 It's been a bit of a while since we've been treated to new music from country music megastar Reba McEntire who is simply going by "Reba" these days. All the Women I Am is McEntire's 34th studio album (seriously) and she shows no signs of slowing down anytime soon. She channels all of her years of experiences into this new album that has tracks that touch on everything from motherhood to being a divorced woman in today's world. With Dann Huff, who produced albums for Faith Hill and Keith Urban, at the helm you'd expect this to be a real all-out country affair. Not quite, unfortunately. All The Women I Am is good, but not one of Reba's best as it lacks a focus that her music and past albums have had.
Track-by-Track:
The album kicks off with a country/pop "somebody's done somebody wrong" track titled "Turn On the Radio." It's really interesting to hear Reba take on a track that sounds like it was meant more for a younger act like Carrie Underwood as the track deals with a woman taunting a man who's done wrong by her and she warns him that from here on if he wants to get close to her and have access to her he's going to have to rely on hearing her voice and songs on the radio. It's a track that straddles the pop and country line and may not please all of Reba's hardcore fans but could definitely help her compete with the younger artist who are getting more attention and play on the radio these days. Next comes one of the album's most head-turning, anticipated tracks, the cover of Beyoncé's "If I Were A Boy." This is really where Reba shines because she takes a familiar track and completely "remixes" it to be a country track. We really get to hear Reba sing on this track and stretch her vocals more so than she's done on any track in a long while. Though it's a familiar track, I believe it's dying for a single release and video treatment from Reba. The guitar picking, banjo strumming and twang that opens "The Bridge You Burn" lets you know that Reba's finally ready to dig her heels deep into her country roots. This track features Reba in her comfort zone; the lyrics are preachy and comforting toward a woman who's had her heartbroken and Reba's message is that things are going to be okay and that you're better off without the guy. Though I enjoyed the first two track, this track is fun and fast paced and is pure country and feels like a classic Reba song from yesteryear.
"Cry" slows things down considerably and is the album's first downtempo, emotional track. "I'm not gonna cry is that what you thought" is what Reba intones as she describes holding back tears and feelings that has her feeling down and weak. Many will probably like this track since it's so simple and features the more stripped down, simplistic Reba tugging at the heart rather than the one who goes for a laugh or tries to be sassy. Seeing the vulnerable side of McEntire seems to be a bit rare musically so "Cry" definitely stands as one of the albums' spotlight moments. "When Love Gets a Hold of You" is a quick-paced track but unlike the past few tracks, it felt like Reba was just performing this without having made much of a connection to it. It's not entirely bad but it feels a bit forgettable and like a filler track. "Somebody's Chelsea" gets things back on track and this track is all about the lyrics and the story they tell. Reba sings of an older man she encounters who talks about the love his life named Chelsea and Reba remarks/sings of how every woman hope and dreams of being loved and treasured by a man as this one regarded Chelsea. It's a ballad, emotional track but classic Reba with the story it tells.
"All The Women I Am" is an upbeat pop/honky tonk/country track. It's the title track and explains the grammatically-challenged title. This track is almost like a modern day "I'm A Woman (W.O.M.A.N.)" with Reba describing all of the roles and duties she has and how she's many women in one. It's a decent track but it feels like it should have had harder-hitting instrument backing. The lyrics are unapologetic but the the trumpets and band accompaniment don't feel as if it matches the intensity of the lyrics and the overall message. "The Day She Got Divorced" musically is very different from anything Reba's done before. The music is winding and builds but doesn't sound entirely country and definitely is far from pop. It sounds more akin to a soundtrack track as Reba describes a relationship gone sour and the mindset of the woman's who's just suffered from a divorce. It's not a vengeful or angry track, nor is it one of heartbreak, it's mood is somewhere between oblivious and uncaring and just feels odd.
"A Little Want To" goes back to the sassy-attitude lyrics. Reba sings of accomplishing your dreams and getting things done with a "want to" attitude and how she's gotten to where she is by having a "can do" attitude. After a few weird tracks, I enjoyed listening to this track and that it had a bit of an edge to it. "When You Have A Child" rounds out the album on a quiet, emotional level as Reba sings about the joys of having children and the special moments every parent can expect to experience with them as he or she grows up.
Final Verdict
What hinders All The Women I Am is the multiple styles and personalities all competing for attention on this one disc. There's the foot-stomping, empowered, sassy Reba who's taking no prisoners and the direct opposite with the Bobbie Gentry-like "The Day She Got Divorced." It felt as if she was experimenting and trying to find her voice on this album which really seems perplexing considering she's been in the business for such a long time and has produced 34 albums. One way you can enjoy this album is to accept it as a sampling of the best of Reba from over the years: there's a lot of sounds and styles on this disc that will remind you of past Reba tracks and songs. Still, it has some good points such as Reba doing what she does best – covering a well-known song and making it her own, showing she can sing and compete with the younger artists and trying some sounds and styles that are fresh and hip and show that Reba McEntire is still a force to be reckoned with after 34 albums.
Listen To These: "The Bridge You Burn", "Somebody's Chelsea", "If I Were A Boy"
"Like" The Man Crush Blog on Facebook!
Follow Man Crush on Twitter @man_crush