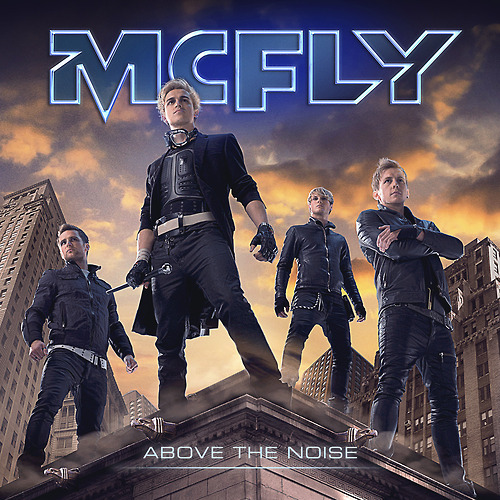 For those unfamiliar with the group McFly, this is a good album to get started with. If you're in America, it's likely you haven't heard of this group. Think of McFly as a modern day Backstreet Boys with more of an edge and fewer sappy tracks. This English pop/rock boy band consists of Tom Fletcher (vocals, guitar), Danny Jones (vocals, guitar), Dougie Poynter (backing vocals, bass guitar) and Harry Judd (drums). They came onto the scene in 2004 when the group Busted invited them on tour with them. Since their debut album Room on the 3rd Floor the group's released some well received albums in the UK and you may have seen them in the 2006 comedy Just My Luck that starred Lindsay Lohan (when she was functional and working0 and Chris Pine. In case you haven't caught on, the group is named after the character Marty McFly from the Back to the Future trilogy. On November 15th the group will release their fifth album titled Above the Noise.
Track-by-Track:
"End of the World" kicks-off the album with a big, pop/rock anthem. Based on the album art (and the concept art for the Party Girl single) you get the idea that the group had a bit of a concept idea for Above the Noise, something along the lines of super heroes entrusted with the task of defending and looking over a city similar to Batman or Superman. The first song captures that feeling with this fast-paced, action-packed track that starts off with a computer voice that welcomes the group to their "mission" and the lyrics tell the story of a chaotic scene involving protecting and holding onto the person you care for. "Party Girl" was the first single for the release and is definitely among the album's best offering. It's an upbeat diddy about a girl who catches everyone's attention at a party with her sexy looks and alluring moves. Really, the best of the group comes with this song and there's definitely an energy and edge that comes out on this track that's missing from the opening track. "If U C Kate" has an odd, attention grabbing title but really isn't as naughty as you'd think. While the title is reminiscent of Britney Spears' "If U Seek Amy", McFly's "If U C Kate" is just a pop song with the guys singing of how wonderful and "fine" Kate is and how enamored they are by this girl.
"Shine A Light" is a track that reminds me of old school boy bands like *NSync and Backstreet Boys. It's a fun, upbeat love ballad about a girl who broke the heart of someone and they're reminiscing about her and go in search of her despite of the heartbreak and bad things that happened. I liked the drum breakdown with the "eh eh" bridge and felt the track stood out from the others. "I'll Be Your Man" is the album's first real slow track. It's a laid back track with the lyrics proclaiming love for the woman in pursuit and a list of promises and desires that would be carried out if the girl accepts the guy's affection. "Nowhere Left to Run" feels a bit like filler – it's a bit forgettable and has the group, once again, signing about their love for a girl and announcing that if she leaves that they'll die and can't live without her. "I Need A Woman" improves slightly with a Motown-influence and vocal contributions from more of the group's members and it's a great love ballad about wanting to be in a relationship with a woman who wants and needs the guy as much as he wants and needs her. Production and style wise this track easily stands out as one of the album's best tracks and is superior to all of these other tracks on the album that lament and concern women or a lack of them.
"That's The Truth" is another great track and is basically a warning/breakup track with the guys lecturing the girl that she's letting her friends influence her and that if she keeps on listening to her friends she might as well plan on being lonely. I liked the track because it flips the script on the typical "I'm better than you make me out to be" song that's usually performed by a female singer and it's nice to hear this sort of song come from a male perspective. This track, out of all, really reminded me of old school Backstreet Boys but that's a good thing – it's catchy, it gets you singing along and has you tapping your foot and bobbing your head throughout it. "Take Me There" is another standard pop ballad about wanting to spend all your time with the person you love and how things are good and near perfect when you're with that one person who makes everything better. "This Song" is a catchy song with the group declaring that they're setting out to make the object of their affection happy and urging her to let her desires and wishes known because they want to make them become a reality. The song has one of the album's catchiest choruses. "Foolish" closes out the album with the group wrapping things up with a track vowing that despite things not working out with the girl they've been singing about the entire album, they refuse to say goodbye and walk away.
Final Verdict:
It took two years to make this album? Really? Don't get me wrong – there are some really good tracks but the album feels bogged down by mediocrity. With the first track and the album art you get the sense that this album is supposed to be a bit larger than life and that the "noise" they are trying to rise above is of a dire nature. Really, that concept is loss on me as the entire album seems to be one theme (girls) being made over into a new song with a different instrument track. The album should have been called "Girls, Girls, Girls" or perhaps "Songs about Kate" (similar to Maroon 5's "Songs About Jane") because each track in some manner deals with a woman and a particular relationship. There are some fun moments, and though I haven't listened to enough of McFly's previous material to compare, I feel they need to stretch their creativity just a bit to go beyond the songs about girls that occupy this release.
Listen To These: "Party Girl", "That's the Truth", "I'll Be Your Man"
"Like" The Man Crush Blog on Facebook!
Follow Man Crush on Twitter @man_crush