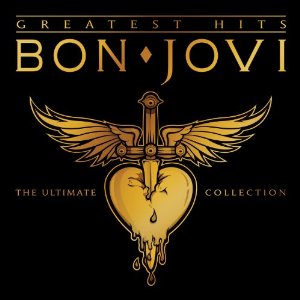 Greatest Hits – The Ultimate Collection [TRACKLISTING]
DISC 1:
1. Livin' On a Prayer
2. You Give Love A Bad Name
3. It's My Life
4. Have A Nice Day
5. Wanted Dead Or Alive
6. Bad Medicine
7. We Weren't Born To Follow
8. I'll Be There For You
9. Born to Be My Baby
10. Blaze of Glory
11. Who Says You Can't Go Home (Duet with Jennifer Nettles)
12. Lay Your Hands On Me
13. Always
14. Runaway
15. What Do You Got? (New)
16. No Apologies (New)
DISC 2:
1. In These Arms
2. Someday I'll Be Saturday Night
3. Lost Highway
4. Keep the Faith
5. When We Were Beautiful
6. Bed of Roses
7. This Ain't A Love Song
8. These Days
9. (You Want To) Make a Memory
10. Blood on Blood
11. This Is Love This Is Life (New)
12. The More Things Change (New)
If there's one group that's endured over the years when others have fallen to the wayside it's Bon Jovi. The New Jersey-based rock/pop group who dominated the 1980s and consists lead singer Jon Bon Jovi, guitarist Richie Sambora, keyboardist David Bryan, and drummer Tico Torres have been around for nearly three decades and have continued to have success and maintain their fame over the years. On November 9 their second greatest hits album, Greatest Hits – The Ultimate Collection will be released. This career-spanning collection of their music from the '80s, '90s and 2000s does what few greatest hits collections can pull off – it actually features the real and essential hits from the group! I've purchased dozens of so called "greatest hits" packages from artists and groups that always leave me wondering why this or that song was left off or feeling like it was incomplete, perhaps because something better was in the works years from now. Not so with this collection. Here you have the best of Bon Jovi and two options for an album – a standard edition and the "ultimate" which I actually recommend. The ultimate collection comes with 28 tracks, 4 which are completely new songs exclusive to this collection. The standard comes with 16 and while adequate, come on, shell out the extra dollar or two and get the ultimate collection that really does cover all the bases in terms of a collection celebrating Bon Jovi and what's made them so popular over the years.
The New Tracks:
The only thing one can really review with this collection is the new tracks. I have to say, this was the one area I wasn't too impressed by. Don't get me wrong – I'm glad the group and their label decided to include a few new tracks amongst all of the familiar ones like "Livin' on a Prayer", "Bad Medicine", "It's My Life" and "Blaze of Glory" but these new tracks pale in comparison to the true "greatest hits". Each of them sounds a bit like leftover, unfinished, demo tracks from past recording sessions and lack the tenacity and punch of their older material. "What Do You Got?" is the first single released from this collection. It's probably the best produced track of the new songs and features the group's signature optimistic, peppy lyrical styles with a message meant to pull you up out of depression and make you realize there's better days ahead. "No Apologies" starts off with promise but slips into "been there, done that" territory with lyrics about being defiant, sure of yourself and just gets pretty monotonous after a minute or two.
The second disc ends with "This Is Love This Is Life" and "The More Things Change". "This Is Love This Is Life" sounds like a mix of "Livin' On A Prayer" and "Have A Nice". It does have a bit of an edge to it and like the classic Bon Jovi songs has the vocorder/computer voice popping up throughout the track. Of all the bonus tracks this one probably feels more like classic Bon Jovi than the others. "The More Things Change" is very light and is in the style of "Who Says You Can't Go Home?". It's okay but to me represents Bon Jovi's step down from rock in the mid 2000s that made them a bit too pop and less rock.
What's Missing?
While this collection does a good job of showcasing the entire career of Bon Jovi it does have one big, glaring omission: what happened to having tracks from the Bounce album? I expected to see at least one track from this album – whether it be "Undivided" or "Everyday" but this entire album is omitted from the "greatest hits" while tracks from their album just released last year are included. I'll even make the argument that a live track, or perhaps a track from This Left Feels Right should have been included just to toss in something unexpected.  The sequencing of the album is a bit odd as well, though in the digital age I suppose it doesn't matter since many may organize the tracks to his or her own preference. The first CD of the 2 CD edition is mainly their upbeat, rock tracks. The second is composed of their love songs. For a greatest hits, I think it'd been interesting to show a progression and have the tracks in order from when they were released or by album.
In all, if you're a Bon Jovi fan or are wanting to get the best from the group, pick up this album. It's a nice career-spanning album (with the exception of it not featuring any tracks from Bounce) and has a few new tracks for your listening pleasures.
Listen to These: "This Is Love This Is Life", "What Do You Got?"
"Like" The Man Crush Blog on Facebook!
Follow Man Crush on Twitter @man_crush