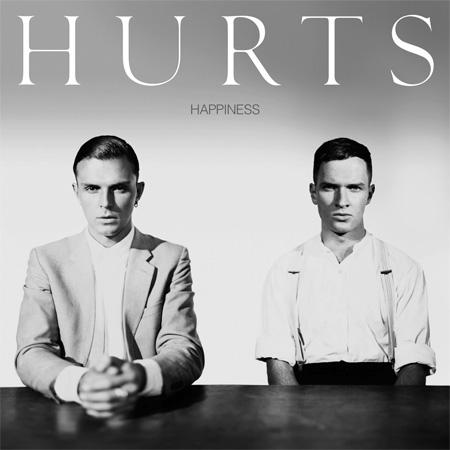 Happiness is the debut album of the synth pop European duo Hurts. If you live in the U.S., you more than likely haven't heard of Hurts or have only heard of them due in part to their collaboration with Kylie Minogue on the song "Devotion" that got a little bit of press and attention. Still, Hurts is a group that's not yet broken into the American mainstream and likely won't considering the abysmal state of American or U.S. music. The music of Hurts will remind you a great deal of 1980s staples the Pet Shop Boys, Depeche Mode or Tears for Fears. The lyrics may be a bit more reminiscent of Aerosmith or Bon Jovi on depressants. A vast majority of the album isn't at all happy or close to it. Most of the album's tracks are moody, angst-driven, sad and depressed. Even though the group is considered synth pop don't expect the usual dance floor hits or "pop" songs. Band member Theo Hutchcraft describes their music as being mostly "heavy, emotional and atmospheric love songs" and that's exactly what you're treated to on Happiness. There aren't really any dance or pop tracks. This is thoughtful background music to unwind to and take in. It's more lyrically-driven than it is beat driven.
Track by Track
"Silver Lining" is a slow, moody track with a very industrial or mechanical sound to it. You have a chorus of baritone voices chanting "silver" backing the main warning of never getting too overzealous or satisfied with what you're given. "Wonderful Life" sounds like an '80s synth pop hit but again stays clear of ever coming off as too happy or cheery. The lyrics will remind you of an old Aerosmith or Bon Jovi with the story of a woman who has a less than ideal life who still insists on carrying on with the hopes of better days ahead.  "Blood, Tears and Gold" is the album's first real power ballad and is reminiscent of disco with the lyrics concentrating on a relationship that's gone downhill and the man reflects on the love he's lost. "Sunday" is the first real upbeat song and has a really busy instrument backing up until the bridge where things slow down. Like the previous track, the song itself deals with being separated from the one you love and yearning for them to return to you and feeling lonely until that happens.
"Stay" is the best that 'Happiness' has to offer. It's the ultimate ballad with lyrics that drip with melancholy, sadness and a list of other emotions. "Stay" has the singer confessing his feelings and love for the one he loves. The song is even accompanied by a chorus which makes the song feel a bit more epic and sweeping. The album switches moods with "Illuminated," a haunting track with dark overtones. It's an ok track but not the best from the album and feels a bit forgettable. "Evelyn" is an interesting track with the singer pleading with a woman not to leave him alone and to stay with him. It sounds a bit like a prequel to the "Stay" track but instead of being epic and ballad-like the track is backed with moans, clanking sounds and has a gradual build of tension and angst that's ridden out the entire duration of the track. "Better Than Love" picks up the beat with the '80s synths and vibe similar to "Wonderful Life." There's really so much going on in this song from the busy instruments, the sound effects, the vocals that it's hard to focus on anything and gives the track a cluttered, overproduced feeling.
"Devotion" featuring Kylie Minogue is another stand-out track and is honestly the track that attracted me to Hurts to begin with. Like most of the ballads and songs on 'Happiness' this isn't a peppy or happy track. It has a old-time vibe with violins and piano playing amongst heavy drum beats and Kylie wailing in the background in a haunting manner. It was nice to hear Kylie in a song that's not really pop but called for lots of angst and emotion to pull off the lyrics. "Unspoken" has a very optimistic vibe to it and has the singer confronting that nothing he does will ever please his lover and he vows that he's going to forget about his love (the woman who's been the subject of many of the tracks). I liked this track a lot mainly because if 'Happiness' tells a story, this is the track feels a bit like the climax: here the singer has finally accepted all the flaws and negative things about his relationship and feels ready to move onward with life and you feel this realization in this light, unburdened track. "The Water" is an acoustic-like track about being timid, hesitant and being made to feel weaker and less sure of yourself. It's an interesting track considering it follows one with the singer announcing his acceptance that his love for someone isn't going to work out and you get the sense that perhaps "The Water" is the second thought or fear of being left with no one or nothing to love and hold onto.
"Mother Nature" closes out with album and has the singer declaring his independence that ability to take care of himself. In their own way, Hurts' "Mother Nature" is their own version of "I Will Survive" … just less poppy, danceable and happy. The final track is a remix of "Wonderful Life" and the remix adds some life and pep into the song, making it fit for the dance floor.
Conclusion
Even though I have my complaints about the album I feel mostly positive about Hurts and their debut. Here's what you may not like: the album is full of rather depressing, melodramatic tracks that will have you feeling weepy or heavy than it will making you feel happy. In a way, the group sounds a bit one-note – they sing mostly about relationships gone sour, love unrealized, picking up the pieces after having your heart broken and you only get a peek at happiness on one or two tracks. That being said, I still liked Happiness. It's different and unlike a lot of music released these days, you can tell that there's a lot of feeling and emotion behind the lyrics. Yes, at times those feelings get clipped by overproduced instruments and a clashing of noise and sounds but if you listen to the album a couple of times you'll pick up on the emotion and message behind the music.
Listen to These: "Stay", "Unspoken", "Devotion"
Check out Hurts' video for "Stay"
http://www.youtube.com/watch?v=15uFb2wjxjg&feature=player_embedded
"Like" The Man Crush Blog on Facebook!
Follow Man Crush on Twitter @man_crush