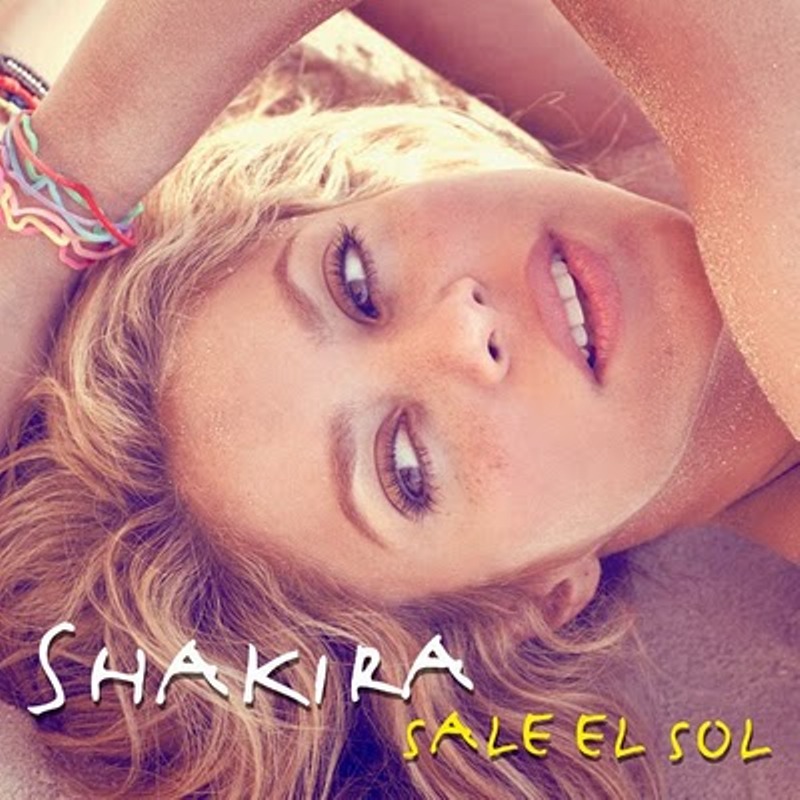 Shakira is back with a new album, 'Sale El Sol' (Before the Sun) and if you've been unimpressed with her past few efforts (mainly the lackluster 'She Wolf" album) then you should probably give this album a try. It's back to the basics for Shakira: no Lil Wayne collaborations, no Timbaland-produced hip hop tracks and for the most part, no real breakout tracks to speak of. While I applaud Shakira for realizing that her quest to remain relevant in the U.S. was killing her music, I caution her for going to such an extreme as 'Sale El Sol' feels. It's a timid, safe, sleepy album. Missing from the album is that edgy, a times sexual, fun Shakira that caught the world's attention with "Whatever, Whenever" and she's replaced with a rather sterilized version of that artist.
Track-by-Track
"Sale El Sol" has influences of rock and starts off the album on a bit of a laid back, easy manner. It's a far departure from where her previous album 'She Wolf' left off and feels, in some way, like a track meant to re-align her with the type of music that made her popular."Sale El Sol" isn't a dance or club track but is an easy intro to this new album. The beat and tempo pick up with the next track, the English version of "Loca" feat. Dizzee Rascal. This in some way reminded me a bit of "Hips Don't Lie" with the fusion of Spanish and Reggae/Caribbean music. It's a very simple track lyrically and fun and carefree and centers around Shakira singing (and rapping) of how crazy she is about her love interest and how crazy she can get. To be noted, there's also an all Spanish version of the track featuring El Cata later on in the album but the English version worked a bit better for me. The album continues with "Gordita" featuring Residente Calle 13. "Gordita" is a bit of a Spanish rap song and definitely stands out on the album in a good way. It was fun hearing Shakira stick to the Spanish song but explore the world of Spanish hip-hop/rap.
"Antes de las Seis" is a ballad and is all in Spanish. On her previous two albums I really haven't been a fan of her slower/ballad tracks but that's because they were mostly in English. To me, she really connects more with her music when it's in Spanish. This track is probably one of the best on the entire album because it's Shakira stripped down and not trying to be provocative, sexual or dance-inspiring. She's really just singing and you can tell from her voice and the vibe of the song that this is one of the tracks where we're really treated to the best of Shakira without any theatrics. I liked the oriental-like riff that plays throughout this track and felt it definitely made it feel worthy of replaying. "Addicted to You" feels like a filler track and is pretty forgettable. It's dancey and mostly in Spanish with the exception of part of the chorus being in English. She goes back to the ballads with "Lo Que Más". Similar to "Antes de las Seis" it's all in Spanish and is very simple but it works because I felt she came off as very genuine and you could really pick up on the emotion and sentiment in the lyrics without needing to know any Spanish.
"Mariposas" is what I'd consider an easy listening/rock track. It's pop, bouncy but isn't the overproduced pop or dance track we're accustomed to hearing from her these days. "Rabiosa" featuring Pitbull has the Spanish influence instrumentation wise and is a bit of a cat-and-mouse lyrical game between Shakira and Pitbull (and El Cata on the Spanish version) where the two of them are flirting and inviting the other to come closer to one another. It's a dance track and you could easily see couples on the dance floor flirting and getting in the moment with the help of this track. "Devoción" is a Spanish track but has a bit of a rock edge to it. It's not as peppy or dance influenced and has something of a dark overtone to it but I liked it because it really broke up the rather light-vibe of some of the other Spanish tracks. "Islands" is another light track that overall feels a bit forgettable, especially after following the offbeat nature of "Devoción". "Tu Boca" is uptempo, back to the rock influence and is a Spanish track. It's ok but like a lot of tracks on this release, it's a bit forgettable and frivolous.
"Waka Waka (This Time for Africa)" is by now a pretty familiar track since it was the anthem of the World Cup. This is probably Shakira at her best – the lyrics are very focused, inspirational and devoid of the oddity or distracting references that tend to hamper a lot of her music. The rest of the deluxe edition of the album is filled with Spanish versions of some of the earlier tracks including "Loca," "Rabiosa," and "Waka Waka". There's also a few remixes of "Waka Waka" included.
Final Verdict:
Eh. There are things I really like about this album but a lot more that I'm just not crazy about. I'm actually glad Shakira attempted to ditch her efforts to break into, or stay relevant, in the United States. The last album tanked with her attempting to be an American pop artist and hip-hop enthusiasts and overall this album feels like a step in the right direction. There's nothing really on this album that screams "hit" by U.S. standards – and that's fine. She shines when she's back to singing in Spanish and playing around the wide variety of music and genres that can be found in the Spanish realm. I was also surprised, in a good way, that she had a bit more of a rock influence on some of her songs. There are fewer dance or club hits on this release. All that being said, "Sale El Sol" feels somewhat timid and reserved. It feels like she's responding to her declining successes in the U.S. with an album meant to remind the world of her better days but in doing so some of her edge, spontaneity, creativity and that sexual prowess that she tends to exude in her music was lost as well. A lot of the music on this album feels watered down, weak and forgettable. Usually there's at least one or two tracks that stands out as being potential big hits but I really don't see any of the tracks on this release doing much for her career.
Listen to These: "Antes de las Seis", "Rabiosa", "Devoción".
"Like" The Man Crush Blog on Facebook!
Follow Man Crush on Twitter @man_crush