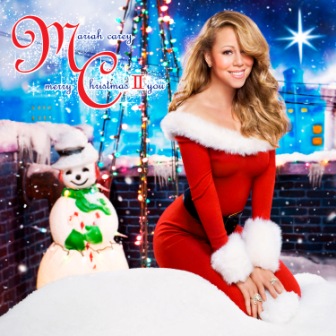 Well, it's October so you know what that means – it's time to get your Christmas cheer on! Seems like everyone is rushing toward the holiday season and leading the pack is our stiletto trotting, hot tamale, Bacardi chugging diva Mariah Carey! We've all been aware that she's been hard at work on a new Christmas album and tonight she's revealed the tracklist for Merry Christmas II You. First, a word from our diva (and this is from her official website – we did not in any way rewrite this to make her seem ditzy or like a 12 year old hyped on red bull):
"Merry Christmas II You is my Christmas gift to all my fans. I wanted you to be the first ones I shared this tracklisting with. I'm so excited, I hope you love it and enjoy it from years to come!!! LYM4E!!!" — Mariah Carey.
1. Santa Claus is Coming to Town (Intro)
2. Oh Santa! (first single, released digitally October 12)
3. O Little Town of Bethlehem / Little Drummer Boy Medley
4. Christmas Time Is In The Air Again
5. The First Noel / Born is the King (Interlude)
6. When Christmas Comes
7. Here Comes Santa Claus (Right Down Santa Claus Lane) / Housetop Celebration
8. Charlie Brown Christmas
9. O Come All Ye Faithful / Hallelujah Chorus feat. Patricia Carey
10. O Holy Night – Live from WPC in South Central Los Angeles
11. One Child
12. All I Want for Christmas is You – Extra Festive
13. Auld Lang Syne – The New Year's Anthem
The album is set to be released November 2, 2010 which means it'll no doubt leak in a matter of 2-3 weeks (if not sooner). What track are you looking forward to? I'm interested to hear Mariah take on the great Christmas classic "Charlie Brown Christmas" (sarcasm, people).
"Like" The Man Crush Blog on Facebook!
Follow Man Crush on Twitter @man_crush