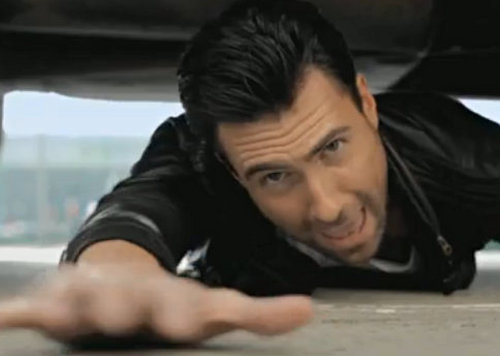 It's been about three years since Maroon 5 released their last album 'It Won't Be Soon Before Long' and the time off seems to have done them well. The first thing I noticed about their new album 'Hands All Over' that's set for release on September 21, 2010, is that it feels a lot more inspired and peppy than their last album. The last album, in my opinion, felt too big, too unfocused and overall not too interesting. This album however reminds me a lot of why they became so popular to begin with and the rock, pop, funk fusion makes for an exciting album. Is it perfect? No, hardly any album is but these tracks fit together well to make for an enjoyable listening experience. I also liked that for this album the group seemed to hold back on the slow ballads that overpopulated the last album. There were only two really slow tracks and the rest were fast faced, quick and really fun and carefree.
Track by Track
The album starts off with "Misery" which peaked at 17 on the Billboard Hot 100 tracks. It's a fun, hip track that definitely deviates a bit from Maroon 5's usual melodic, heart string tugging tracks and instead favors a dance beat. "Give A Little More" is an upbeat track that features Adam Levine's usual sensual vocal stylings layered over a funky beat. It's not as catchy as "Misery" and gets a bit boring with its monotonous lyrics. "Stutter" is one of the best tracks on the album; it starts off with wailing that reminds you a bit of an old Frankie Valli song and is an upbeat love ballad about how a girl makes Adam feel so good that he just wants to spend all of his time with her and that she makes him stutter. "Don't Know Nothing" shifts gears a bit for a rock sound with the lyrics focusing on the flip side of love – being tired of being the "wrong" one in the relationship. The song still has elements of old beach party music with the 'ooo-ing' in the background and instrumentation but sounds modern.
"Never Gonna Leave This Bed" takes the sound back to the present day and typical Maroon 5. It has a bit of a big sound but sounds a bit more grounded than the first few tracks on the album. It feels more like a transition track to remind us that we're still listening to Maroon 5 and not some group from the past. "I Can't Lie" is reminiscent of their sound from the 'Songs About Jane' album – very bouncy, a laid-back groove sound with hand-clapping sounding off in the background. It's a fun, light, carefree track that's a welcomed change after the last few downer-tracks. The title track "Hands All Over" is an interesting track – a complete departure for the group as they're going for a harder rock sound than their usual light, pop-orientated songs. It reminded me a lot of a track that Aerosmith would have done in the past and the track definitely stands out on the album that features pretty light, frilly songs. "How" is a ballad and it's probably the best ballad on the album. It has a big epic sound and will remind you of an 1980s song. Levine's vocals fit perfectly with this song because he manages to convey tons of emotions.
"Get Back In My Life" feels a bit out of place and as if it should have been placed earlier in the album with the other songs that have something of an older sound. It's a fast paced track with an interesting vocal treatment that has Levine singing in a high register that gradually steps down into a lower one. "Just A Feeling" is a slow ballad that's interesting in that Levine's vocals are layered over one another so it sounds as if he's singing a duet with himself. It's a decent ballad but feels pretty formulaic and standard. "Runaway" is another rock-influenced track and the last of the standard edition tracks that's quick paced and has the vibe of a big closing song … until "Out of Goodbyes" comes up. This track ends the album on a pretty weak, quiet, dull note and features a collaboration with Lady Antebellum. I just feel like the track should have come before "Runaway" – the album starts with such an exciting, big sound and then it ends on a quiet, forgettable one.
Bonus Tracks
The deluxe edition comes with a generous offering of bonus tracks. These include two additional tracks and two acoustic versions of two tracks from the standard album and a live track. For the most part, I feel the group made a decent album unlike some artist who save their best material for the deluxe edition and make bonus tracks out of tracks that really should have been on the regular album. "Last Chance" felt like complete filler and didn't make an impression on me at all. "No Curtain Call" however felt and sounded epically amazingly – it's a bit of a darker sound than the group is usually accustomed to. I actually liked the change in the sound and that the track wasn't entirely peppy, pop or happy and wouldn't have minded if it'd been on he regular edition – though it's different and didn't go with the other tracks, so I get why it was just a bonus track. Acoustic versions of "Never Gonna Leave This Bed", "Misery" and live version of "If I Ain't Got You" (an Alicia Keys cover) are also included. I liked the "Misery" acoustic track because it turns an upbeat, pop song into something of a laidback, easy listening track, giving the song an entirely new vibe and interpretation. The Alicia Keys cover is really amazing and Adam Levine did an amazing job vocally with the track and is able to convey just as much emotion as Keys does with the track. He makes it sound as if he really connected with the track or that he wrote it himself.
In all, I felt 'Hands All Over' was a good effort. The album feels like it could possibly come from two different recording sessions; the first half of the album features songs that definitely aren't mainstream and have hints of pop, funk and rock and really don't sound like anything you'd expect from Maroon 5. The later half of the album is more typical of Maroon 5 – Levine singing in a sensual manner, Levine hitting high notes, a more standard rock sound. I give props to the group for working with Robert Lange (who's worked with Foreigner, AC/DC, The Cars) because he seemed to push the group into new musical territory without making them sound completely unlike themselves. You're probably fine if you buy the cheaper standard edition but the deluxe does offer the great bonus track "No Curtain Call" and the Alicia Keys cover "If I Ain't Got You".
Listen to These: "Misery", "Stutter", "How", "No Curtain Call"
"Like" The Man Crush Blog on Facebook!
Follow Man Crush on Twitter @man_crush