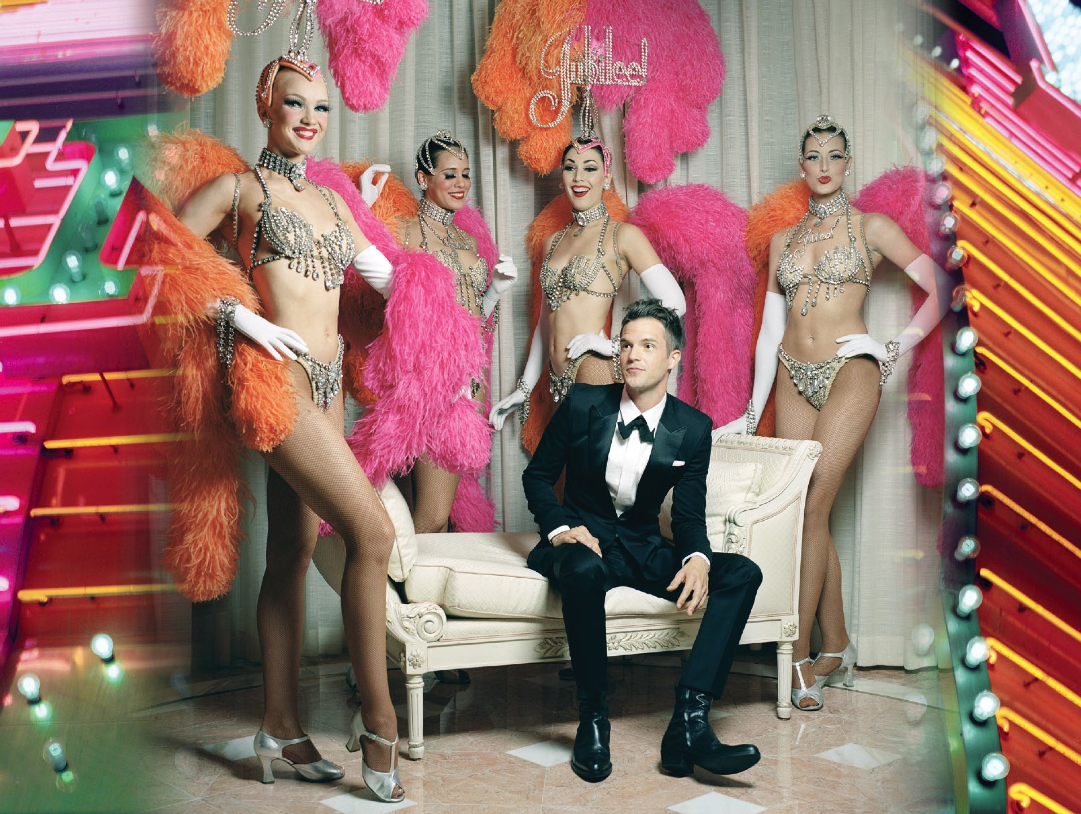 Whenever a member of a musical group goes solo, it's a bit exciting and yet a curious experience. We're familiar with his or her contributions to that particular musical group but have rarely seen them on their own. We've seen solo artists who've started off as members of a group whose individual sound really doesn't stray from the groups (Courtney Love) and then those members who've set off on their own with a completely different style and attitude (Gwen Stefani, Justin Timberlake). So, with Brandon Flowers' new album, we get to hear what his solo style sounds like. Probably to your delight, it's not very different from that of The Killers.
'Flamingo' contains ten tracks all written by Flowers himself. It's very reminiscent of The Killers' second album 'Sam's Town' – alternative with a rock influence and songs reminiscent of Bob Dylan, Bruce Springsteen or Lou Reed. There's nothing truly exceptional or unexpected with 'Flamingo'. You'd think you were listening to a new The Killers album rather than a solo effort from Flowers. I'm not entirely let down, but I was hoping Flowers going solo would mean we'd get some material that was different from that of The Killers, something that really set him apart as a solo artist. Unfortunately, not the case. Is this a bad thing? Not necessarily because The Killers makes some exceptional music. I just feel as if this could have easily been dubbed an album by the entire group rather than being a solo effort by Flowers.
The Music
The album art and first track are all centered around Las Vegas. "Welcome to Las Vegas" is rather big in sound, sweeping, chippy and optimistic as Flowers goes on to setup what you can expect from a trip through the Strip and the types of people and scenes you'll witness and encounter. I liked the mood this track set and that unlike some of The Killers' tracks, it's pretty happy and upbeat but far from pop. "Only the Young" is another great track. It's slower, a bit moodier but has tinges of electronica that make this a fun, slow dance track. This is where the album starts retreating into "The Killers" territory. I honestly wasn't impressed with a lot of what the album had to offer after the first two tracks. "Hard Enough" is something of a duet where each side of the relationship thinks he/she suffered the most in a relationship. Flowers says its the closest thing to a love song he's written and if that's the case, he needs to work a bit harder at perfecting his songwriting skills in this genre; "Playing With Fire" was slow and though it lyrically is a strong track, the music itself slams the break on the pace of the album and makes things feel entirely too slow; "Was It Something I Said?" is quick paced, definitely tries out a new style or sound that doesn't necessarily work.
Then suddenly, the album turns around. "Magdalena" is something of a redeeming track. Flowers said the song is inspired by an annual pilgrimage some faithful make to a town in Mexico. It feels inspired and is a totally different style from the other tracks and definitely caught my attention during the first listen and had me repeating it. "Crossfire" is another good track that really engulfs you in the lyrics, Flowers' great vocals and the instrumentation that gives this a rock/western vibe. "On the Floor" is probably my personal favorite from the album. It starts off slow, mysterious and builds to a chorus. What's great about this track is that Flowers' ability to pen lyrics that truly tell a story, packed with description and feeling, shines through. The track feels like something written years and years ago perhaps in the '50s and '60s. "Swallow It" ends the album on a curious note. The title probably sounds more suggestive than the song actually is. It's about a woman who's bitten off more than she can handle and though she's not ready for what she faces, Flowers in a sensual and slow manner advises her to stay the course.
Bonus Tracks
Really, the most experimental tracks seem to have been left as bonus tracks on the deluxe edition. Really, I feel like some of these bonus tracks should have made it onto the standard edition to replace tracks like "Hard Enough" and "Playing with Fire". "The Clock Was Tickin'" is very reminiscent of a classic country song that describes a woman who's the provider of her family and feels as if she's under pressure and that all her hard work is amounting to little. I love how this track starts off really quick and fast but by the middle when the title character comes to the realization that life isn't all that she thought it should or could be, things slow down to give more of an emotional reaction. "Jacksonville" is what I was hoping Brandon Flowers would do more of on his solo effort: it's his usual vocal stylings paired with a dance beat and the combination couldn't be any more thrilling or interesting. There's something dark about the track but at the same time very alluring – perhaps this fits better with the whole "Las Vegas" theme. "I Came Here To Get Over You" feels like a toss-away, bonus tracks. It's very rock-inspired and makes your head nod but feels light and a bit forgettable. "Right Behind You" only stands out because of the use of a electronic/computer voice as a duet partner. Still, it struck me as odd that the tracks that really set Flowers apart from The Killers as a solo artist were left as "bonus" tracks. He definitely took more chances on these four tracks than I felt he took on the tracks included on the standard edition.
Conclusion
At the end of the day, I'm on the fence about the album. Of the standard edition tracks, half of them feel inspired and interesting while others feel like leftovers from The Killers' albums. I wish Flowers had taken more chances with his music; the album feels very safe. He doesn't stray far from the type of music or style that's made The Killers a hit band. That's ok, I'm sure many fans will be delighted that 'Flamingo' offers up a slew of Killers-worthy tracks. However, with this being a solo album, it seemed like a great opportunity for him to define himself as a solo artist. Perhaps he could have taken more chances with the lyrics; I personally think he could have experimented a bit more with the music and instrumentation backing. I was let down by the fact that producer Stuart Price, the guy behind Madonna's 'Confessions on a Dancefloor', Kylie Minogue's 'Aphrodite' and most recently the Scissor Sisters' 'Night Work' album wasn't able to really take Flowers into any new musical directions. He did wonders for these other artists but his usual synth and mixing style seems absent or subdued on 'Flamingo'. If you get the album, definitely spring for the deluxe edition: the bonus tracks add more to the album in terms of variety, style and experimentation.
Listen to These: "On the Floor", "Jacksonville", "The Clock Was Tickin'", "Welcome to Las Vegas"
"Like" The Man Crush Blog on Facebook!
Follow Man Crush on Twitter @man_crush