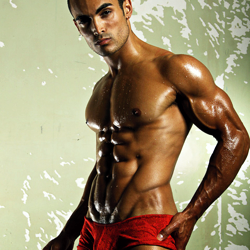 You're probably used to female divas going by one name only: Madonna, Britney, Cher, Reba. Well, there's a new hot commodity joining the one-name club: Akiva. He's an aspiring male model that was recently featured in a spread for Beautiful Magazine and photographed by Shaun Simpson. If you wander over to his Model Mayhem profile you'll find this message from him:
"I've recently become very interested in the world of modeling, particularly fitness. I'm extremely active and maintain 5% or less body fat year round. I specialize in human physiology, nutrition and kinetics and take my training very seriously."
Looking at his photos all I have to say is wowsa. He's definitely the perfect male specimen with his abs, muscles and chiseled features. In an era devoid of any real big male models, I definitely can see this guy filling the void left open by the waning fame of Marcus Schenkenberg. Akiva is from Halifax, Cananda and is 5'8″, 162 lbs and counts Roots and Animal Farm among his favorite reads and the Kill Bill series as his favorite films . Follow him on Facebook and check out some additional photos from his modeling portfolio.
"Like" The Man Crush Blog on Facebook!
Follow Man Crush on Twitter @man_crush