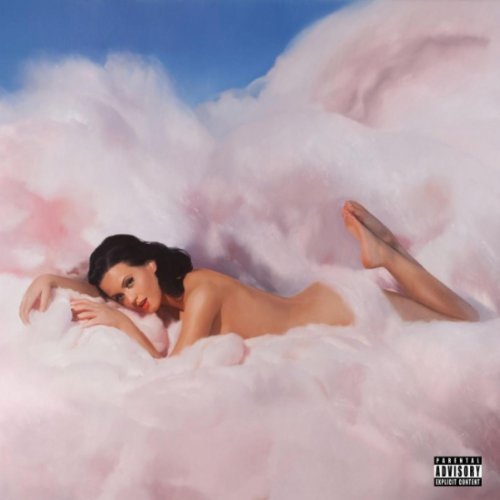 We're less than a week away from the release of Katy Perry's new album, 'Teenage Dream'. The second album is usually the make-it-or-break-it album for many artists. Her first album 'One of the Boys' came with a few catchy singles including the big hit "I Kissed A Girl", "Hot 'N Cold", "Waking Up in Vegas" along with the somewhat forgettable "Thinking of You" and "UR So Gay". The problem with 'One of the Boys" is that while it contained some catchy songs, other songs felt really randomly selected and just didn't go with the poppy-vibe of the rest of the album. So, 'Teenage Dream' – how does it measure up?
Track by Track:
What works best with this album is that it's far more fun and energetic than 'One of the Boys'. She's no longer singing about kissing girls or how her boyfriend has gay qualities, but she isn't trying to be a mature music artist who goes too far and forgets what made him/her popular to begin with. There's still tracks about partying, about girls having fun, some naughty sex references but everything (thus far) with 'Teenage Dream' feels far more polished and better produced than the first album. Not only does the album contain some of the catchiest, addictive pop songs to come out since … well … Lady GaGa's 'Fame Monster' (I hate comparing these two but there's really no one else in the industry that seems to embrace pop as GaGa does and makes it popular). What Perry also has on her side is the fact that she can sing and has no qualms showing off her vocal talents on most of these songs. Take note Christina Aguilera!
The first track (and title track) of the album is "Teenage Dream". It starts off a bit like a ballad with Perry describing how her love is able to see past all her flaws and then when the song hits the chorus, the tempo and beat pick up and we're engulfed in a frenzy of happy emotions, poppy beats and a swell of emotion that comes with teenage love. Really, it's one of the best tracks I've heard from Perry in a long time and I like that there's really no gimmicks in the song to try to sell it – it's all a straight forward pop ballad with a bit of an innocent and naive side to it. "Last Friday Night (T.G.I.F.)" is a light, somewhat forgettable track with Katy recalling the events of a wild Friday night that sounds like one an immature teen would have experienced rather than an adult woman. It's a party track but the only thing that really stood out to me about the track was the "T.G.I.F" chant toward the middle.  Track 3, "California Gurls" is probably the track most have heard on the radio, on television and every other place where humans dwell. It's a huge track that's all dance and pop with Katy singing about what makes West Coast "gurls" so hip and desirable over all the other girls in the world. The track also features Snoop Dogg and though the combination is a bit amusing and strange, considering he's all about the West Coast, it works and his rap does add a bit of flavor to what could have been a typical pop song.  "Fireworks" follows and may have you thinking you're in for another song about sex but this song is a bit of a motivational track. Katy goes from singing about how great "California gurls" are to showing how caring and supportive they can be by singing about what makes someone who doesn't think highly of themselves so great and that they need to think of themselves like a "firework" by being impressive and showing off rather than being so down on themselves. Sure, it may lead to you believe it's a dull track but the motivational speak is accompanied by an anthem/club beat, keeping things lively and exciting as with the rest of the album.
"Peacock" will probably be one of the most talked about tracks from the album. I'll say this – it's not talking about the colorful birds. Katy playfully baits a guy to show off his "peacock" and the beat is very reminiscent of Tony Basil's "Hey Mickey", keeping with the theme of adolescent years. The lyrics are amusing and tells a rather funny story, especially when she finally gets to see the "peacock". Though it's a bit low-brow or immature, it goes well with Katy Perry's unique personality she showed off on 'One of the Boys' and lyrically the song is pretty funny and entertaining. "Circle the Drain" shifts gears and steers away from the pop and teen-theme for something a bit more grown up. The track is more rock influenced with Perry cursing and putting her foot down, refusing to stand by and watch her guy let himself go and wreck himself. It's a curious track and makes me wonder if it's just another song or if she's referring to one of her past relationships. "The One that Got Away" is a track all about lost love and wanting a second chance with that one person you used to love and be with. Coming after "Circle the Drain" and before the amusing, unique "E.T." track, it just feels a bit like a filler track with less of a presence and edge.  "E.T." is another great track and it sort of keeps with the adolescent/teen theme with Katy Perry describing an encounter with a man with whose touch is "supernatural" and how she's ready to be a victim of a man's touch who she describes as alien whose touch is foreign and can only be described as extraterrestrial.
"Who Am I Living For" is an interesting song in that it really doesn't fit with the rest of the album – it's a darker beat and tone with Perry questioning her greatness and perhaps the burdens of fame. Not really my favorite track and probably not one I'd listen to repeatedly but it marks a change in the album from pop/upbeat tracks to darker, slower, brooding ones. "Pearl" continues the previous song's theme of slipping out of the innocent, fun "adolescent" stage and growing up. The song deals with a woman who used to be admirable, respectable a free-spirit who suddenly lets life and love and a man weigh her down. There's a twist at the end of the song where Katy switches from singing about this woman to revealing that she's singing about herself, making it a pretty personal track. "Hummingbird Heartbeat" (thankfully) drops the dark, depressing overtones of the past few tracks and picks up the beat again. It's all about being in love when your heart is all a flutter and your hormones are racing. This song definitely fits with the "teenage dream" theme of the album. The final track "Not Like the Movies" ends the album on a quiet and somewhat somber note and serves as a response to the first track that deals with teenage love. It sounds a bit like Katy Perry reminiscing on "teenage love" and that even at this stage of her life she's expecting a love that's a bit like a fairy tell, innocent and dream-like. It was a bold move to end the album on such a sincere note after an album full of everything from quips about "all that ass hanging out" in "California Gurls" and wanting to be a victim of an extraterrestrial in "E.T." Depending on what version of the album you pick up there could be some bonus tracks included. There's two remix tracks bundled with one version: the Passion Pit mix of "California Gurls" which is (in my opinion) not all that great and the very fun, upbeat club mix of "Teenage Dream" by Kaskade.
Final verdict:
In all, 'Teenage Dream' is one heck of a good album. While I didn't really dig the slower, moodier tracks that packed the second half of the album, I did like more of this album than I did her 'One of the Boys' released. There's a lot of growth to be noted on this release from Katy Perry. She easily could have churned out another 'One of the Boys' but this album feels like a lot of thought went into it and that there was a real concept behind it that pulled together the tracks. It's an album that, for the most part, is meant to have you dancing and enjoying life and forgetting the troubles of your adult life. She's at her best when she's not trying to be so serious – that's when her creativity and her voice really shines. If it weren't for two or three tracks, this really could have been a homerun for her. Even so, it's not bad by any means and a pretty solid, cohesive, well produced album.
Listen To these: "Peacock", "E.T.", "Hummingbird Heartbeat", "Teenage Dream"
"Like" The Man Crush Blog on Facebook!
Follow me on Twitter @Decaptain