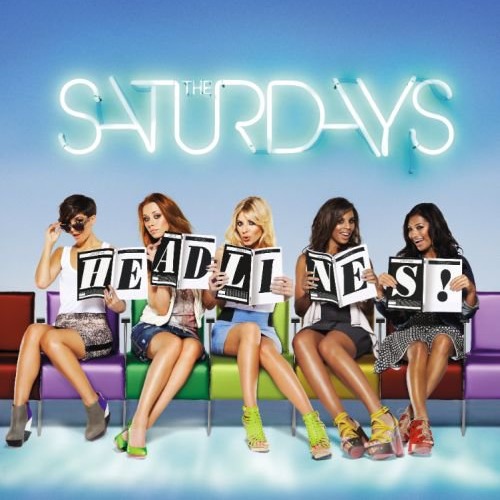 Are you feening for some good, old fashion, pop girl group music? Then look no further than U.K. girl group The Saturdays and their upcoming release, 'Headlines'. Their new album may only be an EP with 8 tracks, a few short of a proper album, but this package of music really packs a punch. I confess – I had never listened to or heard a song from this group until I stumbled on "Missing You", one of the tracks featured on this EP. If you were to describe them to someone outside of the U.K., you could say they have catchy pop comparable to that of The Pussycat Dolls except more than one member of the group gets her time on the vocals and in the spotlight. They definitely are too pop and clean to qualify as Destiny's Child but they have the same happy, catchy, addictive sing-along qualities that have skyrocketed Lady GaGa, Britney Spears and other pop starlets in America to the top of the charts.
Track by Track:
Unlike many artists who release an EP (extended play for those unaware), the group really doesn't waste any space on the album for weak tracks. Every track on 'Headlines' could really stand to be a single, which is rare for any artist these days. The album starts off with "Missing You", a pop ballad dripping with yearning and angst. The focus of the track is what follows after any breakup – the regret and little thoughts that come to mind of the little things like arguing, fussing, and loving that happened between you and the ex and how even those annoying, undesirable things end up being missed. "Higher" is an uptempo track very reminiscent of a Pussycat Doll track – it's all about empowerment and overcoming the wrong doings (and treatment) by a guy who is undeserving of your love and time. "Forever Is Over" feels like a breakup song all about realizing the demise of a relationship and pointing out all the flaws in the relationship. It's probably my least favorite track on the entire EP, but it's not entirely bad. "Died In Your Eyes" is a cover of Kristina DeBarge track. Some are complaining that the group chose to cover a song released so recently but really, it fits with the theme of a lot of the songs on the album which are mostly all about love, falling out of it or finding your place in it when you've found it with another person. The Saturdays' version of the song is pretty close to the original except the vocals have been split amongst the members of the group rather than it being a solo track and it works really well – it's one of the best tracks on the album.
"Karma" marks a shift in the tone of the album from angst and heartache to attitude and moving forward, getting over, relationships that have gone soured. "Karma" is a bit of a vengeful track with the girls threatening to throw the broken pieces of their hearts at the wrong-doing guy's karma. "Puppet" is all about controlling and manipulating men to do whatever the girl(s) want them to do. Style wise, it's still very pop but feels a bit slower and almost tango-ish than it is straight-up pop. "Ego" comes equipped with hand claps, synths, a catchy chorus with the girls singing a warning that the guy needs to have a sit down with his ego and that they aren't allowing the guy to go solo and walk away from the relationship so easily. The final track is "One Shot (Starsmith Mix)", a remix of a track from the 'Wordshaker' album. It's okay, but I'd rather the group have included a remix of a song from this EP than to pull material from a past album. It's decent but stylistically, it doesn't feel half as good as the  music from the 'Headlines' EP.
In all, 'Headlines' is a solid album. I can't compare it to their past albums or work since this is my first encounter with the group but I feel the music on this EP is definitely very good, well-produced pop music. It's nothing entirely deep, the lyrics won't call for you to sit back and think much at all, but the music is fun, frivolous and covers a span of emotions from carefree dancefloor hits to the sadder, pop ballads to mellow things out. Definitely worth checking out on August 16 when it's released in stores.
Listen To These: "Missing You", "Died in Your Eyes", "Karma"
"Like" The Man Crush Blog on Facebook!
Follow me on Twitter @Decaptain