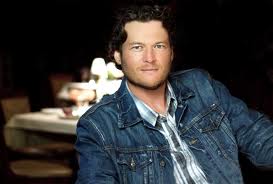 Blake Shelton's back with another 6-pack album. If you've been unaware, Blake Shelton's joined the new trend in the music industry of ditching the standard bloated full length album in favor of a smaller, condensed, EP version. Why? Well, because this calls for more frequent releases from the artists, cheaper album prices and the chance to try something new musically without being stuck with it for months or years on end. The problem, however, is that this raises the stakes for the artist. If you're going to release an album only having 6-8 tracks, you sure as heck better make sure each of those tracks is single-worthy and worth buying. Shelton's first 6-pack album "Hillbilly Bone" was released back in March of this year. It was okay. Decent. It had one or two good tracks and the rest was unfortunately pretty forgettable. How does "All About Tonight" compare?
Well, it's a bit of an improvement over "Hillbilly Bone". First, to the delight of many, there are fewer interruptions between the tracks. "Hillbilly Bone" seemed a bit odd with the radio interview and jokes dispersed throughout the tracks. It really brought the album down considering the small interludes added nothing to the overall album. "All About Tonight" ditches the interludes for the most part – up until the final two tracks that transforms the mini EP from a rather consistent album to trying to make it sound like a stage or bar show. Really, on an album of only 6 tracks, there's no need for any interludes of any sort.
A good side of this album is that it feels completely unrelated to "Hillbilly Bone". That album suffered from having no real focus or theme that pulled the tracks together. This album, however, at least feels like the tracks were chosen to give it a carefree, party, light feel. The title track "All About Tonight" sets the mood: it's about setting aside your problems, worries and whatever is dragging you down and just having a good time and finding your groove. There are two slower tracks and ballads – "Who Are You When I'm Not Looking" and "Suffocating". Of those, "Suffocating" was the best down tempo number. It's the first track in a long time from Shelton where I felt he really put aside his jokes and sarcasm and showed genuine emotion and heart. It was reminiscent of his old hit "Austin" in that you really are taken into the song and forget about his knack for playing and wise cracks. "Draggin' The River" featuring Miranda Lambert (his fiance) is a nice love duet but isn't at all sappy. If you know anything about these two artists it's that they love being playful, they love jokes and making songs that have you laughing more than weeping and sniffling. "Got A Little Country" is very honky-tonk and ends the album on a high note.
In all, I felt "All About Tonight" was more country than "Hillbilly Bone". It's more consistent, the songs are a bit better produced and overall it's a light, carefree listening experience. If there's a theme to the songs it's love – you can tell that Shelton was inspired by his relationship with Miranda Lambert more so on this release and with these songs than with the past albums.
Listen to These: "Suffocating", "That Thing We Do", "Draggin' the River (feat. Miranda Lambert)"
"Like" The Man Crush Blog on Facebook!
Follow me on Twitter @Decaptain