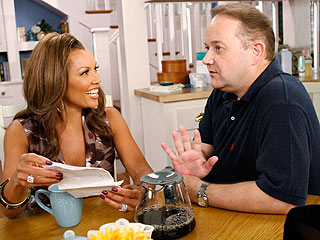 I've made a decision – come this new season of 'Desperate Housewives', I'll be doing weekly reviews of the episodes. I often flock to Entertainment Weekly's site to read their recap of the latest episode of the show and am often let down by how they choose someone who really dislikes the show, or knows nothing about it, to review it! What's the point? Shouldn't reviews and recaps come from a devoted viewer? I've been with the show from the start. I can tell you what scene hooked me: season 1, dinner party – Bree and Rex are having one of their moments and Bree proclaims, "Rex cries when he ejaculates!" That was classic television right there and I've been with the show through all the highs (the big reveal behind Mary Alice's suicide), the lows (crazy Dave stalks Susan and Mike all season and loses his mind in the process) and in between moments (Karl gets mowed down in Santa's workshop by a crashing plane).
Even so, there seems to be a lot in store for the women of Wisteria Lane in the seventh season of the show. Even with the summer hiatus, there's been a lot of news, comings and goings that I think will really make this next season a must-watch. Here are some news and spoilers to mull over until the new season starts in September:
1. Vanessa Williams is joining the show. This is an old announcement but more has been revealed in the past few weeks about her character. She'll play Renee Perry, a former college association of Lynette's who isn't so much a friend as she is a "frenemy". Since she's black [sarcasm] she's married to an athlete and they are having marital issues. She and Lynette have a rather competitive relationship – friends one moment, bitchy rivals the next. Here's to hoping Vanessa Williams can fill the role of villainous bitch left void from the Edie Britt (Nicollette Sheridan) departure in season 5. And let's hope, being the black housewife on the bloc, she fairs better than Betty Applewhite (Alfre Woodard).
2. Bye, bye, Orson. Seems like fans have gotten their wish – Kyle MacLachlan is leaving the show. He'll reportedly be around for a few episodes at the start of season 7 but only to wrap up the Orson/Bree storyline. I have to say … thank God! Orson was getting unbearable and let's not forget it was due to his acting out (plot wise) that lead to Edie Britt's death. He's been with the show for a while but his character just ran out of steam a long time ago.
3. … and hello Brian Austin Green! With Orson's departure, and the fact that Bree's been left without a business and cooking empire to rule over thanks to her scheming dead husband's illegitimate son, what's a girl to do? Go cougar, apparently! Brian Austin Green will join the cast playing a contractor hired by Bree. I read that in one of the first few episodes of the new season, she'll go at it with some wallpaper, meaning she's probably due for her annual breakdown, needs change, tries to makeover her house as a new start. Both Bree and Renee (Vanessa Williams' character) will apparently be competing for Brian Austin Green's character's affection.
4. Baby drama. As you know, someone's kids are in the middle of a major hospital screw-up. Who's kid on Wistera Lane really isn't theirs? Well, that's one spoiler the producers have managed to keep a lid on. There has been a slight recast – a new actress will be taking on the role of Penny Scavo. Makes me wonder, will this be the new season's annual "Lynette and Tom's kids are screwed up" plot? Perhaps. Though it doesn't seem like Gabrielle has much going on (spoiler wise) this season so perhaps one of her fat, chubby kids really isn't hers after all (I'm looking at you, mouthy-Juanita or you silent but obese Ceilia Solis!).
5. Paul Young's got a chip on his shoulder. Let's face it … Paul Young (Mark Moses) didn't exactly have it easy on Wisteria Lane nor did he leave on the best of terms. So one major upgrade this season is bringing him back to stir up trouble. Susan and Mike, probably his two least favorite people, are his landlords. Let the clumsy, awkward, comedic-relief run-ins between Susan and Paul begin! Marc Cherry says he'd like to find a way to bring back Zach Young (Paul's awkward geeky rich son who was actually fathered by Mike) but that's not finalized just yet. But another acquaintance of Paul's is coming back …
6. Felicia Tillman's making a comeback. YES. Finally, after all these seasons, new neighbors, lame plots and deaths, the one character we've all been waiting to see again is apparently on her way back to the Lane. Felicia Tillman, Mrs. Huber's eccentric, creepy, witty sister from the early seasons played by Harriet Sansom will be back to play with Paul! There's conflicting reports about how long her stay will be – some spoilers and news suggests its just for a few episodes but others are suggesting she'll be a major player all season long.
7. Other comings and goings. As usual, there's a slew of exits and new faces to populate the street. There's Katherine (Dana Delany) who's been a major character for two seasons who's suddenly on the outs due to Delany's new show. She hasn't been said to have completely left Wistera Lane but don't expect to see Katherine as long as Delany's new show 'Body of Evidence' is afloat. Also, Robin, Katherine's stripper love interest, is out of the picture since Julie Benz also has a new ABC show to deal with, 'No Ordinary Family'. No word on if Lee (Kevin Rahm) will return after the whole baby-drama breakup between he and Bob (Tuc Williams). However, Tuc Watkins, who plays Bob, will definitely be back and has been promoted to a series regular! Lainie Kazan (My Big Fat Greek Wedding) will be playing one of Susan's new neighbors. Emily Bergl ('Men In Trees') will be playing Paul Young's new wife. Of course, Drea de Matteo's Angie Bolen and her clan are all out, Susan's daughter Julie is out (for now at least) and no word on what role Andrew van de Kempt will play this season.
8. The show's future undetermined. This may be the make-it or break-it year for the show. Originally, creator Marc Cherry stated that he saw 'Desperate Housewives' as a seven season show. Now, he's changing his tune a bit. Apparently he's working on a new project and show for ABC and if all goes well, he's talking as if he'd be willing to step away from DH to let someone else run it. Even if he sticks around, it sounds like this show may be going on for a while longer past the seventh season … if the ratings hold up. Let's not forget that ABC has made it an art of giving shows the axe without much fanfare or warning ('Ugly Betty', 'Samantha Who?', 'Pushing Up Daisies', 'Dirty Sexy Money', 'Better Off Ted', 'Eastwick'). Seems as if Cherry and company have definitely set out to make season seven one of 'Desperate Housewives' best outings since the early seasons so let's hope the craziness, drama and antics of Wisteria Lane's residents are enough to hold our attention and keep the ratings up.
Follow Man Crush on Twitter @man_crush