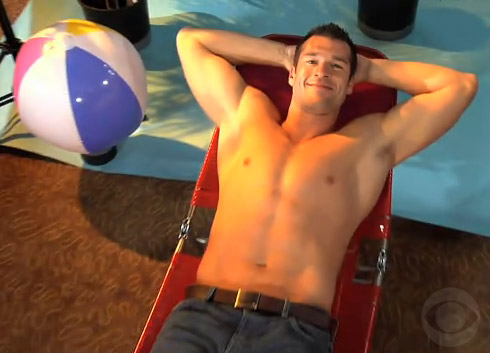 Due to a lack of anything truly decent on television during the summer months, I (like many others) have to resort to watching the wave of reality television. CBS reality show 'Big Brother' began its 12th season this past week and I watched out of pure boredom. Then, bam, the show gave me a reason to tune in each week: high school swim coach Brendon Villegas.
Seriously, why was I never lucky to get a hot gym coach during my high school years? Or during any year in school for that matter. Brendon is 30, enjoys swimming (of course), running, cycling and basketball. Hm, he likes working up a sweat and playing will balls – seems like my kinda guy. After just a week, he's up for elimination, nominated by the other good looking guy in the house, Hayden Moss. Oh, battle of the reality studs, whoever will win? We haven't had a showdown of this magnitude since Reuben vs. Clay '06 (I kid, trust me). So while this is all about the hotness that is Brendon, a bonus 'crush' on Hayden is also on deck today. I'm hoping Brendon survives this week and him and Hayden can go at it … at least in terms of competing with one another for the head of house.
UPDATE 12/9/2010- Well, so much for Brendon's unwavering love for Rachel. Seems like he's be on the prowl as he's the latest subject of a leaked nude pic. Poor Rachel and lucky us! Come on over to our Tumblr to see what lies underneath his little speedo! Caution, NSFW and you should be over 18 years of age to view this pic. That being said, click here to view Brendon Villegas' x-rated pic.
"Like" The Man Crush Blog on Facebook!
Follow me on Twitter @Decaptain