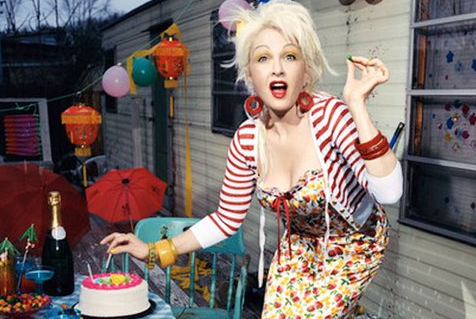 Oh, Cyndi Lauper. Crazy, wacky, eccentric Cyndi. Why? Why are you taking a page out of the Rod Stewart handbook of "how to run your career and status into the ground"? I mean, her last release, 2008's 'Bring Ya to the Brink' wasn't exactly the stuff of pop legend but it was good because it was all original material and it had attitude, sass, music that made you want to dance and made you want to think. In other words, it was all very "Cyndi Lauper" and a much welcome album considering she's been hung up on either revisiting past hits and re-inventing them (2005's 'Body Acoustic') or ditching the pop act for something classy and prestigious with an album of cover material of some old standards (2003's 'At Last'). Now we have a new album … that sounds pretty darn familiar and old … because it's yet another album of old standards being covered! Yes, Cyndi Lauper makes her return to music with 'Memphis Blues', an album full of blues covers. Sigh.
At first listen, I have to admit I was really excited. There's one thing you have to appreciate about Cyndi Lauper – from 'She's So Unusual' down to her most recent release, it's clear that whenever something musically strikes her fancy, she's on it. I give kudos to Lauper for ditching the usual dance/club sound of 'Bring Ya to the Brink' and the remix album(s) that followed it and taking on the blues. It's a very ballsy move, something only Cyndi Lauper seems capable of doing. The blues is, as many of you know, a genre of music not usually associated with 50-something year-old white women best known for singing about girls wanting to have fun or she-bopping. I'm all for Cyndi Lauper singing blues songs: if they are her own. My issue with 'Memphis Blues' is that it doesn't at all feel like Cyndi at her best. It feels like someone shoved a few popular blues songs in front of her and she's performing it. The key to any blues song is being able to relate to the music, to sing each lyric with a bit of angst and pain, to make the listener believe that each word and experience you're singing about is something you've experienced and suffered from. I didn't get that feeling from any of Cyndi's songs on this release.
'Memphis Blues' has a few, and really, a few, good moments. On "Don't Cry No More" and "Rollin' & Tumblin'" she sounds as if she puts more of her own personality into the music. This is perhaps that both of these songs aren't totally 'traditional' blues and perhaps not being boxed in allowed her to feel more at ease in letting go and as a result have more fun with the songs. "Don't Cry No More" was a welcomed upbeat track, sounding more like a fun 1950s/60s song with the "blues" theme of dealing with a relationship on the edge of troubled territory. "Rollin' & Tumblin'" with Ann Peebles was another great song and with it being a duet, Cyndi really seemed to work off the energy and attitude Peebles brought to the table. Again, this is another upbeat track and since the album is heavy with slower, bluesy "life done me wrong" types of numbers, these two tracks definitely gave the album a much needed shot of fun and attitude. Also, even though I wasn't crazy about the song selection, I had no issue with Cyndi's voice. I felt that her voice and vocals actually were well-suited for the blues genre that isn't really about singing notes perfectly and is about having a folksy, everyman appeal to it.
Now, the bad. The biggest disappointment that comes with 'Memphis Blues' is the lack of original material. I feel this definitely held Cyndi back from her usual standards because these songs really aren't hers and she never fully dives into the tracks and music and makes them her own. I would have been more interested in hearing her take on blues songs that were all hers and belonged to no one else – songs with lyrics that she could relate to, that she's experienced, that she could make an emotional connection to. I didn't feel she made a real connection with many of the songs she was singing on this album. Most of the time I got the 'cover' vibe: she's performing them, even down to taking on different cutesy voices or imitating the original artists who performed the song before her. I also felt that at times having so many featured artists, many who had done the song before her, overpowered her own presence on the album.
In all, I'm not thrilled with 'Memphis Blues'. It feels a bit of a lazy release and again, like a page out of Rod Stewart's book: make money by singing other people's songs. I think I'd rather have had her turn her older hits, or even lesser known tracks, into blues songs than listen to her (yet again) be reduced to being a cover artist. Sure, she's been in the business for a while and has earned the right to do whatever the heck she wants to on an album or two but come on, 'Memphis Blues' is not Cyndi Lauper and she's capable of so much more.
Listen To These: "Rollin' & Tumblin'", "Don't Cry No More", "Just Your Fool"
"Like" The Man Crush Blog on Facebook!
Follow me on Twitter @Decaptain