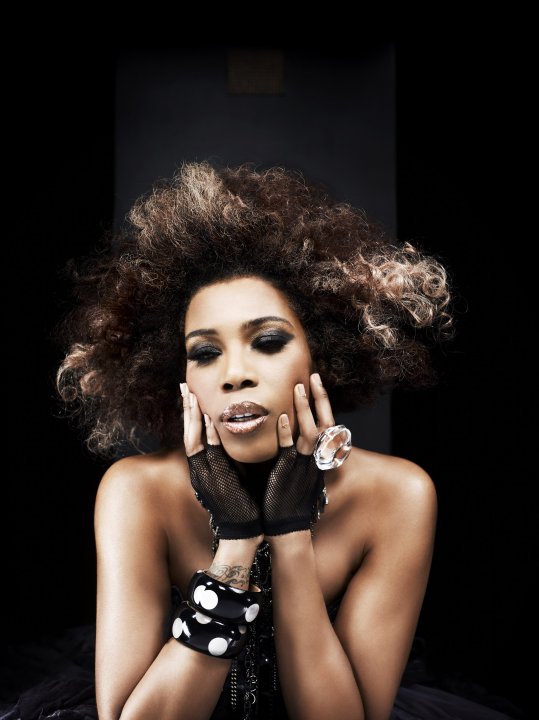 With a title like 'The Sellout', I think most listeners would expect just that from Macy Gray – an album that surrenders her originality in favor of churning out hits produced by well-known producers and tracks that feature some of the biggest stars in music today. Even the album cover, featuring something of a glam-version of the usual eclectic Macy Gray, gives you the impression that she's in some ways prepared to 'sellout' for the sake of fame. I peeked at other reviews online for this album and the first thing most mentioned was that Gray has never really achieved a hit like her first single "I Try". Now five albums into her music career, many critics have called "The Sellout" her attempt at recapturing her former glory and charm. That's not the case. If you actually listen to the album, "The Sellout" does not at all seem concerned with notoriety or with earning any awards – it's a big step down the originality route. Her last album, 2007's 'Big', was definitely more of a "sellout" and attempt at breaking into the mainstream. It was a good album, mostly underrated, but it was very anti-Macy Gray.
"The Sellout" is an album that will please longtime Macy Gray fans and probably not click with the casual music fan. As stated before, this isn't an attempt to keep up with the big acts in music today. The album is something of a concept: it's not so much about her celebrity status or fame but instead it's about love and relationships. This is one album where listening to the tracks in their intended order is crucial in understanding the story being told. The album starts off with the title track "The Sellout", which is probably one of the best tracks on the album. It's all about "selling out" and giving in to someone you love in order to keep them in your life. The tracks that follow all deal with some aspect of love and relationships: "Lately" is something of a tease, with Gray singing of how people have been admiring and complementing her looks; "Kissed It" is about how she was ready to walk away from her relationship after being mistreated until her man made up after he "kissed it" and 'lit a fire in her'; "Stalker" has her confessing some of her eccentric tendencies that may make her undesirable but how those same qualities make her a great lover for her boyfriend. The album ends with "The Comeback" with a sense of completion with her returning to what she lost in "The Sellout". If you don't listen to the lyrics, you'll miss the story arc going through the tracks and you'll no doubt feel the album is weak and lacking.
Let's face it: is the album perfect? No, there are some weak, skippable tracks. Also, Gray's voice really isn't at its best on all of the tracks but then again, it's her rather raspy, amateurish voice that gives her an unique appeal and edge. 'The Sellout' is definitely a concept album and requires you to actually sit back and listen to the lyrics in order to get what she's talking and singing about. Without listening, the album is boring and isn't as good. That being said, I felt the album was average: there was something about 'Big' that made it stand out as one of her best to date and that edge and appeal she suddenly seemed to acquire with that album feels absent on 'The Sellout'.
Listen to These: "The Comeback", "The Sellout", "Still Hurts", "Real Love", "On and On"