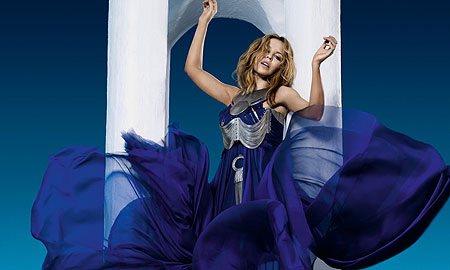 Kylie Minogue's new album 'Aphrodite' is set to be released in the U.S. on July 6 but as with many releases, it's been leaked and many will be able to recite the new material lyric by lyric by then. This is Minogue's 11th studio album and her first since 2007's release of 'X'. How does it measure up? To the delight of many fans, it's definitely not 'X' or even close. 'Aphrodite' is an album that chooses to overlook what was supposed to have been Kylie's big comeback 'X' and instead takes Minogue back to her roots: pure pop, dance, music that sounds a bit like a flashback to a '90s gay club. Unlike 'X', it makes no attempt to try to compete with what's considered "en vogue" now: it doesn't pull any addictive rips of Lady GaGa, it ditches the Bloodshy & Avant productions that have populated the latest releases from Britney Spears and Madonna and really seems to be made for Kylie's core audience in mind: the gay community. The album's producer, Stuart Price (mainly responsible for Madonna's 2005 hit 'Confessions on a Dance Floor') is at the helm of 'Aphrodite' and while each song can stand on its own, he definitely gave the album a cohesive, streamlined feel. In a way, that's good – many were put off by the 'X' album's lack of focus. For me though, the album could definitely have used a bit more variety.
'Aphrodite' is a lot like a casual sex hook-up: the thought and anticipation of it is really thrilling and exciting and then after the deed is done, you realize it was a bit better in your imagination than it was in reality. 'Aphrodite' is a quick-paced album; there really is no filler tracks that slow the pace of the album. Instead, Price put together the album to feel like one big party: you have a few "feel good" tracks to set the mood and dance and grind slowly to, some romp shakers and one or two laidback tracks to give you time to catch your breath. The album clocks in at about 43 and half minutes, a total of 12 tracks. Where 'X' felt willing to take a few chances and deviate off course, 'Aphrodite's is very focused and to the point. It's mission: to make you dance. It's a pure summer album: carefree, stripped of sad ballads, stocked full of dance beats and celebratory, happy feelings and lyrics. Not to be derogatory (and duh, this is a pretty gay/queer blog if you haven't noticed) – 'Aphrodite' is a very gay album.
The Tracks:
The album begins with "All The Lovers", what I'd consider a warm-up track. It's a sexy, sensual track where Kylie actually starts the party off with a laidback, loving track meant to bring everyone to the dance floor. It's frilly, it's somewhat trance-like and comes complete with a catchy chorus. The album really starts with track 2, "Get Outta My Way" – it's all dance, it's attitude, it's sass – elements that were very present with a lot of the songs from 'X'. It's pop and has Kylie demanding that her dance partner/lover give her what she wants or she's threatening to step out and show him what he's missing. This is probably one of the album's best and strongest tracks. "Put Your Hands Up (If You Feel Love)" is very club orientated, with layers of sounds coming together to make a big hand-clapping party anthem.
The album breaks a bit from the Euro-pop/rave/techno party and beats and changes the tempo with "Closer". The song has a very technical feel to it with a musical track that will remind you of a classic Nintendo video game. It's a bit reminiscent of her past hit "Slow" – choppy lyrics, very simplistic, a song that progresses and pulls back. While it may not vibe with the album's opening tracks, it keeps with the dance/club theme by providing a romantic song meant to slow the pace and bring lovers together on the dance floor. "Everything Is Beautiful" is very low-key with bubbly-prickly sounds in the background playing against a heavy drum that gets your head bobbing. Some may call this a ballad, to me it's just a feel-good track that, unlike most ballads, you can dance to and it really doesn't spark weepy or sad feelings.
The album's title track "Aphrodite" is where things pick up once again. It's definitely another of the albums best. Kylie states that she was 'gone' and now she's 'back', which some may take to be as a reference to the lackluster reception for 'X'. It has one of the album's best instrumental backing with a militaristic/hard feel to it thanks to the accompaniment of drums, hand claps and the lyrics are full of confidence and attitude – you can easily see this as a single and big club hit for Kylie with a full on dance-inspiring video. If anything, "Aphrodite" can be considered Minogue's real comeback track. "Illusion" follows and it's probably one of the album's weakest tracks in my opinion. Basically, it's a lament from Kylie complaining of her lover's sincerity. The beat is danceable but the lyrics pretty much kill the song.  "Better Than Today" sounds like the marriage between The Scissor Sisters and 1980s Dolly Parton – upbeat, optimistic, bouncy and encouraging you to shake your troubles off and enjoy life. "Too Much" stylistically switches gears back to the dance/rave feel. While the musical track is catchy, the actual lyrics feel far too simple and forgettable. It's a shame because the track was co-written by Jake Shears of The Scissor Sisters and I'd think such a collaboration would have produced something amazing.
"Cupid Boy" feels and sounds a lot like a continuation of "Too Much"; beat, style, music wise the tracks are very similar. What sets this track apart from the previous one is the industrial and mechanical sounds going on in the background. It's definitely better than "Too Much" even though the lyrics give the track a bit of a monotonous vibe. "Looking for an Angel", written by Minogue and Stuart Price, vocally is an interesting track after a slew of tracks that had Minogue sounding as if she were singing one note. It's light, very retro, not as hard-hitting dance as the earlier track but it's simplistic treatment and the words help draw the musical "party" and album to a close. The album's closing track picks up the beat with a closing dance track where Kylie proclaims "we've got an energy like I've never seen." "Can't Beat the Feeling" brings the album full circle – at the start she's singing about all of the lovers and how they don't compare to the one you're dancing with (in your imagination at least). With the closing track, it's re-affirming love and celebrating the chemistry that comes with two people who have found and belong together.
Final Thoughts:
I have to say … that like a hook-up (my earlier analogy), 'Aphrodite' is a bit of a let down after listening to it a few times. The first few tracks are fun, unapologetic dance, upbeat and carefree – then with "Closer" it stumbles somewhat and regains it's footing with "Aphrodite". The later half of the album though feels like one song put on replay with a different track backing. I couldn't help but to recall 'X', and yes, I know it's an album that many Minogue fans disliked but what made that album stand out was that she definitely took some chances with her usual style and it produced some very catchy, pop, dance tracks. For me, half of 'Aphrodite' just isn't entirely interesting. The lyrics aren't as deep, they sound a bit monotonous and even with Stuart Price at the helm, the focus of the album wanders more so than it did on 'X'. 'Aphrodite' is all right but it feels stifled and timid – it's definitely Minogue back in safe (gay) territory after a not so warm reception for 'X' but is it a comeback? I really don't think so. It's a fun outing though with some really nice dance tracks but I feel Kylie can do a bit better than this.
Listen to These: "Aphrodite", "Get Outta My Way", "Put Your Hands Up (If You Feel Love)"
"Like" The Man Crush Blog on Facebook!
Follow me on Twitter @Decaptain